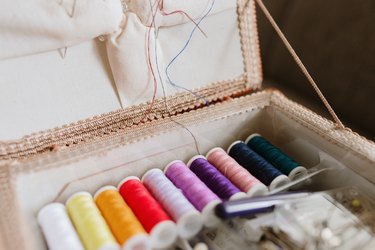 Organization is the key to getting the most out of your creative time. But, if you find yourself digging through drawers and cupboards to find those tools when the sewing urge strikes, it's probably time to take the plunge and purchase a sewing basket to keep your supplies organized. Whether you've just set out on your sewing expedition, or if you've been using your needle and thread to create for years, keeping your supplies organized in a sewing basket will not only keep your space tidy but it will make your creative adventures more productive and enjoyable. There are scores of baskets on the market and we're here to help you wade through them and pick out just the right sewing basket that will accompany you on your sewing journeys.
What to Consider When Purchasing a Sewing Basket
​Materials:​ Sewing baskets are constructed from a variety of materials. Each come with their own advantages and disadvantages. Plastic sewing baskets tend to be lighter and better for carrying with you to sewing events. They are also easily cleaned. However, plastic does tend to break down over time when exposed to sunlight and won't be able to hold much weight. You'll most likely have to replace a plastic sewing basket after using it for any length of time. A cloth sewing basket will also tend to be lighter and be more portable and will come in just about any design or color that coordinates with your sewing space decor. But it is harder to keep clean. A cloth basket is also more likely to rip, especially when storing sharp sewing tools such as scissors, straight pins and needles. A sewing basket made from wood is definitely the most durable but can get heavy, which makes this type of basket less portable. If you don't plan on carrying your basket to sewing events away from home, then a wooden basket might be right for you.
​Contents:​ Basically, there are two kinds of sewing baskets—baskets that include tools and empty baskets that have compartments to store the tools you already have. If you've already purchased your own tools, then you'll need to make sure that the basket you're buying just includes compartments and removable trays for your scissors, measuring tapes, needles, pin cushions, thread, seam ripper, tailor's chalk, measuring gauge and marking pens. Some baskets come complete with the basic sewing tools you'll need to get started and are great for beginners, gifts, or for an additional sewing basket to use when traveling.
​Style:​ Sewing baskets come in different materials and they also come in different designs. You can find baskets in just about any color or pattern you'd like. If the design is important to you, choose a basket that coordinates with your sewing space and you can leave it out on the shelf to be a part of your decorating scheme. Whether you're going for a mid-century modern vibe or if you're trying to create a calming atmosphere, you should be able to find a basket that matches your mood.
​Storage:​ If you're looking for a sewing basket to keep in your studio that will hold and organize all of your sewing notions and tools, you'll want to find a larger, more complete sewing basket. A basket that has a large amount of storage and does not need to be carried around with you can be made from heavier materials. If you enjoy participating in sewing events, classes and seminars that take you away from your regular sewing space, you'll want to look for a lighter-weight sewing basket that holds a minimum of tools and supplies to take with you.
Let's take a look at some of the best sewing baskets in 2022.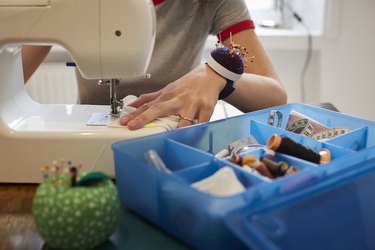 The Best Overall Sewing Basket
Singer 07271 Sewing Basket With Sewing Notions
The Singer Sewing Basket is an excellent choice for a budding quilter, or to use as a traveling sewing basket. It could also be used for other crafts like scrapbooking or jewelry making, or tapped for corraling beauty supplies. The exterior of the basket measures 11.8 inches long, 8 inches wide and 6 inches high, while the spacious interior measures 9 inches long, 6.25 inches wide and 4.5 inches high, offering plenty of room to hold your supplies. The Singer Sewing Basket includes a thimble, tape measure, pin cushion, seam ripper, needle threader, 10 mini spools of thread, 100 dressmaker pins and 10 hand needles. These are just the right tools to get anyone started in sewing, or if you plan on using this as a traveling basket, you'll have everything you need. It has a collapsible handle to make storage or travel convenient. There is a strong magnetic closure and the inside removable tray is 1 inch deep and has four sections. The outside is a fun vintage print that will coordinate with most any decor.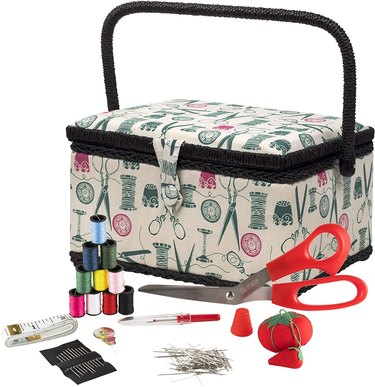 The Best Basic Sewing Basket
Adolfo Design Sewing Basket
The Adolfo Sewing Basket is just right for those sewers and quilters who have already purchased their favorite sewing tools and just need a box to keep their supplies organized. There are no sewing tools included with this basket but it has all the right compartments to keep your existing tools and notions handy. It comes in four different designs: A black and white hibiscus print, a rose print, a tulip print, and a black and white zebra print. It also comes in two different sizes. The medium basket measures 11 inches long, 7 inches wide and 5.5 inches high. The large basket measures 12 inches long, 9 inches wide and 6 inches high. It has a built-in pin cushion to keep your straight pins organized and handy. The pocket on the interior of the lid will help to keep your measuring tapes untangled. The removable plastic tray with multiple compartments will keep your small notions like buttons, snaps, needles, and hook and eye fasteners organized and accessible. It has a durable padded exterior and a strong magnetic snap closure for easy opening and secure closing. It's lightweight enough to carry from room to room or to sewing classes and seminars. This basket could also double as a storage box for jewelry-making supplies, yarn crafts or scrapbooking.
The Best Budget Sewing Basket
Michley Sewing Basket With a 41-piece Sewing Kit
If you're just getting started on your sewing adventure and you don't want to spend a lot of money, the Michley Sewing Basket is a good choice. This basket had us hooked the minute we saw the fun and friendly owl print on the outside, which appeals to adults and children alike. At 10.5 inches long, 8 inches wide and 6.7 inches high, this basket has plenty of room to store the pieces that are included with purchase as well as some of your own sewing tools. The 41-piece kit that comes with this basket includes a needle threader, thimble, seam ripper, 3 hand sewing needles, 2 sewing machine needles, a measuring tape, 16 metal bobbins and 16 spools of thread—that's basically everything you need to get started. It includes a removable plastic tray for storing small sewing accessories and there's plenty of room below the tray for patterns, fabric and in-progress projects.
The Most Portable Sewing Basket
Luxja High Capacity Sewing Accessories Organizer
If your sewing adventures take you far and wide to seminars, conventions and classes, you'll want a sewing basket that can comfortably come with you everywhere. The Luxja High Capacity Sewing Accessories Organizer has plenty of room for everything you'll need and a detachable shoulder strap for easy carrying. Not only will you look professional and organized but the gray and white polka dot exterior will make you look stylish as well. The supplies are not included with this bag but with dimensions of 11.5 inches long, 8 inches wide and 8 inches high, there is plenty of room to load up your own tools and head to your favorite event. The bag itself is only 1.76 pounds so you can bring lots of supplies with you and still be comfortable carrying this bag. The main compartment has two detachable padded dividers, allowing you to customize your bag to fit your supplies. The front storage areas have room for your marking pens, scissors, measuring tapes and seam rippers. The entire bag is made from heavy-duty vinyl and has thick padding to keep your tools and supplies safe and secure while traveling.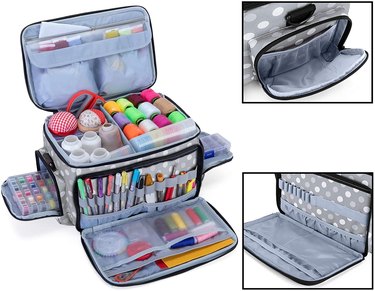 The Best Sewing Basket For Storage
Creative Large Sewing Storage Basket
At a whopping 21.5 inches long, 12 inches wide and 12 inches high, this is by far one of the largest portable sewing organizers available. The top access lid is made of clear plastic, so you can easily see where your supplies are located—no more rummaging around to find what you need! The top bin area has removable dividers, allowing you to customize the storage area to fit your sewing needs. Whether you're storing thread, bobbins, buttons, beads or snaps, you'll be able to create the perfect configuration for your small notions. The large clear front door panel opens to reveal three drawers for storing fabric, patterns, scissors, marking pens, seam rippers or rotary cutters. The smaller clear front panel opens to access an area for fabric pieces. There are no supplies included with this organizer so it's perfect for an established sewer or quilter to load up their existing supplies and stay organized. As an added bonus, there is a one-year warranty included with this sewing box.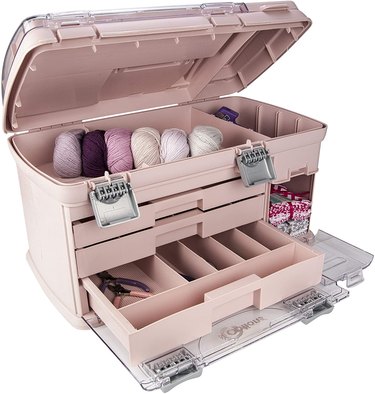 The Best Wooden Sewing Box
The Juvale Wooden Sewing Box is a sturdy, unique design. It has a large storage tray at the bottom and four smaller trays (two on each side) that extend out with wooden hinges for easy access. The top trays have hinged covers to keep your supplies clean and organized. Since this is made from wood, it weighs a substantial 3.29 pounds without any supplies. But it is large at 13.3 inches long, 11.9 inches wide and 7.6 inches high, so it's meant to stay put in your sewing and crafting space. It looks great the way it is but if you'd like your sewing box to coordinate with your sewing studio decor, you could paint it or even decoupage your favorite design onto the wood.