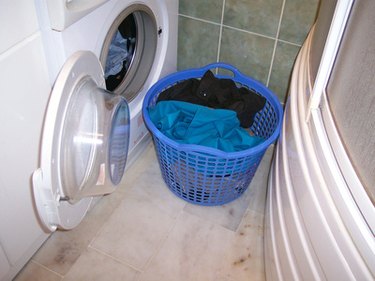 Dry cleaning bills, and the time spent driving to and from the dry cleaners, can add up. Save money and driving time by dry-cleaning your clothes in a front-loading washing machine that has a drying cycle. Several manufacturers, such as LG, sell washing machines that also dry clothes. If you do not have an all-in-one machine, use a dryer to dry-clean your clothes at home.
Things You'll Need
Home dry cleaning bag

Home dry cleaning cloth
Step 1
Put the clothing in a home dry cleaning bag. Do not fill the bag more than halfway full, because a full bag will not allow clothes to tumble and the dry cleaning cloth to penetrate all around the clothing.
Step 2
Put a dry cleaning cloth in the bag, and zip it shut.
Step 3
Put the bag in your front-loading washing and drying machine, and set it on a drying cycle. Consult the home dry cleaning kit to determine which heat setting to use. Many dry cleaning kits instruct you to use medium heat.
Step 4
Tumble the dry cleaning for 30 minutes, or according to the manufacturer's instructions.
Step 5
Immediately remove the clothes from the dryer after the cycle ends. The clothes should be slightly damp. Throw away the dry cleaning cloth.
Step 6
Hang the clothes immediately to prevent them from developing wrinkles.
Tip
You can use home dry cleaning bags multiple times.