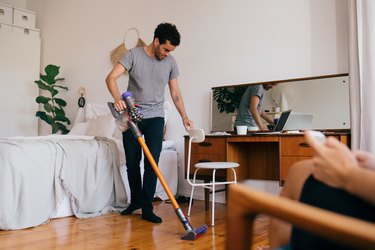 Cordless stick vacuums are a convenient way to vacuum your floors without dealing with that pesky cord that always seems to get in the way. They're easy to use, effective, and dare we say, fun? Not all stick vacuums are cordless, but the cordless ones are the most popular because of their convenience. The best cordless stick vacuums are versatile and can work efficiently across multiple floor types, and they do a great job of sucking up dirt, hair, dust and any other unwanted debris on your floors. Unfortunately, they can't suck up toys, dirty clothes or shoes that haven't been put away.
What to Consider When Purchasing a Cordless Stick Vacuum
​Run Time:​ Since a cordless stick vacuum doesn't stay plugged in while it's in use, it needs to be able to last long enough for you to get your cleaning done. Most batteries on a cordless stick vacuum can last anywhere from 15 to 80 minutes. The vacuums that have shorter run times are usually best for a small living space like an apartment, and models that have long-lasting run times can typically get through an entire house, depending on the mode you're using and how fast you work.
Most cordless stick vacuums take 3 to 5 hours to charge. Some come with an extra battery that can be charged while cleaning with the other, and you can sometimes buy an extra battery if the model you want to purchase doesn't come with an extra. It's important to note that the run time will also be dependent on the model you choose and if you use some sort of boost mode because even though boosting the power has a higher suction, it drains the battery quicker.
​Dust Bin Capacity:​ You won't find a cordless stick vacuum with a dust bin as large as an upright vacuum, but there are many models that can hold quite a bit—some even up to 2 quarts. To make your life easier (so you don't have to continuously empty the dust bin as you're vacuuming), you might want to consider purchasing a vacuum with a dust bin capacity of at least 0.5 quarts.
​Compatible Floor Types:​ Some cordless models come equipped with attachments, brush rolls, floor heads, and even surface detection features that allow the vacuum to safely and effectively be used on both hardwood and carpet. You will find some models that are designed specifically for hard floors and shouldn't be used on carpet (like wet-dry models, for example). Vacuums that feature a motorized cleaning head work best on carpet.
Scroll on for our full list of the best cordless stick vacuums in 2022.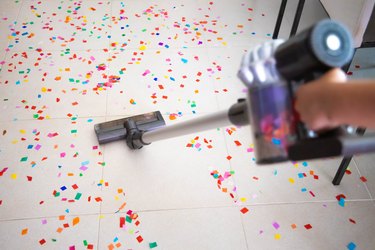 The Best Overall Cordless Stick Vacuum
The best cordless stick vacuum on our list also happens to be the most expensive, but for good reason. Not only does it have the strongest suction power of any of its predecessors, but it also comes with several useful accessories and features, including a laser cleaner head that reveals microscopic dust you likely would have otherwise never seen, as well as anti-tangle attachments to prevent hair wrapping. It also comes with a wall-mounting kit for easy storage and charging. The battery on this Dyson vacuum will last up to 34 minutes on a single charge. You can purchase an extra battery for $150.
​Dimensions:​ 49.6" x 10.5" x 9.8"
​Weight:​ 6.8 lbs.
​Run Time:​ 34 minutes
​Charge Time:​ 5 hours
​Bin Volume:​ 0.96 qt.
​Compatible Floor Types:​ Hard floors, low-pile carpet
​Wall Mount:​ Yes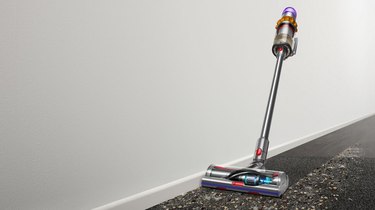 The Best Cordless Stick Vacuum Under $200
For a budget vacuum, the Tineco A10-D is above average when it comes to suction power and airflow. It's sufficient on hardwood floors and even better at cleaning carpets—including deep cleaning. It converts to a handheld vacuum to clean up quick messes or to pick up debris in harder-to-reach areas like corners, couch cushions, curtains and auto interiors. Other notable features include a trigger lock for continuous power, an easy-empty dust bin, fully-sealed HEPA filtration, LED lights for cleaning in dimly lit areas, and a 25-minute run time. If the vacuum is being run in MAX mode, however, it'll only last 10 minutes.
​Dimensions:​ 8.3" x 9.3" x 43.3"
​Weight:​ 5.2 lbs.
​Run Time:​ 25 minutes
​Charge Time:​ 3.5 hours
​Bin Volume:​ 0.48 qt.
​Compatible Floor Types:​ Hard floors, low-pile carpet
​Wall Mount:​ Yes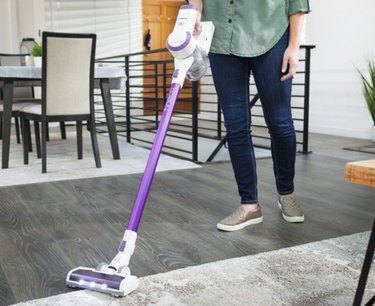 The Best Cordless Stick Vacuum for Battery Life
LG CordZero A9 Cordless Stick Vacuum Cleaner - A927KGMS
Built for both bare floors and carpets, LG's CordZero is a fantastic cordless stick vacuum. It comes with two quick-release batteries, letting you clean and charge at the same time for an impressively long run time of up to 120 minutes. There are different power levels, including turbo mode, which puts less strain on your hand for a more comfortable and powerful clean. Like most stick vacs, the CordZero has a detachable, versatile hand vac for spot cleaning on floors or furniture. According to the company, its five-step filtration system captures 99.99% of dust and dirt, first separating dirt in the bin and then filtering fine dust. The vacuum has a compressor lever that packs down collected dirt, dust, pet hair, and whatever else to create 2.4 times more bin capacity. The compressor feature also makes it easier to empty the bin with less scattered debris. Built-in WiFi connects to the LG ThinQ app.
​Dimensions:​ 9.1" x 11.2" x 28.3"
​Weight:​ 5.95 lbs.
​Run Time:​ 120 minutes
​Charge Time:​ 4 hours
​Bin Volume:​ 1.05 qt. when compressed
​Compatible Floor Types:​ Hard floors, carpet
​Wall Mount:​ Portable charging stand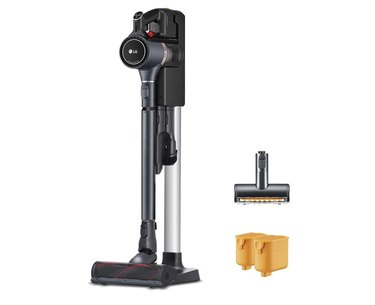 The Best Cordless Stick Vacuum for Hardwood Floors
At only 6.5 pounds, you can easily use the Eureka HyperClean throughout your whole house for vacuuming the floors, but also for reaching into high areas. Its strong suction is ideal for deep cleaning the carpets or rugs in your home and even in your car. It also efficiently picks up dust and debris on hardwood floors. It comes with several versatile attachments, including an upholstery tool, a crevice tool, two sets of filters and a wall-mounted storage accessory. LED headlights illuminate debris like pet hair and dust in hard-to-see places. This one offers up to 30 minutes of fade-free vacuuming time.
​Dimensions:​ 12" x 6.1" x 31.5"
​Weight:​ 6.5 lbs.
​Run Time:​ 30 minutes
​Charge Time:​ 5 hours
​Bin Volume:​ 0.6 qt.
​Compatible Floor Types:​ Hard floors, carpet
​Wall Mount:​ Yes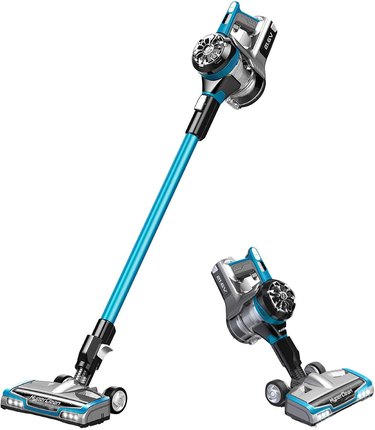 The Best Cordless Stick Vacuum for Carpet
The Samsung Jet 90 is a great option for picking up allergens in your home, like pet dander, pollen, fine dust and microdust. The air system optimizes airflow, while the vacuum's multicyclonic air filtration traps dust particles. Clog-reducing technology provides consistent, powerful suction to keep dirt and debris from building up on the filter. The 80-degree swivel head and lightweight design of this vacuum make it easy to maneuver on the carpet, stairs, under sofas and other tight spaces. The device has four available length adjustments for comfortable use. The vacuum comes with a dual charging station, which allows you to easily charge two batteries at once in only 3.5 hours so it's always ready to go. The second battery, however, is sold separately.
​Dimensions:​ 9.8" x 44" x 8.5"
​Weight:​ 6 lbs.
​Run Time:​ 60 minutes
​Charge Time:​ 3.5 hours
​Bin Volume:​ 0.8 qt.
​Compatible Floor Types:​ Hard floors, carpet
​Wall Mount:​ Dual charging station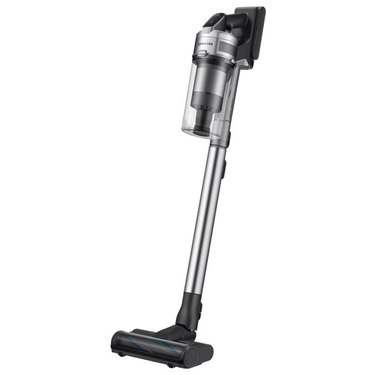 The Best Cordless Stick Vacuum for Pet Hair
You don't have to have pets to reap the benefits from the Shark Rocket Pet Pro, although if you do, that's great too. It works wonders on all floor types, especially hardwood, and a powerful and self-cleaning brush roll continuously cleans floors and prevents hair wrapping. A flexible wand allows you to bend it to clean under furniture or fold it for compact, freestanding storage. The vacuum has HEPA filtration and an anti-allergen seal. A removable hand vacuum allows for lightweight above-floor cleaning.
​Dimensions:​ 10.24" x 7.09" x 46.1"
​Weight:​ 7.17 lbs.
​Run Time:​ 40 minutes
​Charge Time:​ 3 hours
​Bin Volume:​ 0.34 qt.
​Compatible Floor Types:​ Hard floors, carpet
​Wall Mount:​ Freestanding