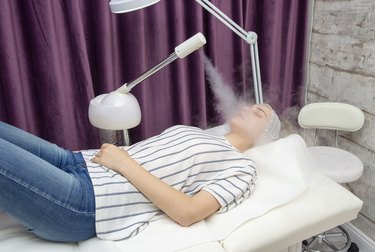 Whether you're using your facial steamer at home or in a spa setting, it's important to keep it clean and sanitary. Follow the Pure facial steamer cleaning instructions for routine maintenance and cleaning. You may also have a facial steamer like the Pure Daily Care by NanoSteamer; cleaning tactics are similar for many such products. You should always check the manufacturer instructions, however.
Pure Facial Steamer Cleaning Instructions
Keeping a beauty tool like a facial steamer clean is essential to keep it working properly, whether it is a Pure model or a steamer from another manufacturer. If it's dirty, you'll apply those germs and grime back into your or your client's skin. If you work in a spa, it may be against regulations to use a dirty tool of any kind, let alone one that is applied to the face. To clean your facial steamer, you will need distilled water, a cleaning cloth and white vinegar.
First, empty the steamer of any water still in the tank. Gently brush off any debris from the outside of the machine as well. Then, re-fill the tank with the distilled water and 2 tablespoons of white vinegar. Next, turn on the steamer switch only; no other components should be on. Let it heat thoroughly and run the steam function for 30 to 60 seconds to allow the vinegar solution to work through the mechanisms and kill any germs.
After running the steamer, let the vinegar and water mixture stay in the machine for about 15 minutes. This process also gives you time for the steamer to cool down. Dump out any of the remaining water and vinegar mixture from the tank and re-fill it with plain, distilled water. Rerun the machine, this time for 10 minutes, to clean out any remaining residue, both from the vinegar and from the previous use. Finally, wipe down the outside of the steamer all over with a clean cloth. Your steamer is now ready for your next use.
Maintenance Tips for Your Facial Steamer
A facial steamer is often an expensive investment. For that reason, it's essential to take proper care of it. First and foremost, always clean the steamer after each use, even if you use it only on yourself.
Always use distilled water rather than regular tap water in your steamer. Regular water contains elements that can damage the steamer's mechanisms. Even more importantly, you don't want those elements, which may include minerals like calcium, magnesium or potassium, getting into your skin.
Beware of Mold and Mildew
Don't let water sit in the steamer. After you're done, you should always empty the tank. Also, even though it might smell good, don't put essential oils in the tank, as these substances can cause it to malfunction.
Frequently check the rubber seal around the rim for signs of damage or mold and mildew. If it's damaged, contact the manufacturer for a replacement immediately. If you find anything growing there, clean it using white vinegar diluted in water (the same mixture you used before).
If you've bought a steamer for personal home use, experts recommend using it no more than once a week, for no more than 10 minutes at a time. This is enough time to remove dead skin cells and leave your skin looking shiny and youthful without irritating it or drying it out.