Halloween can be lighthearted and whimsical —think funny costumes and candy corn—but it can also be ominous, disturbing and downright scary. Evil clowns, anyone? How about some disembodied heads? Or demonic children? If you love the spooky and macabre side of Halloween and want to unsettle your friends or party guests, these creepy but oh-so-simple Halloween decorations will certainly do the trick (or treat)!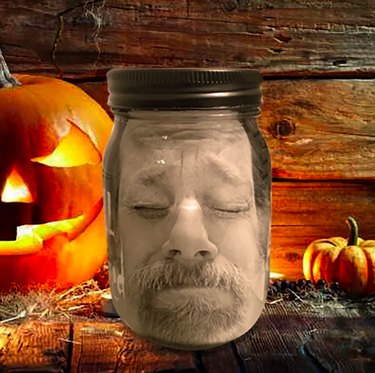 1. Spooky DIY Creepy Photo Candle Holder Kit
Clowns…why did it have to be clowns? Actually, with this chilling DIY candle holder kit, you can have your choice of sinister clowns, ghostly portraits, freaky children or iconic movie monsters. This kit by DoItYoCrafts on Etsy lets you choose which scary theme you want for your photos and provides you with everything you need to make not one, but three terrifying candle holders.
2 large glass flutes (7.25 inches tall and 11 inches in diameter)
1 small glass flute (4 inches tall and 10 inches in diameter)
Choice of 1 of 3 old, creepy photo themes
1 push pin to cut eyes
2 ounces of black paint
2 ounces of glue gloss
2 foam brushes
Creating the candle holders is very simple. First, you bend the photos slightly to fit inside their respective glass flutes. Then, embellish them with black paint and use a push pin to cut out your creepy subjects' eyes, allowing more candlelight to pass through. Place a flickering tea light or LED candle in each flute and the final result is extremely spooky, especially in dim lighting. We think the sinister clown and Victorian portrait-style photos are the most unsettling of the bunch, but get whatever tickles your frightening fancy!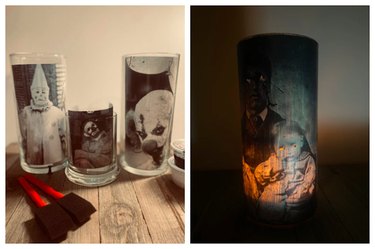 2. Skeletal Embrace Bead Embroidery Kit
This bead embroidery kit by AllAboutEmbroideryUA is beautiful and bone-chilling at the same time. Featuring a skeletal couple in a heartwarming (or perhaps heart-stopping?) embrace, the portrait measures 13.6 inches tall and 10 inches wide, a perfect size for making a visual impact without taking up too much space. The shiny beads and little splashes of color lend a quiet beauty to the macabre. For the embroidering enthusiast, it's a must-have piece perfect for Halloween or Día de Los Muertos.
Satin fabric with printed background
Czech beads (Preciosa Ornela), provided in Ziploc bags
Embroidery thread
Embroidery needle
Full instructions
While the kit doesn't include a bead organizer, this one on Amazon would work well for this project. It also doesn't come with a frame to help you stretch out the satin canvas for embroidering, but this 12x19 tapestry scroll embroidery frame should be large enough. Once you're finished, we recommend mounting your creation on an 11x15 foam board and putting it inside a frame of your choice.
​Tips from the seller, if washing beadwork:​
Wash by hand only in warm water (90 degrees Fahrenheit or 30 degrees Celsius),
Do not wring out.
Allow to dry on a flat surface.
Iron from the back side.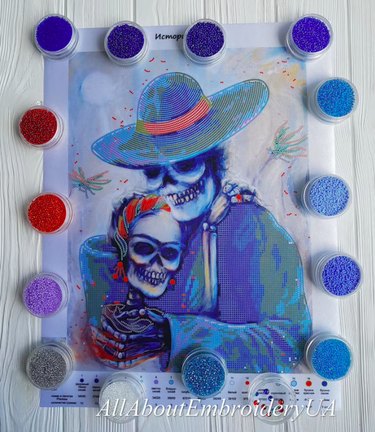 3. Creepy Wailing Child Cement Faces
Babies and children can definitely be cute, but anyone who's seen "The Ring" knows that they can also be pretty freaky and even disturbing. These wailing baby faces from PastelAlienShop on Etsy are made of cement and each one measures approximately 2 inches tall.
While they're smaller than life-size baby faces and originally designed for decorating potted plants and gardens, you can certainly utilize them to terrific (and terrifying) effect for Halloween. Imagine a whole bunch of these faces tearing their way out of the wall or a framed picture – yikes! They're available in quantities of one, two, three, five or 10.
We recommend purchasing several and using double-sided Gorilla tape to temporarily attach them to walls, doors and other surfaces – maybe the bathroom door? Your party guests will be in for quite a surprise!
4. 3D-Printed Spine Candle Holders
Inspired by the candles in Professor Lupin's office in the 2004 film "Harry Potter and the Prisoner of Azkaban," these 3D-printed spine candle holders are incredibly realistic. Available from two Etsy sellers (products differ slightly), each candle holder includes a small cavity at the top for a flickering tea light or LED candle. They'd be perfect for a disturbing horror hospital scene, if you need ideas.
From TribuStudioFR, each spine is first printed using a PLA filament (a bioplastic made of corn starch) and then carefully assembled by hand. They're available in a multitude of colors and come in sizes ranging from 10 centimeters to 30 centimeters in height, or approximately 3.94 inches to 11.8 inches tall. (Note: If you're in the U.S., estimated delivery times vary wildly because this product ships from overseas. The seller estimates delivery between two and five weeks after ordering).
From 3dPrintworksShop, each spine is also printed using a PLA filament and assembled by hand. These spines come in three sizes: 3 1/2 inches, 7 inches, and 11 inches tall and are available in one of three finishes: white, bone, or black (we recommend bone because it looks the most realistic). The estimated shipping range isn't as wide as that for TribuStudioFR, if you're in the U.S. – the product will probably arrive between two and three weeks after your order is placed.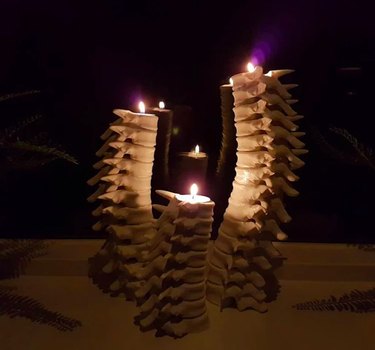 5. Your Face in a Jar Creepy Decor Kit
If you've ever wondered what your own head would look like inside a jar (weirdo), this kit from StudioBPhotoDesigns on Etsy is for you. All you have to do is send the seller two photos of your face (or any face), one from a straight-on view and another from the side. Mugshots work very well for this. The seller then prints your face on special waterproof paper and sends it to you in a pint-size mason jar. You simply add water and ta-da! Your face (or your friend's face!) is in a jar. Creepy, or what?
The photos are available in two tones: sepia or black-and-white. We recommend going for the sepia tone, as it comes out looking more realistic, like your shrunken head has been preserved in formaldehyde. While the final result isn't life-size, it's still extremely unsettling. You should definitely consider using photos of your friends. Imagine how disturbed they'll be when they see your sick and twisted "plans" for them!