The time for summer parties has officially arrived. If you're anything like us, you may be thinking about a theme for your fun-filled soiree, and of course, there are countless options. Fortunately, there are plenty of DIY decor kits to make your bash memorable. You can set the scene with streamers, placemats, carpentry, string lights, cutouts and more, all of which will be easy to assemble and budget-friendly.
So, dust off your favorite sunnies because the future is looking bright for you and your attendees. Check out these 10 DIY summer decor kits that are perfect for your upcoming parties!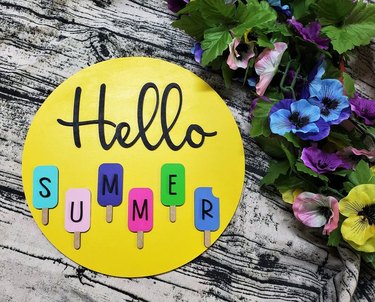 Bring the beach to your home and get creative with this DIY Tiered Tray Set. It has everything you'll need to create a summer-themed stacked display, and buyers can choose up to eight paint tones. The kit makes it easy to match any color scheme or aesthetic that you have in mind.
Your end result can be unique and playful. All items are handmade, and buyers can expect to see variations in the grain and stain for each sign. Wow your guests at the entrance or by the bar!
All wood cutouts shown in picture
5 triangle makeup sponges
1tube of super glue
1 set of instructions
Paint colors of your choice can be added
2. Hello Summer Popsicle Door Hanger Sign
Another way to make your summer party unforgettable is with this adorable Hello Summer Popsicle Door Hanger Sign. It can be painted to your liking and adds a wondrous pop of color to your decor.
You might also want to hang it by your backyard or on your pool gate. The base, which is a wood round, can be pink, yellow or DIY (meaning you can choose the color and paint it yourself). After picking out your bright hues, the seller suggests adding a clear coat for a longer-lasting finish, making it perfect for a covered porch, deck or door.
1 wood round
6 blank popsicles
Individual letters for "summer"
Blank MDF "hello"
Tips sheet (with the DIY option)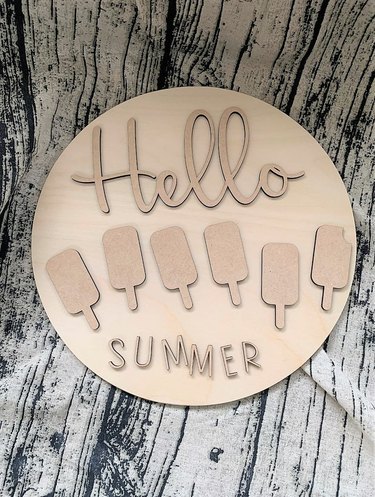 Your party will be lit with this stunning DIY Party Light Kit. It makes a great 21st birthday gift or addition to a summer shindig.
It comes with custom-designed silicone caps and a string of lights. You will need to empty the mini bottles of your choice (those are not provided), pop on the silicone caps and push them onto the mini lights. Some buyers said they opted to order extra caps so they can add more mini bottles to the string of lights to really set the scene.
Small kit: approximately 8' wire with 20 lights (10 caps)
Large kit: approximately 17' wire with 50 lights (20 caps)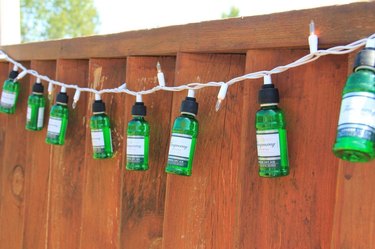 4. Hanging Wisteria Paper Decor
The Hanging Wisteria Paper Decor is one of Etsy's best-sellers. Not only is it cost-effective but the finished products are both visually appealing and fitting for a summer or Hawaii-themed party.
Creating the paper flowers can be a tedious process, but if you have time on your hands, it will be worth your efforts. There is a full step-by-step video tutorial to learn how, so you will be guided along the way. Also, you will receive a video link that teaches you how to stem a paper flower.
Paper wisteria template with the skinny vine
3 point leaf template design
Printable PDFs for hand cutting, SVG cut files for machines (Cricut, Silhouette, etc.) and PNG images. (DXF files can be provided upon request.)
5. Boho DIY Balloon Garland Kit
In the case that you are more of a neutral lover (even in the summer months), there is a very chic Boho DIY Balloon Garland Kit available on Etsy.
Its cream tones make it fitting for any occasion, and it will certainly give any room an inviting feel. The balloons range in custom warm gray, custom cream peach and custom taupe — all will be layered and ready to be inflated. There's no doubt your friends and family will want to take a photo in front of the gorgeous balloon garland, which can be placed indoors or outdoors. While the balloons are quick to inflate, the garland takes about one hour to assemble. Balloons should be inflated with air and not helium. Feel free to blow them up one to two days prior to the event, and they will still be picture-perfect!
Assortment of balloons
Balloon strip (to put the balloons into a garland)
Instructions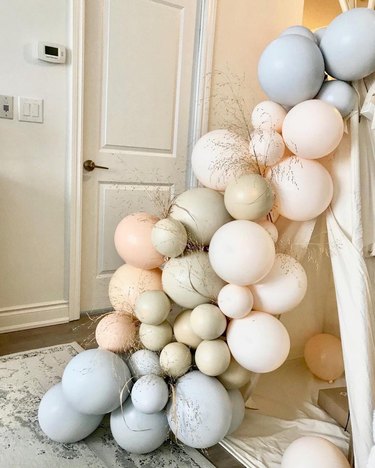 We want everyone to find something to love, and that's why we also have to recommend this vibrant DIY Balloon Garland that offers the ultimate statement party piece.
Who says you have to leave home to experience the tropics? No helium is needed, and all you will need to do is inflate your balloons and secure them to the decorating twine strip supplied in your kit. It's easy to assemble, can be shipped quickly and won't break the bank with its cost.
Palm leaf: 8 pieces (pink, rose red, rose gold, green, white)
Balloons: 75 pieces (each color 15 pieces)
16.4-foot garland strip and dots glue
7. Deluxe Movie Night Decor DIY Kit
Are you feeling like a movie night at home? This Deluxe Movie Night Decor DIY Kit that is Amazon's Choice brings the theater experience to you. It has popcorn bags, trivia, tickets and more so you can be extra comfortable while watching your favorite flick. Hopefully someone will be up to working the concession stand!
You can personalize the bags, tear the movie tickets and make the most of it. Whether you use a TV or projector, it will give you all of the makings for a party that everyone will remember. Save that movie money and cozy up at home. By the way, you're welcome to make your own pizza and hot dogs.
8 movie tickets
8 popcorn bags
4 concession stand place cards
4 trivia team cards
2 trivia host cards
1 dice
Instructions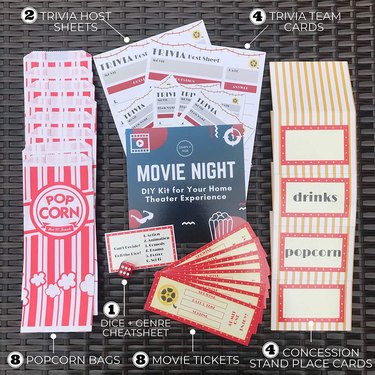 Are you having an ocean-themed bash? Well, this 50-piece set provides a variety of different seashells that you can use to decorate your home or party. Each piece is carefully hand-picked and clean, so you can get going right away and put on an under-the-sea-inspired event that you've always dreamed of.
The seller suggests stringing the shells to make jewelry or gluing these mini conchs to a hard surface to add a fresh touch to nautical decor. Another playful idea is adding the shells to a vase or bowl and filling it with sand to make a lovely centerpiece.
9. Printable Ice Cream Truck Party Favor
There's nothing better than a delicious scoop of ice cream on a hot summer day, so why not bring the ice cream man (cutouts) to your party? This favor box is a best-seller on Etsy, likely because it's adorable and simple to make.
Each truck can be utilized as a centerpiece or favor box. It's as easy as printing the designs at home or in any local print shop, but we should note the designs are not editable. After getting your copies, it's just a matter of cutting and folding. Some buyers note that the truck is on the smaller side, standing at 3 inches, but it still brings a simple wow factor to parties.
• Ready-to-print digital files (2 PDFs)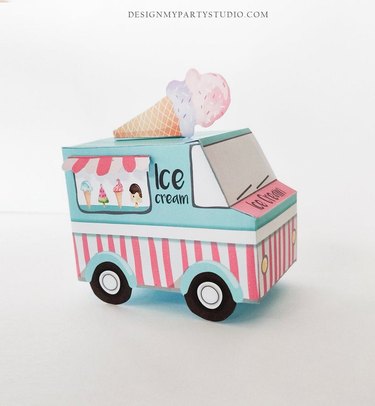 10. Lemonade Summer DIY Paint Kit
When life hands you lemons, it's time to DIY. This summer-themed kit will be an eye catcher, and it's easy to work on it in your free time.
You will get the opportunity to paint each of the pieces, which will still need to be glued together after you unbox. If you choose a kit that comes with paint, you will also get the wood cutouts, instructions, paint sponges, glue and twine in the set. If you pass on the paint, you will only receive the wood cutouts. Either way, your shindig will be sweet as ever!
Wood cutouts
Instructions
Paint (optional)
Paint sponges (optional)
Glue (optional)

Twine (optional)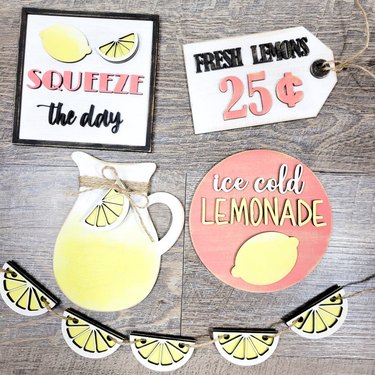 Take your summer bash to the next level with any of these darling decor ideas! There's no reason to spend big bucks when you can easily spruce up the aesthetic with these DIY kits.