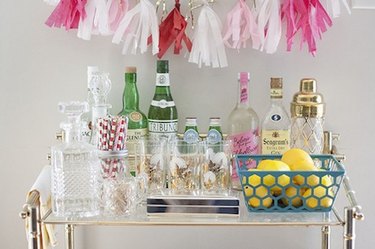 It's no surprise that artisanal cocktails are all the rage, and having your own stocked bar cart is a fun way to get creative while entertaining guests at your next get-together. Whether you're mixing up drinks or devising a clever way to store your assortment of liquor bottles, a cart or tray is always a handy and glamorous accessory. Get inspired by these revamped bar carts that serve up some serious festivity.
9. Brass Bar Cart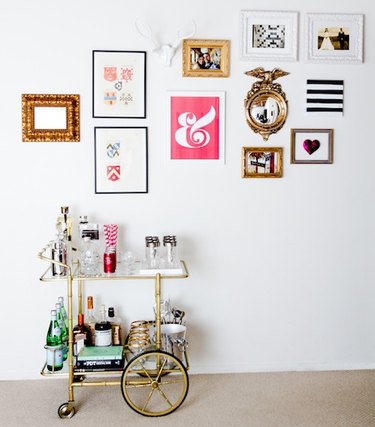 When Julie of The Life Styled found this cart, she was determined to restore it to its former glory. Now with refinished brass and clear glass shelves, this cart proves that patience and a little creativity can go a long way.
8. Campaign Chest Bar Tray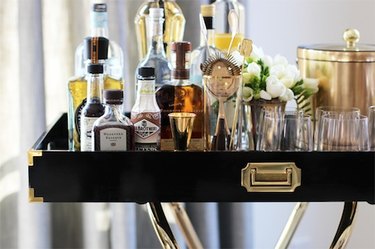 Fit for a Manhattan martini bar, this tray gets an uptown twist with the addition of brass corners and drawer pulls. This tray, seen on Honestly Yum, can be pulled together in just hours and ready for a cocktail party by five o'clock tonight.
7. Navy Blue Bar Cart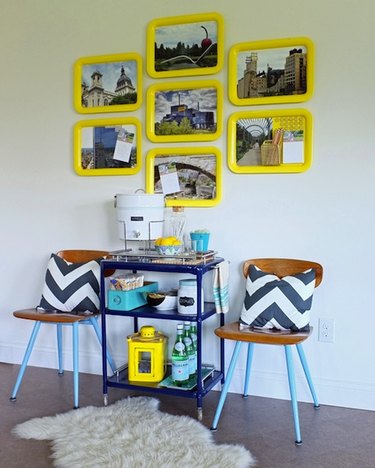 An old AV cart can be re-purposed into a wonderful cart to hold snacks and beverages. Jackie from Teal & Lime was lucky enough to grab this cart for her family's basement. Wanting to create more of a kid-friendly vibe, she filled it with munchies like popcorn, cookies and mixed nuts.
6. Industrial Bar Cart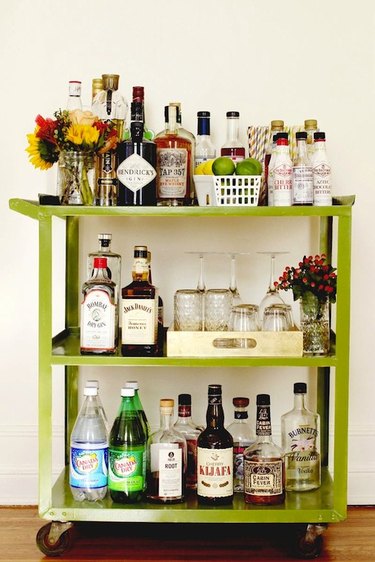 If you're one of the lucky few to find a bar cart from a flea market, this DIY project is for you. This cart, re-purposed by the girls at A Beautiful Mess, has good features and with a little TLC provides the perfect space to display a diverse cocktail collection.
5. Bamboo Bar Cart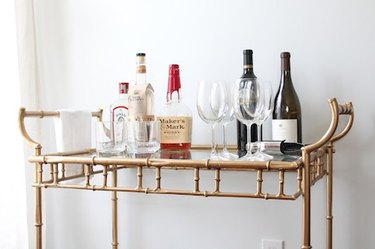 The bamboo details of this cart might suggest that this cart existed in a tiki bar at one point in history. To get that vintage bar cart look, Julie of Coordinately Yours used spray paint and cut custom fitted glass shelves.
4. Utility Bar Cart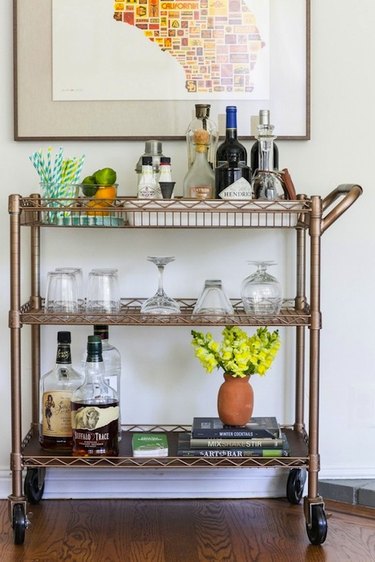 Trying to find the ideal cart from a flea market or thrift shop can take a lot of patience. If you're looking to DIY a bar cart ASAP, you can purchase a basic metal cart and embellish it with memorable details. The girls at The Effortless Chic added upholstery leather to the handle and bottom shelf, giving the cart a handsome touch.
3. Shabby Chic Bar Cart
Believe it or not, this adorable cart started out as a dusty, garage sale score in need of a little revamping. With a fresh, white coat of paint and some charming adornments (see: striped straws and pale pink roses) this cart from Design Sponge is ready for entertaining.
2. Yellow Bar Tray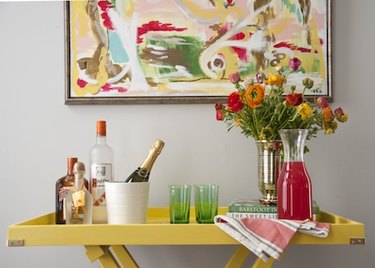 Hosting brunch at your place? Use a wide tray to serve up a mimosa bar like this one from House of Earnest. Bonus points if you squeeze your own orange juice!
1. Artfully Arranged Bar Cart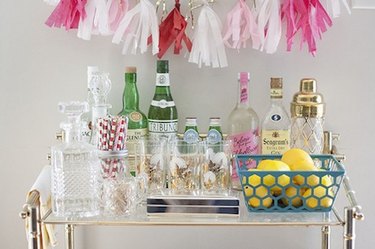 Liquor bottles, glass tumblers and decanters are all essential accoutrement for a classic bar cart. eHow Home blogger Carrie Waller of Dream Green DIY brings all of these components together in a balanced, aesthetically pleasing way.