Mother's Day is a lovely way to celebrate the woman who gave you life, but it can also be stressful. Every year you feel the pressure to wow her or at least make her smile, which can create a headache. You can avoid that this year by choosing something from this list. Any of these gifts will surely make her smile and getting it early will give you a breath of relief, too.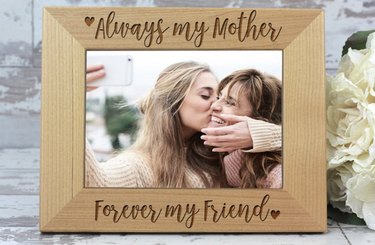 This gift is great for the mom who loves to have reminders of her children and rustic décor. This lovely sign would feature the names of her children in calligraphy on a wood pallet. It would surely brighten her day every time she looked at it, and it would also be a great conversation piece for any guests she may have.
2. Mother and Daughter Custom Portrait
Mother's Day is the best day to give your mother personalized present. A custom portrait fits the bill for a few reasons. First, it's unlikely that she would already have one; second, it's quite simple to set up so there's no hassle on your part; and lastly, it highlights the special relationship between a mother and her child.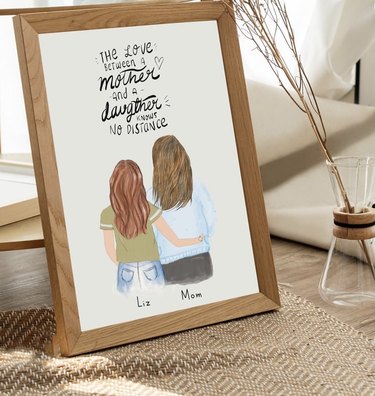 If you are really lost as to what to get mom, try a gift box. This shop has six versions to choose from and any of them would be great, including dreamy lavender and relax and refresh. These boxes would be awesome for the mom who's hard to shop for but loves to relax. It could also be a nice way to nudge your hardworking mother into taking a day off to celebrate herself.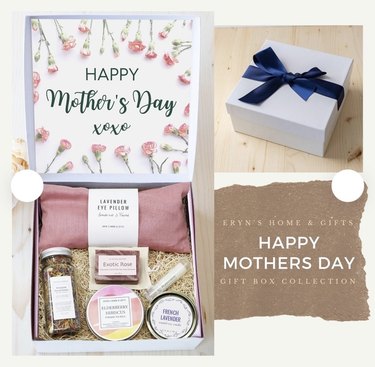 4. Personalized Family Flower Plaque
Flowers and Mother's Day go hand in hand, but instead of getting her flowers that will die, how about getting her some that will never need to be thrown out? A personalized flower plaque will make her happy and won't give her any additional work to do. The plaque features up to eight tulips and eight names. The names are engraved on the stems and an additional message can be engraved along the bottom. A plaque that she could keep forever would definitely make her day.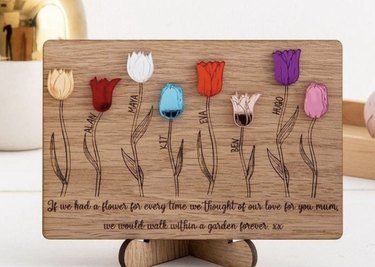 5. Personalized Apothecary Candle
Does your mom love candles? Of course she does! She's going to love this next idea too: a personalized candle. There are 12 scents to choose from and the label can have a message on it as well. Your mom could light her special candle, read the loving message and just feel great about herself.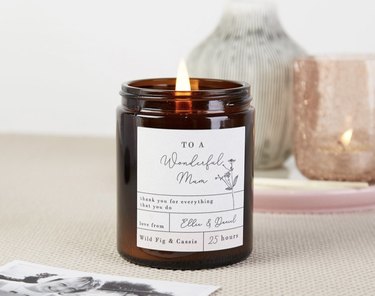 6. Personalized Picture Frame
A personalized picture frame is a great gift for the mom who loves mementos. You can choose from two different wood types that fit a 5- by 7-inch photo. You can also engrave the frame with a special message from the heart. This would be a wonderful way to make sure that your mother always has a piece of you with her.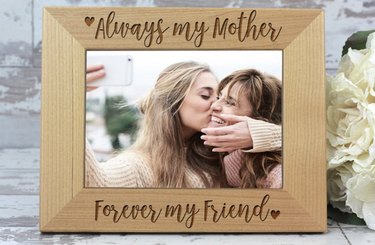 This next gift idea would be ideal for a mother who loves jewelry and/or music. A customizable music box is both practical and sentimental. Every time she opened it to get to her favorite ring, she would think of you. Your mother could also hear her favorite song getting ready, which would definitely brighten her day. There's also an additional engraving option.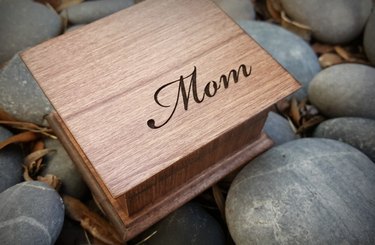 Jewelry is always a crowd-pleaser when it comes to moms. This necklace would surely make her happy, because it would be unique to her. The necklace features peas in a pod and you can choose from two to five pods with as many little leaves. The leaves would also be engraved with any letter you choose. The peas would correspond to the birth month of your choice. Since there are so many things to choose from it's very likely that your mother's necklace is one of a kind, just like her.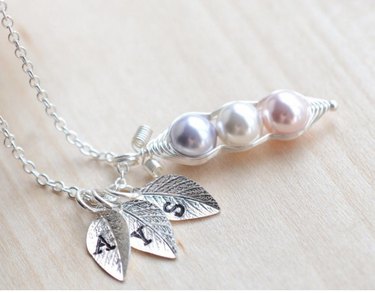 All mothers love blankets so it only makes sense to present yours with a custom one. This shop lets you add quotes, letters, even pictures on the blanket. Your mom could read her favorite book while keeping warm under a picture of the both of you. She would cherish it forever and be a source a happiness for you both.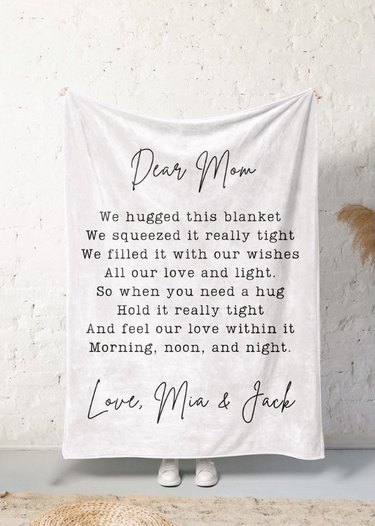 10. Mini Tea and Honey Box
If your mom loves the finer things or maybe just wants to try something new, then this box set is for her. A mini tea and honey box is a great gift for someone who loves tea and it could also be shared. It contains raw honey with a wooden dipper, three organic loose-leaf tea tubes, a card, and custom box for storage. She could enjoy this after a long day or on a sunny afternoon, either way she would enjoy the experience.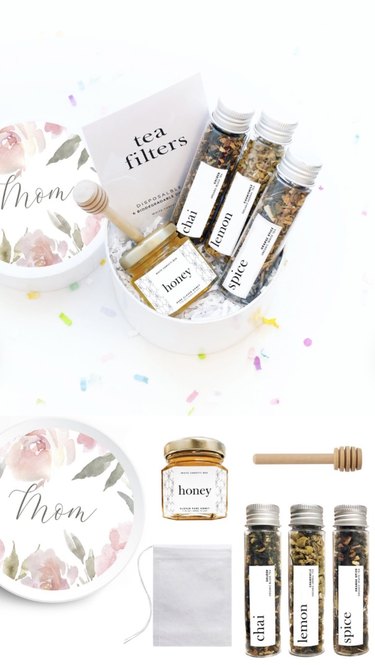 Choosing one or a few of these gifts will make shopping for your mom a lot less difficult. You could even combine some of them to create the ultimate gift for her. Sorting out her gift early will help you enjoy the day that much more. So hopefully this list helped and you're able to celebrate your mom, the way she deserves.