We crafters have it made when it comes to giving people greeting cards that are ​truly​ from the heart. I mean, what's more personal than a one-of-a-kind card made exclusively for the recipient? And if there's anyone worthy of handmade, it's mom. And in the process, we get to do what we love – craft! Sweet deal, eh? And though there are a lot of card-making kits on the market, we've decided to select a variety of projects that span didn't paper craft techniques – from folding, to printing, to machine die cutting. So this Mother's Day, skip the mass-produced greeting card aisle and read on!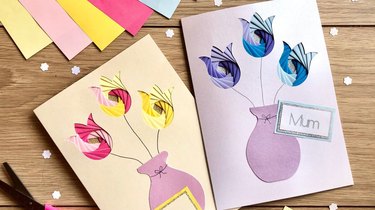 1. Pretty In Paper By B Folding Card Kit
The traditional Dutch craft of Iris folding gets its name from the spiral pattern created using pieces of folded paper resembling the iris of an eye or a camera. The folded paper is layered underneath a single piece of paper with a cutout shape, resulting in some very pretty artwork. We found this lovely starter kit on Etsy by Pretty In Paper By B that includes enough materials for eight greeting cards and an instruction book. All you'll need to supply yourself are some tape, glue and re-usable adhesive.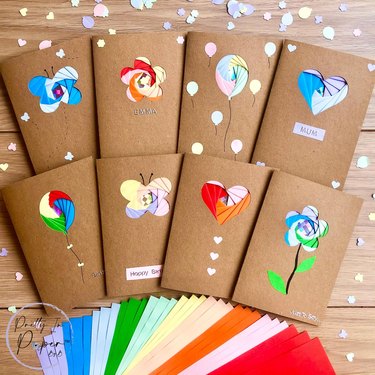 2. PICKME DIY Card Making Kit
If you're a scrapbooker with loads of supplies, then you've pretty much got this greeting card task in the bag. If you're not, though, you can buy scrapbooking material kits especially for greeting card creation. There are plenty out there to choose from, many of which are categorized according to theme or special occasion. And since the art of card-making calls to mind Victorian Era valentine cards, we love this vintage-themed kit by PICKME. It comes with various paper cutouts of sundry vintage objects and images, allowing you to grace mom's card with your own custom collage.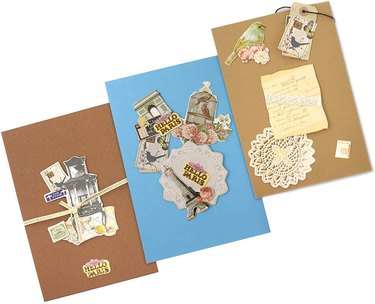 3. Elemental Leaf Solar Printing Kit
Light-sensitive cyanotype paper turns a lovely shade of deep blue when exposed to the sun. Lay objects on top during light exposure to create simple yet beautiful one-of-a-kind art prints. This kit by Elemental Leaf includes 4- by 6-inch postcard-sized pieces of cyanotype paper which are the perfect size for greeting cards. We suggest using objects that hold sentimental value between you and your mom – a house key from your childhood home, botanical elements from a special place you have in common, a personal piece of jewelry, etc.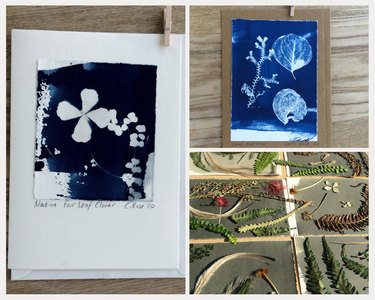 4. Heirloom Quilling Card Templates
Historians can trace the art of paper quilling back to the 15th century, though its origins are probably much earlier. It's done by forming pictures and decorative designs out of thin strips of paper by coiling, bending, curling, twisting, and then gluing them in place. Some very intricate 3D designs can be made on paper through this technique, and it lends itself perfectly to greeting card making.
You can cut strips yourself, or take the more convenient route by purchasing ready-cut strips from sites like Etsy, Amazon, or JOANN. You can also find printable design templates online that will guide you in creating gorgeous images using classic quilling techniques. One place to find downloadable quilling templates is Heirloom Quilling – which doesn't include the actual supplies, but does include photos, graphs, and step-by-step instructions.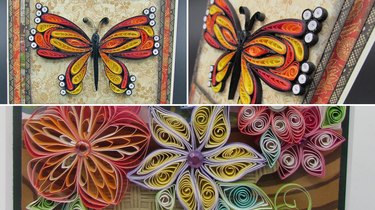 5. Printsables Pop Up Card Cutting Machine Templates
We couldn't talk about beautiful DIY greeting cards without mentioning the amazing projects you can make with die cutting machines like Cricut or Silhouette. Case in point, these impressive DIY pop-up cards that you can create using templates and materials from Printsables on Etsy. You supply the materials and tools including cardstock paper, tape, cutting machine, scoring tool, pens, and glue.
We hope that one of these card-making kits has inspired you to go handmade this Mother's Day. Whether you're an experienced crafter whose masterpieces are museum worthy, or a total newbie whose creations may be the type that only a mother could love (we kid, of course!), a made-by-you card ​always​ means so much more.