Sewing with leather on your home sewing machine is totally possible. There is absolutely no reason to fear leather. As long as you remember to make a few adjustments to your regular sewing, you'll be sewing leather projects like chic bucket bags, crossbody bags and even journals with leather covers in no time. All it takes to get started are some new needles, a little planning and a few things you probably already have around the house.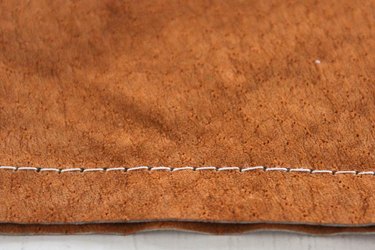 Things You'll Need
Sharp scissors

Needles for leather, size 110/18

Wonder clips, paper clips or binder clips

Teflon presser foot (optional)

Invisible tape

Nylon or polyester thread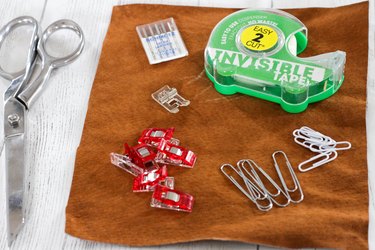 When sewing with leather, be sure that you use a very sharp pair of scissors. This will make your cuts precise and will in turn create a more professional piece.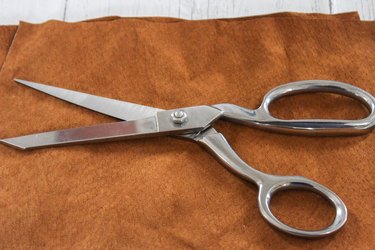 2. Use a Needle for Leather
Leather needles are available from most fabric and craft stores. Just make sure that it's labeled for leather. Leather needles are very sharp and will need to be changed often. Have extra needles on hand in case one breaks or gets dull.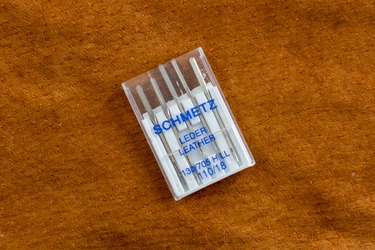 Never use pins when sewing with leather. They will put noticeable holes in the leather, which can ruin a project. Instead, use some kind of clip to hold your leather pieces together. Wonder clips work well, but if you don't happen to have any, you can use paper clips or even binder clips.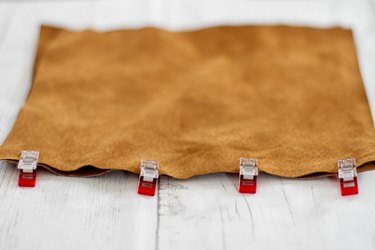 4. Change Your Presser Foot
Change to a Teflon presser foot to help you get the thick and slick leather through your machine. If you don't happen to have a Teflon presser foot, you can make your own nonstick foot by placing a piece of invisible tape on the bottom of your regular presser foot.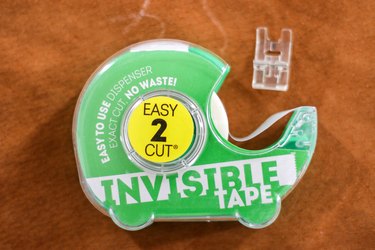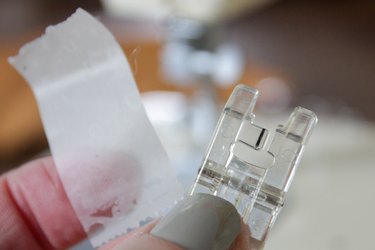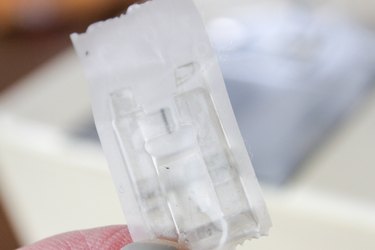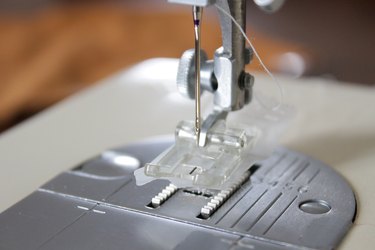 5. Change the Stitch Length
Use a long stitch length when sewing with leather. This will help the needle go through the leather and keep the stitches straight and even.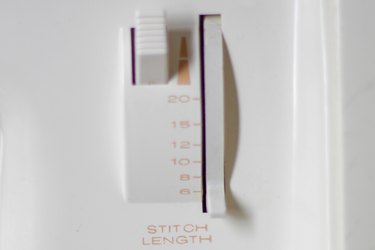 6. Use Nylon or Polyester Thread
The type of thread you use when sewing with leather is very important. Cotton thread will erode over time when it comes in contact with the tannins in the leather. Nobody wants that after working hard on a piece of leather handiwork. Be sure to use nylon or polyester thread when creating your leather masterpieces.
7. Plan Your Project Well
Since leather isn't as forgiving as regular sewing, you'll want to plan your project ahead of time to avoid any sewing mistakes. Sewing on leather will make a permanent hole, so fixing a blunder isn't as easy as sewing on regular fabric. Use a scrap piece of leather to test thread, stitch length and machine tension to help make your project a successful one.
So, you see, there's absolutely no need to be afraid of sewing with leather. All you have to do is make a few changes to your regular sewing machine and tools, plan ahead and slow down a bit, and sewing with leather will not only be fun but rewarding as well.