On New Year's Eve, nothing beats a glass of bubbly with a side of sweets. So, why not make a champagne-infused recipe and enjoy both in one bite? These baked strawberry champagne donuts will let you do just that. They're decadent, sweet and pair perfectly with champagne glaze. Plus, since they're baked, you won't have to deal with a greasy mess. Your guests will adore this festive recipe! Read on to learn how to make baked strawberry champagne donuts for New Year's Eve.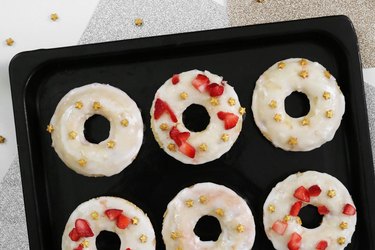 Things You'll Need
2 1/4 cups all-purpose flour

2 teaspoons baking powder

1/2 teaspoon fine salt

1 cup white sugar

2 teaspoons vanilla extract

1/4 cup melted butter or oil

4 eggs

1 cup extra dry champagne

3/4 cup finely chopped strawberries

Butter or oil for greasing



Tip
This recipe makes 18 donuts. Depending on the size of your donut molds, you may need one or more pans. You can also use this recipe to make mini donuts.
To avoid "spongy" donuts, use flat champagne.
Step 1
Pre-heat the oven to 375° Fahrenheit.
In a large bowl, combine the flour, sugar, baking powder and salt. Mix well.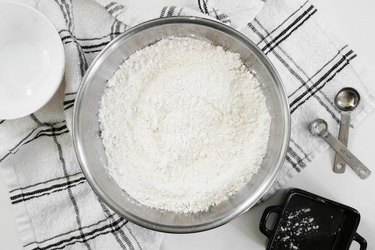 Step 2
In a separate bowl, combine the eggs, melted butter and vanilla. Whisk until the eggs are gently beaten.
Step 3
Add the wet ingredients to the dry ingredients and mix. The batter will seem dry and clumpy; this is normal.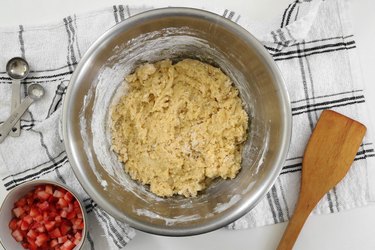 Step 4
Slowly add the champagne. Stir until the ingredients are evenly combined. At this point, the batter will be similar to cake batter.
Fold in the chopped strawberries.
Tip
Typically, donut batter is piped into a pan. If you want to use a piping bag, make sure the strawberries are very finely chopped. The opening of your piping bag should also be larger than usual. Another option is to pipe the batter (without strawberries) into the pan and stir chopped strawberries into each individual mold.
Step 5
Scoop or pipe the batter into greased donut pans.
Bake for 10 to 12 minutes or until a toothpick comes out clean. Leave to cool completely.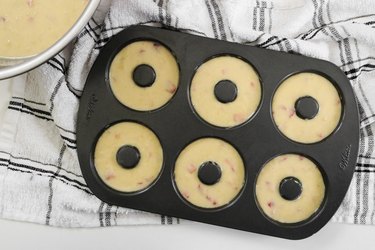 Champagne Glaze
Things You'll Need
3 cups powdered sugar

7 to 10 tablespoons extra dry champagne

1 1/2 tablespoons melted butter

1 to 2 teaspoons vanilla extract

Chopped strawberries and sprinkles for topping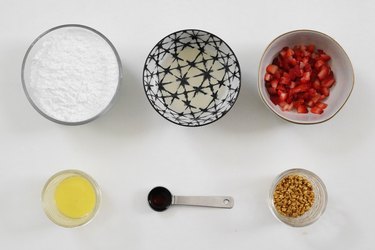 Step 1
In a large bowl, combine the powdered sugar, champagne, melted butter and vanilla extract. You can adjust the ingredients according to your desired flavor.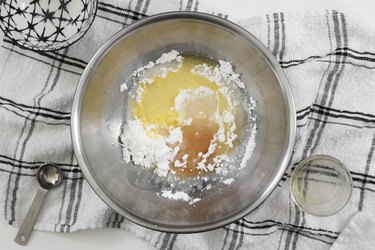 Step 2
Whisk together until thoroughly combined.
You can easily adjust the champagne glaze to suit your preferred consistency. For a thicker glaze, add more powdered sugar. For a thinner glaze, add more champagne.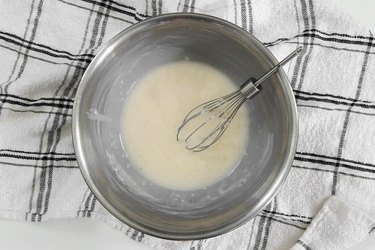 Step 3
Dip the cooled donuts into the champagne glaze. Sprinkle with chopped strawberries, star sprinkles or your favorite toppings.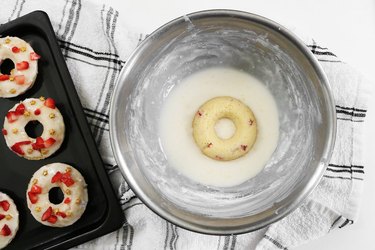 Tip
If using freshly chopped strawberries, gently pat them dry before adding to the donuts. Otherwise, the natural juices might make the glaze soggy. You can also use dehydrated strawberries instead.
Don't be afraid to experiment with your favorite toppings. These baked donuts pair well with coconut flakes, lemon zest, crushed Oreos and of course—chocolate! You can also add a personal touch with festive sprinkles or edible glitter. Happy New Year!