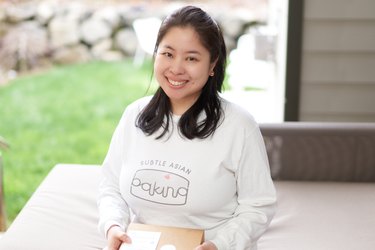 It's not hard to spot a Subtle Asian Baking (SAB) post on Instagram, TikTok or Facebook—even when it's tucked into a feed already bursting with gorgeous food shots from a myriad of influencers. That's because the videos and pics of homemade goodies are not only drool-worthy, but so beyond your standard banana breads and brownies. Think: Ultraviolet ube mini-tarts made with the extract of a purple Filipino yam. Jiggly puddings decorated with cute Japanese-style ​kawaii​ characters. Impossibly spongy (and bright green!) Vietnamese honeycomb cakes. "Asian baking is flavorful and playful," says Kat Lieu, founder of SAB and author of the newly released cookbook ​Modern Asian Baking at Home​. "I want to share that and inspire others to step out of their comfort zone and try it themselves."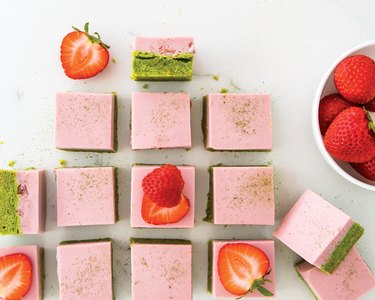 Kat—who is of Chinese and Vietnamese heritage and grew up in Brooklyn before she, her husband and son moved to the Seattle area—has done more than that: She has built a tight-knit, growing global community (a 153K-member Facebook group and a similarly sized Instagram account) whose members share recipes, tips, and stories; bake together online and meet up in person; and even fundraise for social causes like Stop Asian Hate. Her cookbook offers her fun, accessible take on Asian baking, with a blend of traditional recipes, remixed favorites, and East-meets-West creations like matcha macarons. It's already a bestseller.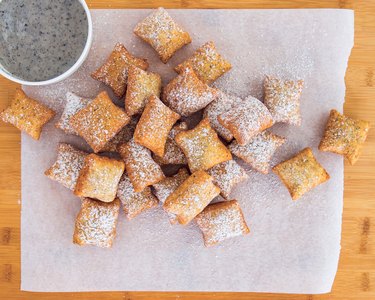 The kicker? Kat's a physical therapist who grew up surrounded by Asian bakeries in her neighborhood in Brooklyn, but she only started baking the goodies two years ago. Between book signings and baking sessions, Kat talked to us about her love of baking, fighting to be recognized as an Asian food expert in the white-dominated food space and why the food texture "QQ"— prevalent in Asian treats—is just about the best thing ever.
1. In your cookbook, you write that you weren't exactly a "born baker." How so?
​KAT:​ I didn't grow up with baking at home. My mom never turned on the oven when I was a kid! She always made traditional fried or steamed Chinese desserts, or no-bake cheesecakes with a supermarket graham cracker crust. If we wanted baked goods, there was a Chinese bakery on every corner of our neighborhood in Brooklyn. And then I went into a field that was not baking-related at all. So this is a relatively new venture for me.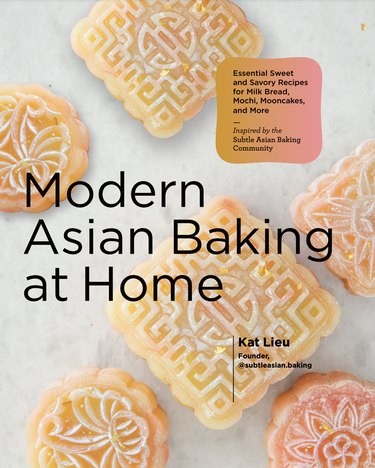 2. So how did Subtle Asian Baking come about then?
​KAT:​ When COVID happened and we went into lockdown, I became nostalgic for the things I used to eat as a kid from those neighborhood bakeries and on trips to places like Japan. I thought about a classic Chinese bakery-style cake that my grandmother made for me when I was five years old, with fresh fruit and this beautiful cream—a core memory for me. So I started looking online, searching for the best recipes for staples like milk bread, mochi and egg tarts. There was nothing! Just a recipe here and there from a few major publications, but never written by an Asian person. I needed a community to bounce ideas off other bakers, and since it didn't exist, I made a Facebook group myself. The group got 20,000 members within two months and grew organically from there.
"Asian baking is for everyone. I'd love to see more people learn it and be inspired by our flavors, techniques and textures, as well as appreciate the cultures that they come from." —Kat Lieu
3. Why do you think it has become so popular?
​KAT:​ I think a lot of Asian people were feeling as nostalgic as I was, and we came together as a family, helping each other out. I even polled them about recipes for the cookbook, and I credited them if one of their recipes inspired mine. But I also think that attitudes toward Asian food are slowly changing. People are embracing matcha at Starbucks, boba at Dunkin'. There's more representation on baking competition and cooking shows. And there are influential experts, like Kenji Lopez-Alt, writing at ​The New York Times​ and other sites. You always hear online about new bakeries popping up using Asian techniques and flavors, and all the products selling out. Not to mention so many trending recipes that are Asian on TikTok and Instagram, like tanghulu [fruit covered in a hardened sugar syrup shell]. And our culture is increasingly on TV and in movies.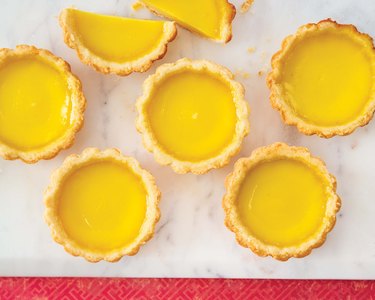 4. That must be encouraging, especially after a mentor told you years ago that "Asian culture won't sell."
​KAT:​ Yes, it's encouraging for sure. But, that said, I still have to fight when I pitch a new project to brands. People still ask me, "Is Asian baking really a thing, or is it something you created?" Asian Americans have been invisible for a long time. But hopefully we're on the right path. I feel, historically, AAPI authors have not been the prominent experts of Asian cuisine and culture in mass media, or the best-selling and best-paid authors of Asian cookbooks. I want to preface that Asian baking is for everyone. It's just nice to see AAPI authors and food writers (who have been historically underrepresented in media and on the bookshelves) be the sought-out experts too, and be as well-paid and as well-promoted versus continued marginalization.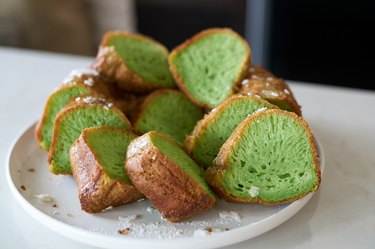 5. Let's introduce more people to Asian baking: What does a newbie need to know?
​KAT:​ That it's going to be flavorful and vibrant, but you have to be open to trying new flavors, textures and techniques. A lot of Asian cakes are airy, like chiffon, a cloud that melts in your mouth.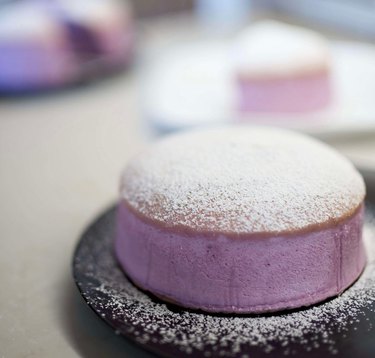 Other things are chewy. Other things are translucent. Some deserts are only slightly sweet, which is a compliment in East Asia. But at the same time, there are things that are relatable: Pandan [a tropical plant that is processed as a powder, paste or extract, and used in desserts] is the vanilla of Asia with notes of young coconut and a leafiness. Once you've had it, it's unforgettable.
Another thing people should know is that Asian baking is really not that difficult to pick up. You can make boba and mochi in a microwave!
6. What's a typical baking day like for you?
​KAT:​ I try to post four recipes per week on social media, and I try to get it all done between 9 a.m. and 2 p.m. because my real job is actually taking care of my son, Philip, 8; my husband; my mom and my shih-poo. I also do a little day trading! At the end of the day, I also take care of myself.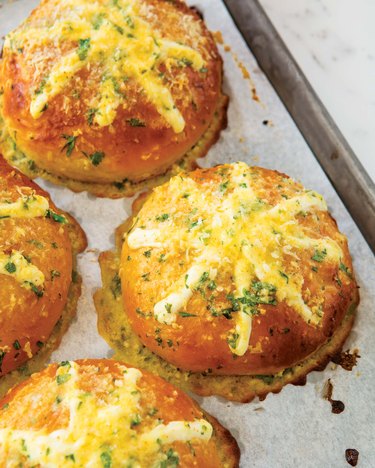 I usually obsess over a new dish or ingredient, research it to death and then start adapting it. I'm the messiest baker; I like to have all kinds of ingredients out so I can play around to come up with unexpected combinations and use up what I have in the fridge. By the time I'm done, I don't want to eat ​anything​, so my neighbors and family eat everything I make and tell me what they think.
Tip
​Where to Find Asian Baking Ingredients​
In addition to shopping at stores, like H-Mart, and on Amazon ("In a pinch you can find black sesame powder and mooncake molds for under $20!"), Kat turns to these online stores for Asian baking pantry staples:
​Sayweee.com:​ "You'll find a large variety of Asian ingredients, fun snacks and ready-to-eat food on Weee! And everything is conveniently delivered home. Let's just say you'll rack up their loyalty points easily!"
​Senbirdtea.com:​ "A great place to find matcha and hojicha powder, and delicious teas. I love how the tea and matcha are straight from Japanese farms."
​Diasporaco.com:​ "Chai lovers, check out this site for South Asian spices. I love that they promote 'made in South Asia' products and that it's a South Asian woman-run business online."
​Rawnice.se:​ "When I need beautiful and vibrant natural food coloring, I turn here. It's a go-to shop if you want to make butterfly pea flower blue lattes, milk bread or beautiful pitaya-pink desserts."
7. Does your son bake with you?
​KAT:​ He used to, but now he's more into reading and video games, which we play together. But before every birthday, he draws up a cake and tells me what flavors to put in, like mint with strawberries and mango. Weird combos, but okay! The cake usually turns out well.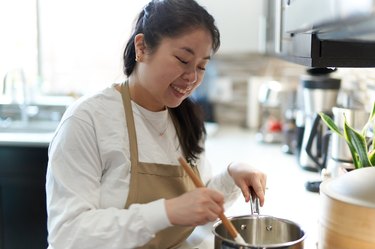 8. One last question: What exactly is "QQ"?
​KAT:​ It's my absolute favorite texture and mouth feel! It comes from a Taiwanese word, and it basically means a chewy texture, like that of boba or a gummy bear. That toothsome bounciness. I'm not the only one who loves the texture. It's huge in Asian food, and now everyone likes it.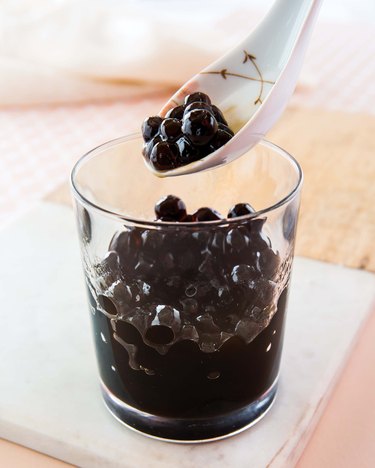 First step in learning Asian baking? Have the right ingredients in your pantry. Here are Kat's suggestions for key items to stock up on.
​Black Sesame Seeds:​ "I use them in breads, but they can be sprinkled anywhere. Blend them into a smoothie for extra nutrition, or grind them with condensed milk to make a nut butter to spread on toast."
​Glutinous Rice Flour:​ "You need this to make mochi. You can also thicken sauces with it instead of using cornstarch, or in cake instead of flour. It makes things gluten-free (despite the name!)."
​Miso Paste:​ "Most people have tasted this in soup, but you can use it instead of salt to balance sweets and caramel. Mix it with butter on toast and it's lunch, or mix with honey for a sweet treat anytime. Absolutely delicious!"
​Ube Extract:​ "Ube, a distinctively purple tuber, is impossible to find fresh in the U.S., so I use the extract, powder or the frozen version to make anything and everything purple: smoothies, cakes, sauces. It gives things a nutty, floral flavor."
​Pandan:​ "I use this ground leaf instead of vanilla in cupcakes, overnight chia and oats. Just know that whatever you add it to will turn green!"