Mermaids are known in mythology for enchanting sailors with the sweet sounds of their voices. If singing isn't one of your special skills, cast your sea goddess spells by making these donuts instead. Baked, not fried, they're loaded with green tea goodness and almost too pretty to eat -- almost.
Ingredients
1 cup flour

1/3 cup sugar

1 teaspoon baking powder

1/2 teaspoon salt

2 tablespoons butter, melted

1 egg

1/3 cup milk

1 teaspoon vanilla extract

1/2 teaspoon matcha powder
Blue food coloring
1 1/2 cups powdered sugar

3 to 4 tablespoons milk

Blue food coloring

Matcha powder (for dusting)
Gold sugar (for dusting)
Candy pearls
Candy seashells
Directions
Preheat the oven to 350° F.
First, prepare the batter for the donuts. In a large mixing bowl, whisk together the flour, sugar, baking powder and salt. Mix the butter, egg, milk and vanilla extract together in a separate bowl. Add the wet ingredients to the dry ingredients and stir to combine. Be sure to not overmix.
Separate the dough into two separate bowls. Add the matcha powder to one of the bowls and stir. Add two drops of blue food coloring to the other bowl and stir. You should now have a green donut batter and a blue donut batter. Spoon each of the batters into separate piping bags and pipe them into a donut pan, alternating colors so that you have a swirl pattern for each donut.
Place the donut pan into the oven and bake for 8 to 10 minutes until done. Let the donuts cool on a cooling rack. While the donuts are cooling, prepare the glaze.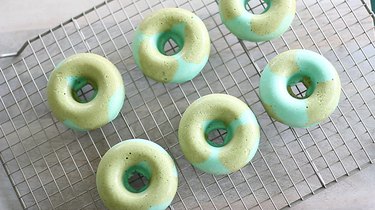 Whisk the powdered sugar and 3 tablespoons of milk together in a bowl. If needed, add another tablespoon of milk to thin the glaze.
Divide the glaze into two separate bowls. In one bowl, add one drop of blue food coloring and stir. To the other bowl, add three drops of food coloring and stir. Dip the donut tops in the lighter blue glaze. Then use a toothpick to drizzle the darker blue glaze on top, creating a swirl pattern.
Sprinkle the donut tops with matcha powder and a light dusting of gold sugar. Once the matcha melts into the glaze, it starts to look a bit like seaweed -- perfectly thematic!
Top the donuts with candy pearls and seashells. Pro tip: I found the candy pearls in the baking aisle next to the sprinkles, but I made the seashell candy using white chocolate and a candy mold from the craft store.
If you're displaying the donuts for a special occasion or packaging them up for a gift, set them on a bed of gold sugar, which looks a lot like shimmering sand. Delicious and delightful, these mermaid donuts are sure to spellbind all who are lucky enough to receive them!