Things You'll Need
Two bars of white chocolate

1 pint of strawberries

Saucepan

Glass bowl that sits over the saucepan

Spoon

Wax paper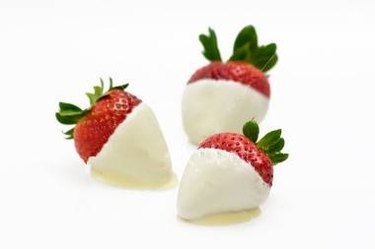 Chocolate covered strawberries are a delectable treat, whether used on a special occasion like Valentine's Day or to dress up a summery dessert when strawberries are in season. While using milk or dark chocolate is most common for making chocolate covered strawberries, white chocolate covered strawberries add a new and slightly sweeter dimension to this dessert. White chocolate, contrary to popular belief, does not contain cocoa beans like regular chocolate does. White chocolate is actually made up of milk solids, cocoa butter and sugar.
Step 1
Pour about 3 inches of water into the saucepan. Bring to a boil, then turn down to a simmer. Wash the strawberries and dry them off.
Step 2
Put the glass bowl over the simmering water in the saucepan. Break up the white chocolate bars and put them into the glass bowl. Stir with the spoon until the chocolate melts thoroughly.
Step 3
Pick up one of the strawberries and lay it down in the white chocolate. Roll the strawberry around in the white chocolate until it is coated evenly.
Step 4
Take the strawberry out of the white chocolate, using your spoon so you don't burn yourself. Lay the strawberry on wax paper to let it cool. Repeat Step 3 until you've dipped all the strawberries in white chocolate. Place in the refrigerator until serving.