Monkey bread is a much-loved indulgent classic made up of mounds of enriched dough that are pillowy, soft, gooey, spiced and sugared. This rendition features pockets of apple, which turn soft and caramelized between folds of gooey caramel. Monkey bread is pull-apart style too, and makes the most perfect breakfast or dessert to share.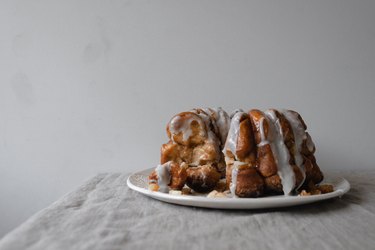 Things You'll Need
3/4 cup | 5.3 ounces | 150 grams granulated sugar

3/4 packed cup + 1 teaspoon | 6 ounces | 170 grams light brown sugar

1 tablespoon ground cinnamon

1 teaspoon ground nutmeg

1/4 teaspoon ground ginger

1/4 teaspoon kosher salt

2 pounds | 910 grams refrigerated buttermilk biscuit dough (or other favorite yeasted dough of choice)

1/2 cup | 4 ounces | 113 grams unsalted butter, melted

2 large baking apples, peeled, cored and chopped into 1/2 inch dice

1 cup | 4.3 ounces | 120 grams powdered sugar, sifted

1 -2 tablespoons whole milk

1/2 teaspoon vanilla extract

Pinch of salt
Step 1
Generously grease a large 12-cup nonstick bundt pan and place it onto a baking sheet. Set aside.
In a medium bowl, whisk together the sugar, brown sugar, cinnamon, nutmeg, ginger, and salt until evenly combined.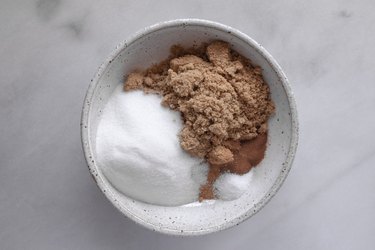 Step 2
Place the dough onto a lightly floured workspace and divide it into 36 even pieces. Use your hands to roll each piece into a small dough ball. Place the balls onto a baking sheet lined with non-stick parchment paper.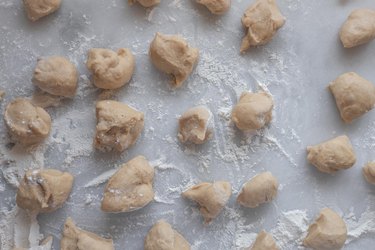 Step 3
Dip the dough balls into the melted butter and then roll them in the spiced sugar mixture until well coated.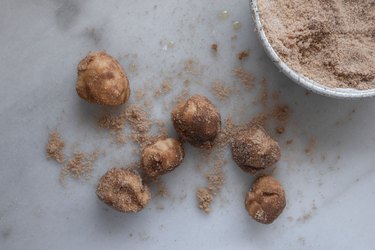 Step 4
Arrange a third of the sugar-coated dough balls into the bottom of the prepared bundt pan. Scatter over half the diced apples. Top with another third of the dough balls followed by the last half of the apples. Arrange over the remaining dough balls and add any remaining butter of sugar over the top.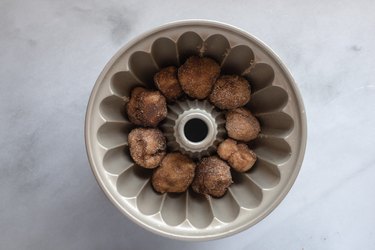 Cover with a layer of plastic wrap and set aside in a warm place to rise until doubled in size, about 1 hour. Meanwhile, pre-heat the oven to 350° Fahrenheit (180° Celsius).
Step 5
Bake for 35 to 40 minutes or until golden brown, fragrant and the caramel is bubbling. Remove from the oven and allow the monkey bread to cool in its pan for 5 minutes before carefully turning it out and onto a serving plate.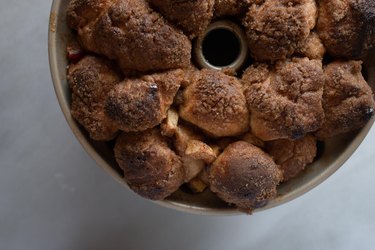 Step 6
Whisk the powdered sugar, milk, vanilla and salt in a small bowl until smooth and glossy. Pour the glaze over the top of the bread.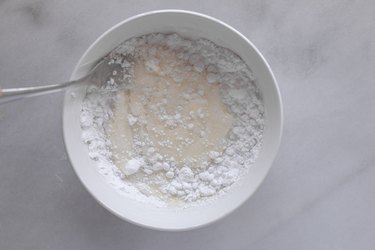 Step 7
This Caramel Apple Monkey Bread is best eaten while it is still warm on the day of making.
It can be kept sealed in an airtight container in a dark place for up to 2 days. Re-heat before serving.