A classic French Brioche is beautiful to look at and even more delicious to eat! This authentic recipe yields the most golden and buttery brioche imaginable -- with a paper-thin crust and a silky, soft and tender crumb. Better yet, it isn't difficult to make and can be ready to enjoy within a few hours. Bring the authentic taste of France to your home kitchen by following this simple recipe.
Things You'll Need
1 cup whole milk
1 package (0.25 ounce / 7 grams) instant dried yeast

21 ounces / 600 grams all-purpose flour
2 tablespoon superfine sugar
1 teaspoon salt
4 large eggs, room temperature
7 ounces / 200 grams unsalted butter cut into 1/2-inch / 1.5-centimeter cubes, very soft at room temperature
2 egg yolks mixed with 2 tablespoons heavy cream, for the egg wash
Handful of sesame seeds, for sprinkling (optional)
This recipe yields two 9-by-5-inch / 22-by-13-centimeter brioche loaves or 12 brioche buns. Or make one loaf and 6 buns.
Step 1: Activate the Yeast
In a small saucepan set over low heat, bring the milk to a lukewarm temperature. Add the yeast, and whisk to combine. Let stand for 5 minutes.
Step 2: Start the Dough
In the bowl of a stand mixer, combine the flour, sugar and salt. Mix in the yeast mixture, followed by the eggs.
Mix on low speed until the dough begins to come together -- 2 to 3 minutes.
Increase the mixer speed to medium-high, and work the dough until very smooth -- 3 to 4 more minutes. Pause every so often to scrape down the dough and the bowl.
Step 3: Add the Butter
Reduce the mixer speed to low, and slowly add the butter, a little at a time, over the course of 3 to 4 minutes.
When you have fully incorporated the butter, increase the mixer speed to medium-high to form a smooth and elastic dough -- 4 to 6 minutes longer.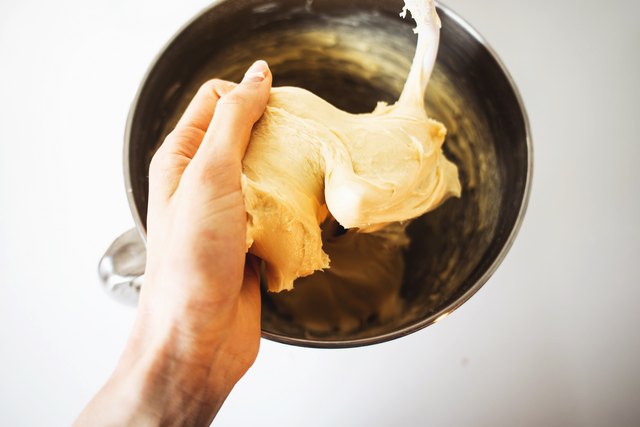 Step 4: Let Rise
Transfer the dough to a lightly greased bowl covered with a damp tea towel, and let the dough rise in a warm spot for 2 hours or until doubled in size.
Step 5: Shape and Let Rise Again
You can choose to shape the brioche into a traditional loaf form or into buns.
For the loaf shape, divide half of the dough into 6 equal-sized balls and knead on a lightly floured surface until smooth. Place them in a loaf tin, cover the tin with a damp cloth and set it aside in a warm place to rise for 1 hour. Repeat for a second loaf.
For the bun shape, divide half of the dough into 6 equal-sized balls and knead on a lightly floured surface until smooth. Space them apart on two lined baking trays, and cover them with a damp tea towel or plastic wrap. Let rise for 1 hour.
Step 6: Prepare for Baking
Heat the oven to 350 F / 180 C.
Brush the risen dough with the egg wash. If making the brioche buns, lightly sprinkle the sesame seeds over the wash.
Step 7: Bake
Bake the brioche loaf for 30 to 40 minutes, or until golden and a skewer inserted into the middle comes out clean. Bake the buns for 20 to 25 minutes, or until golden and making a hollow sound when tapped on the top. Remove from the oven and let cool slightly before serving.
Brioche is best enjoyed on the day it is baked but can be kept, covered, for up to 3 days.