My sister and I are spinning. Our arms spread straight from our middles, we twirl in the grass, around and around until the world starts to blur and then wobble until we can't stand upright anymore. We collapse on our backs in the soft warm grass that tickles our necks, staring at the blue sky and the clouds that continue to twirl. Our giggles carry to the street.
It is any summer afternoon, and the tinkling of circus music finds our ears. First it is just a faint ding of a bell where you can't be certain, and then there it is, a chorus of notes making their way down our street.
We were not allowed to get ice cream from the ice cream truck often, but every once in a while quarters would be collected until we could stand in front of that brightly colored poster plastered along the side, counting our pennies and staring at artificially flavored and colored treats, complete with gumball noses.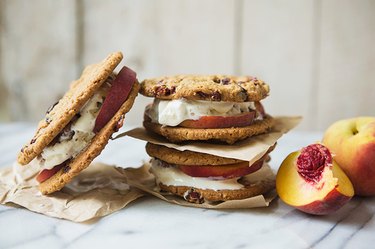 The object of my desire was always the chocolate chip cookie sandwich. It was clearly better than the regular ice cream sandwiches on account of the ice cream being sandwiched by actual cookies. It taunted me from the bottom of the poster where the expensive treats lived, far from the Bomb Pops and Mr. Freeze bars.
As an adult, I can still be tempted by the ice cream cookie sandwich in a more sophisticated form. Bourbon-flavored ice cream full of salted pecans gets sandwiched along with fresh summer peaches between two perfectly chewy oatmeal cookies in this classic ice cream treat.
The key to making your own ice cream sandwiches is to prep them ahead of time. After assembly, refreeze your sandwiches until firm. This will keep all the pieces from sliding apart as you enjoy your frozen dessert.
No-Churn Pecan Bourbon Ice Cream
Things You'll Need
2 cups heavy cream

14 ounces sweetened condensed milk (canned or homemade)

2 teaspoons bourbon

1/2 teaspoon vanilla

1/2 cup roasted and salted pecan halves
Step 1
In a large bowl, whip the cream until stiff peaks form.
Step 2
In a separate bowl, stir together the sweetened condensed milk, bourbon and vanilla until combined. Slowly fold in the whipped cream about 1/2 cup at a time until completely incorporated.
Step 3
Stir in the pecans, and then place the ice cream mix into a loaf pan or other sealed container, pressing it in to avoid air pockets.
Step 4
Freeze overnight or at least 8 hours.
Ice Cream Sandwiches
Step 1
Slice 1 peach into thin slices. Prepare 3 large cookies by adding the peaches in a thin layer, leaving openings between the slices so the ice cream can reach the cookie surface.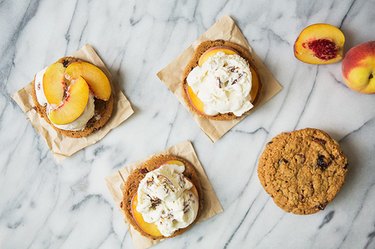 Step 2
Scoop hardened ice cream onto the cookies and top each with another cookie. Press down until the ice cream starts to reach the outer edge.
Step 3
Wrap the sandwiches and freeze for at least 1 hour or until the ice cream has stiffened. Serve and enjoy!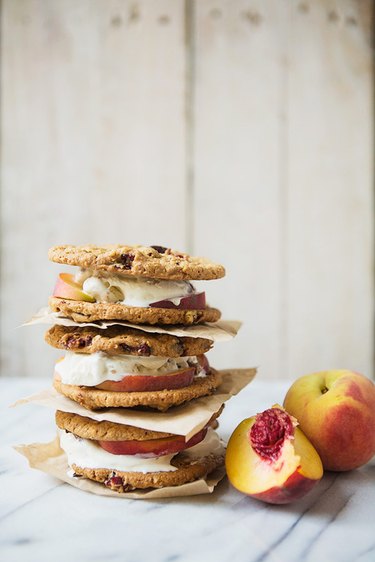 Tip
For a more adult treat, soak your sliced peaches in a tablespoon or so of bourbon for 10 to 15 minutes before placing in the sandwiches.