Things You'll Need
Butter

Spoon

Bread-based stuffing

12-cup standard muffin tin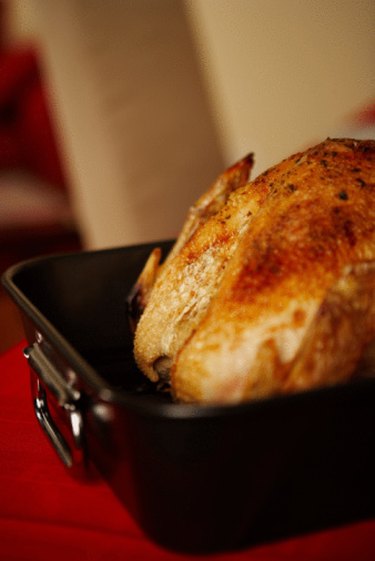 Stuffing doesn't have to be reserved for Thanksgiving or Christmas. When you make individual servings in muffin tins, stuffing becomes a convenient side dish for any meal. Serve individual "stuffing muffins" for you and your guests to enjoy with sliced turkey breast, ham, roast beef or chicken. Stuffing muffins also freeze easily and make portioning a breeze.
Step 1
Grease the muffin tin by spreading a thin layer of butter on the inside of each cup. Be liberal with the butter, getting the sides and the bottom of each muffin hole. Failure to grease the muffin tin will lead to the stuffing adhering to the metal tin. If you do not have butter, cooking spray works.
Step 2
Fill each muffin tin full with the stuffing. Press down on the top of each stuffing mound with the back of a spoon.
Step 3
Place the muffin tin in an oven on 375 degrees Fahrenheit, and bake for approximately 30 minutes. The stuffing will be done when the top is golden brown.
Step 4
Remove the muffin tin from the oven and set aside until the stuffing muffins are cool enough to touch. Flip the pan over to remove the muffins. If the muffins do not slide out of the tin, use a butter knife to pry them out.
Tip
A stuffing made with egg will hold together best in the tins.
Warning
If you remove the stuffing muffins while they are still hot, they may fall apart. Avoid using rice stuffing, which will fall apart when removed from the tin.