Easter Egg Nest Cookie Cups make for the sweetest springtime treat! Made with the most decadent chocolate chip studded cookie dough and filled with a generous handful of pastel mini speckled egg candies, they are fun, delicious and oh-so addictive. The recipe couldn't be easier, too. Learn how to make them below!
Things You'll Need
8.8 ounces (250 grams) unsalted butter, cubed

6.2 ounces (175 grams) light brown sugar

4.4 ounces (125 grams) granulated sugar

2 medium eggs

1 tablespoon vanilla bean extract

12.5 ounces (355 grams) all-purpose flour

1 1/2 teaspoons baking powder

3/4 teaspoon salt

7 ounces (200 grams) dark chocolate chips

12.3 ounces (350 grams) mini speckled egg candies
Step 1: Make the Cookie Dough
Pre-heat the oven to 350 degrees Fahrenheit (180 degrees Celsius). Grease and flour 2 x 12 hole cupcake pans. Set aside.
Place the butter into a medium sized saucepan set over medium-low heat. Heat, stirring often, until the butter is golden and melted. Remove the butter from the heat and pour it into a large mixing bowl. Add in the light brown sugar and granulated sugar. Whisk until very well combined. Add in the eggs and vanilla bean extract. Whisk until combined. Set the bowl aside.
In a separate medium sized mixing bowl, whisk together the all-purpose flour, baking powder, and salt.
Add the dry flour ingredients into the bowl with the butter and sugar mixture. Whisk until just combined.
Fold in the dark chocolate chips.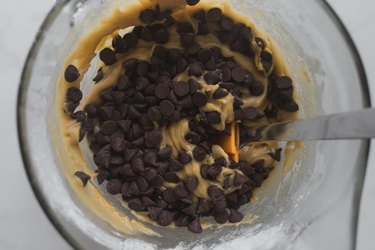 Using a small cookie scoop, or a generous tablespoon as a measure, scoop out the dough and divide it evenly between the cupcake pans.
Step 2: Bake
Bake for 12 minutes, or until golden and just firm. Remove from the oven and use the back of a small shot glass or a teaspoon to form a small indentation in the middle of the cookie cups.
Let cool for 10 minutes, before carefully transferring the cookie cups out and onto a wire rack to cool completely.
Step 3: Fill the Cookie Cups
Divide the mini speckled egg candies between the cookie cups to form little easter egg "nests".
Step 4: Serve & Enjoy
Serve and enjoy the Easter Egg Nest Cookie Cups. They can be stored in an airtight container at room temperature for up to three days, or in the refrigerator. You can also make the cookie dough in advance and freeze it for up to two months.