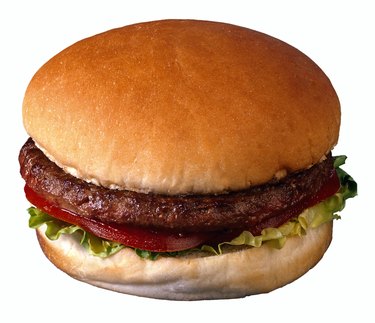 Hamburgers are an American favorite and are often grilled outdoors during the warm months of the year. Burgers are a good option when you are hosting a party, because they are eaten by most people. When you are serving hamburgers, choose a variety of side dishes so that you can please all of your friends' and family members' palates.
Toppings
Prepare a variety of toppings for your burgers so that your guests can top them as they wish. For example, choose all sorts of sliced raw vegetables, such as tomatoes, onions, lettuce, mushrooms, jalapenos or roasted peppers. Provide a variety of sauces for the burgers as well, such as ketchup, mustard, mayonnaise, flavored cream cheese, salsa, barbecue sauce and guacamole.
Fried Items
A crunchy fried item always works well with a hamburger. Consider serving traditional French fries, whether you prefer thin, shoestring fries or thick-cut steak fries. Tater tots are another fried potato dish that many people enjoy. Alternatively, serve crunchy fried onion rings or fried zucchini sticks to pair with your hamburgers.
Salads
A fresh, cold salad can complement the bold flavors of your hamburgers. Go traditional and serve a simple tossed salad, potato salad or cole slaw. Or make a pasta salad with lots of fresh vegetables inside it or a simple salad made with fresh tomatoes, basil, mozzarella and olive oil. A cold black bean salad is another idea.
Grilled Vegetables
Match the grilled flavor of your hamburgers with a grilled side dish. For example, grill fresh summer corn and slather it with butter and Parmesan cheese. Grill other vegetables, such as squash, zucchini and eggplant. Grilling vegetables to pair with your hamburgers can give a dish that is typically heavy a lighter side.