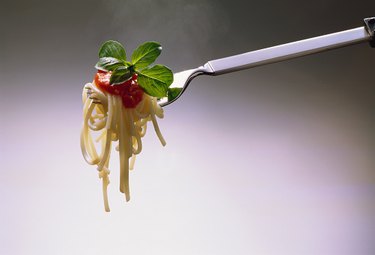 Recipes for tomato sauce often call for crushed tomatoes, but the type of tomato you use is a matter of taste. Most canned tomato products, as well as fresh tomatoes, make great tomato sauces. The differences in texture and flavor derive from the tomatoes used and sauce recipes can be easily altered to fit your tastes or the contents of your pantry.
Chunky Sauces
Recipes that call for crushed tomatoes are often meant to be chunky with large pieces of tomato throughout. There are several tomato products that achieve a similar texture. Whole tomatoes, sometimes labeled San Marzano tomatoes, can be crushed in the can, giving the same consistency of a canned crushed tomato. Many Italian cooks prefer San Marzanos to other varieties because of their firm flesh and few seeds, making them ideal for rich sauces. Canned diced tomatoes can also be crushed for sauces, but tend to be more watery than San Marzanos, resulting in a loose sauce. Stewed tomatoes are often used in chili. They are seasoned, sometimes with chili peppers, and come whole or in large pieces. For the freshest sauce, crush whole, fresh tomatoes. For a richer sauce, remove the seed pods. If the skin is too fibrous, peel the tomatoes before crushing with your hands or with a potato masher.
Smooth Sauces
Crushed tomatoes and their substitutes yield sauces with chunks of tomatoes. For a smoother sauce, use canned tomato sauce. Unlike prepared spaghetti sauces, canned tomato sauce should list only tomatoes in the ingredients. Whole, diced, stewed, fresh and crushed tomatoes can all be pureed in a blender or food processor for a smooth, uniform sauce as well. Tomato paste is found in small cans or tubes and can be used as a tomato substitute. Tomato paste, unlike other canned tomato products, is highly concentrated. Only a small amount is needed for robust tomato flavor, so tomato paste should be diluted with other tomato products, beef broth or other liquid for sauce.
Tomato Sauce Recipe
San Marzano tomatoes are preferred by many chefs for making marinara sauces. To make a marinara from whole canned tomatoes or other canned tomato product, blend four 28-oz. cans of tomatoes to desired smoothness, or crush with your hands for a chunky sauce. In a large saucepan, sauté 4 tbsp. of minced garlic in 4 tbsp. of olive oil over medium heat. Add 1 tbsp. each of fresh minced basil and Italian flat-leaf parsley and red pepper flakes to taste. Cook for one minute and add the blended or crushed tomatoes. Season with salt, pepper and a bit of sugar if desired. Bring the sauce to a boil, and reduce to a simmer for 15 minutes.
Cooking with Fresh Tomatoes
Fresh tomatoes tend to reach their peak growing season in mid- to late-summer in the United States, though various regions experience growth as early as February and as late as November. The ripest in-season tomatoes are ideal for sweet, fresh sauces, but even imperfect tomatoes can be seasoned and cooked down into delectable sauces. At the peak of the season, use sweet, thoroughly ripe tomatoes for raw sauces. Seed and dice tomatoes and toss with extra virgin olive oil, fresh herbs, salt and pepper. Serve over warm pasta, as bruschetta on toast or with grilled meats and vegetables. Lightly cooking ripe tomatoes brings out their sweetness and gives a slightly caramelized depth of flavor. Saute and simmer with garlic, herbs and diced onion until just slightly thickened and serve over pasta or grilled meats and vegetables. For tomatoes that are not quite in season, simmering low and slow can yield a sweet, rich sauce that disguises any imperfections in the tomatoes. Seed fresh tomatoes and simmer for hours or days, depending on the thickness and caramelization desired. The long cooking time will break down the fibrous skin. Add seasonings to taste and serve as a pasta sauce, pizza sauce or over a variety of dishes. Freeze the cooked sauce in batches to defrost and enjoy until the next tomato season rolls around.