Some people think that a Cuban sandwich is a great way to use leftover pulled pork. But I see this magical sandwich as an excuse to make twice as much pulled pork as a I need. The crispy bread, tangy mustard, acidic pickles and sweet, juicy pork make for the most delightful way to use up leftovers and may be the entire reason you roast a pork shoulder to begin with! Need a foolproof pulled pork recipe? Try this one: The Only Recipe You Need for Pulled Pork.
Things You'll Need
2 (8-inch) sections of Cuban bread, split lengthwise

1/4 cup yellow mustard

4 slices Swiss Cheese

4-6 thinly sliced pickle slices

8 ounces cooked ham, thinly sliced

6 ounces pulled pork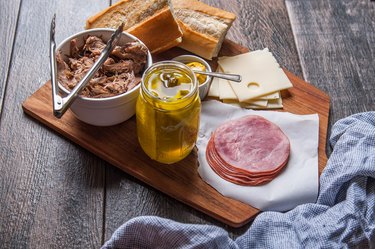 Step 1
Spread mustard on the inside of each piece of bread.
Step 2
Add cheese to each slice of bread, then top with ham, pulled pork, and pickles. Sandwich the halves together.
Tip
Want to up the flavor even more? Add some sliced salami!
Step 3
Add the sandwiches to a grill pan off heat (this will help the cheese to melt better before the bread cooks too much). Or if you have a panini press, feel free to use that instead!
Step 4
Add a heavy skillet to the top of the sandwiches, press down firmly. Add to medium high heat, cooking until the underside has thick grill marks and the cheese starts to melt.
Step 5
Flip over and repeat for the other side. Remove from pan, slices and serve.