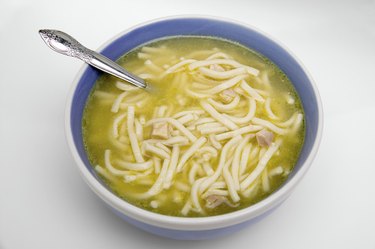 You don't have to be sick to enjoy chicken noodle soup as a meal. Whether hearty with lots of vegetables and noodles or light with mostly broth, chicken noodle soup makes for a great light lunch or dinner. You can make it a more complete meal by serving the soup up with a side dish.
Grilled Cheese Sandwich
A hot bowl of soup and a sandwich is a classic meal. Grilled cheese sandwiches are the perfect side dish to make chicken noodle soup a hearty meal. You can use cheeses with flavors that compliment the chicken flavor of the soup like fontina, swiss and gouda. Try adding tomato or turkey breast deli slices to the grilled cheese sandwich.
Herb Toast
Use butter and your favorite spices to make an herb toast to dip in chicken noodle soup. You can use a French baguette or Italian bread to make garlic bread with oregano , thyme and rosemary. Butter the bread and sprinkle the spices of your choice and toast in the oven until crisp. You can also use hearty whole grain bread to add even more flavor.
Cheese Biscuits
Dipping cheese biscuits in chicken noodle soup is a good way to add cheese flavor to the soup. Make homemade biscuits and add the cheese of your choice in the batter or melt cheese over prepared biscuits. Cheeses like cheddar, asiago and swiss taste good with biscuits and with the soup.
Vegetables
Fresh vegetables are a refreshing compliment to chicken noodle soup. You can put some carrot, bell pepper and celery sticks to serve on the side and use the chicken noodle soup as a dip.
Sandwiches
Cold deli sandwiches make a good balanced meal together with chicken noodle soup. Chicken salad, roast beef, turkey, bologna, egg salad, ham and tuna sandwiches all compliment the chicken soup flavors. You can use different kinds of bread to make the sandwich from a heavy seven whole grain bread to a light bun or even a bagel depending on how heavy of a meal you want.
Salad
In addition to the vegetables already in the soup, you can add more by coupling it with a salad side dish. You can prepare a green tossed salad with different kinds of green leaves and a light dressing to eat with the soup. A refreshing cucumber and tomato salad can balance out the heaviness of the chicken noodle soup.