Things You'll Need
Garlic

Salt

Fresh basil

Olive oil

Pine nuts, toasted

Parmesan cheese

Butter (optional)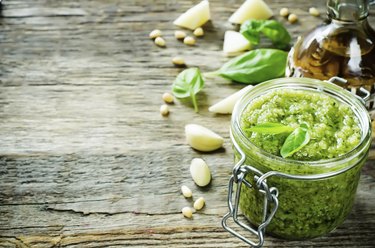 "Italian food" is not a single culinary style, but a collection of cherished and very different traditions that have evolved over time. Each region of the country has its own iconic preparations, making intelligent use of its best produce. Pesto sauce is a fine example, capturing the fresh flavor of Genoa's famously aromatic basil. It's a simple sauce of basil turned into a paste with garlic, Parmesan cheese and, usually, pine nuts. Traditional preparation called for laboriously pulping the ingredients in a mortar and pestle, but a modern food processor makes the sauce quick and easy.
Step 1
Measure the quantity of fresh basil at your disposal by stripping the leaves from their stems and packing them tightly into a measuring cup. A small food processor can accommodate roughly 3/4 cup to 1 cup of tightly packed basil, while a full-sized processor can handle 2 to 3 cups.
Step 2
Chop a clove of garlic for every cup of basil leaves you're using. Sprinkle the garlic with salt, and transfer it to the bowl of your food processor.
Step 3
Add half the basil and pulse a few times to chop it coarsely; then add the remainder. With the motor running, add olive oil in a thin stream until the garlic and basil come together to make a rough paste. You may need up to 1/4 of olive oil per cup of basil leaves.
Step 4
Stop the machine and add 1 to 2 tablespoons of toasted pine nuts per cup of basil leaves. Start the machine again, and process the pesto until the nuts and basil form a smooth paste with an even texture.
Step 5
Finish the sauce by stirring in up to 1/4 cup of Parmesan cheese per cup of basil leaves, either by hand with a spoon or by pulsing your food processor until it's incorporated. Some cooks add a tablespoon or two of softened butter at this stage as well, to make the sauce creamier, but that's optional.
Tip
Although the canonical version of the sauce is made with basil and pine nuts, variations are common. For example, walnuts are often used as a substitute for costlier pine nuts. Other pungent grating cheeses, such as Asiago or Pecorino Romano, can be used with or instead of the Parmesan.
Other green herbs, such as arugula or parsley, can be used to "stretch" the basil if you don't have copious quantities at your disposal. They're less flavorful than basil, so Italian cooks often add anchovies to the basic sauce as a way to kick up its intensity. Add them at the beginning with the garlic, so they'll be fully minced and evenly distributed through the sauce.
If you add too much oil to your pesto, it will have a loose and sloppy consistency. You can thicken it gently by adding a few more nuts, or extra cheese. After the sauce sits for 10 or 15 minutes, it will thicken noticeably. In a pinch, you can also use a spoonful or two of breadcrumbs.
Warning
Add salt sparingly at the beginning of your pesto-making. The Parmesan cheese you add at the end is very salty, and it can make your finished sauce unpalatable if you're not careful. Start with just a pinch; then taste the sauce once it's finished and add another pinch or two of salt if its flavor seems flat.
Pay careful attention to the quantity of basil called for in your recipe. Some call for tightly packed leaves, while others call for them to be loosely packed. The difference can be substantial, given that "loose" and "tight" are vague terms. Every cup of tightly packed leaves is roughly equivalent to 2 to 3 cups of loose leaves.