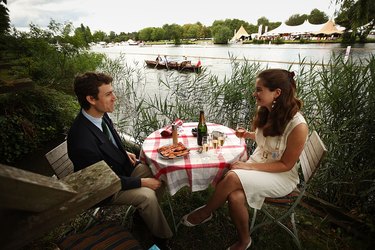 Smoked salmon is a wonderful fish that you can do so much with. As an appetizer there are many finger foods you can make with it as well as dips with bread or crackers. But if you want to present the salmon with other foods so everyone can come up with their own appetizer, you can do that, too. This way you can cover many of your guests' tastes all at once with little to no cooking.
Cheese and Bread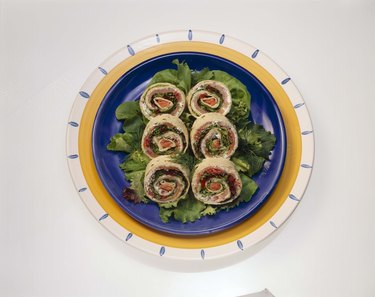 If you are going to make a smoked salmon tray with all the fixings then you have to start with cheese and bread. Cream cheese is the standard cheese to serve with smoked salmon, but there are many other types of cheese and cheese spreads that go well with the salmon. You can purchase premade cream cheese spreads or make your own by mixing in roasted garlic, chives, dill or olives. Boursin or gruyere cheese also go great with smoked salmon.
Cocktail breads are perfect for the cheese and salmon. Pumpernickel and rye will dress up your tray and make it look wonderful. Bagel chips or mini bagels cut in half also work well. Don't be afraid to try something different such as breads made with sun-dried tomatoes, roasted garlic or herbs. Just cut them into bite-size slices and place them on the tray.
Vegetables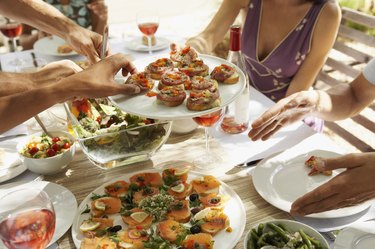 Grilled vegetables look great with whatever you're serving, but they taste great with smoked salmon. Try grilling zucchini, eggplant or yellow squash. They will taste good with the salmon hot or cold. Chopped red onions, capers, jalapenos and black olives will dress up your tray. Chop cucumbers and radishes really thin and lay them in slices around the tray.
Fruits and Herbs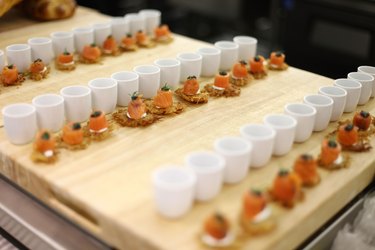 To really make your appetizer tray different, try making a peach salsa or placing a scoop of crushed pineapple on the tray. Not only does it look great but the sweet taste with the salmon always goes over well. When you've set up the tray with all that you want on it, decorate it with fresh dill and parsley. Dill is a staple with smoked salmon and the combination of the two will dress up your tray and all of your guests will think you had the tray made by a professional.