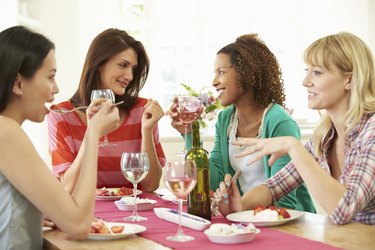 It's exciting to have the opportunity to share a carefree weekend laughing and relaxing with your best girlfriends. Whether you're going antiquing, having a spa getaway or just hanging out at home, you'll want to have a memento to remember the good times you've shared. Think about the theme of your weekend to pick out some great gifts for your girlfriends.
Themed Apparel
Customized T-shirts are a fun and easy gift to put together. Come up with a slogan for your girls' weekend if you like, or just use your first names. Find a piece of clip art or use a photo of all the girls together, and create your design. Purchase iron-on paper for your printer, print out as many shirt designs as you'll need, then iron them on to cotton T-shirts. Roll up each shirt and tie it with a ribbon. Fill colorful Chinese food containers from a craft store with shredded paper, and place a T-shirt inside each one for a fun presentation.
Happy Hour
A cocktail gift basket helps spread the good cheer, even after your weekend getaway is over. For a cosmopolitan basket, think pink. Use pink shredded paper for filler, and then arrange a small cocktail shaker, a martini glass, a small bottle of vodka, a small bottle of cranberry juice and a small bottle of orange liqueur. Cosmo mixes are available instead of the cranberry juice and orange liqueur. Martinis and margaritas are other cocktails that are great for gift baskets.
A special bottle of wine would also make a great memento. See if there is a local winery near your getaway location, and purchase a bottle from it for each recipient. Some wineries will create custom labels if you are interested. Tie a bow around the neck of the bottle, or place each wine bottle in an elegant wine gift bag.
Pamper Me
Every girl enjoys being pampered, so consider putting together a gift of spa bath and body goodies. Pick a signature scent for your weekend, and purchase body washes, lotions and bath fizzies in that scent. Add a few extras like fluffy slippers, some chocolates and maybe even a gift certificate for a manicure. Arrange all the items in a decorated hat box or a pretty basket.
Memories
You and your friends will probably take dozens of photos during your weekend. A scrapbook is a great way to preserve them. Head to the local craft store, and purchase a few scrapbook albums, patterned papers, stickers and other embellishments that keep with the theme of your weekend or a general "friendship" theme. Design the pages, leaving room for photos and journaling, and slip them into the album.
To go along with the scrapbook, create a playlist. If you have all been friends for a long time, include songs that go back to the early days of your friendship as well as songs from bands that are currently popular.