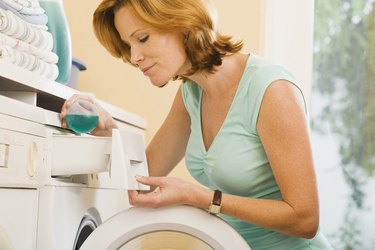 Keeping your mattress clean and dust free can be accomplished by using a mattress cover. Mattress covers come in two different styles, one being a loose fitting pad that fits over the top of the mattress with straps that hold it in place and one that encases the entire mattress and zippers to seal tight.
Mattress Cover Care
A mattress cover is designed to protect your mattress from dust mites, allergens, spills and other accidents as may pertain to health or bodily liquids. Washing and caring for the covers depends on how often the mattress is used.
If in a guest room where very seldom used, wash and dry at least twice a year to keep the mattress smelling fresh and clean. For a mattress that is used daily, remove the mattress cover at least once a month and launder to get rid of dust and allergens.
For small covers, you can wash these in your home washer on warm cycle with regular detergent. If it is white, add 1/2 cup of bleach to the wash cycle. If the mattress cover is colored, use a color-safe bleach to the wash cycle. If you do not have bleach, add 1/2 cup of borax to the wash cycle, which will also help to eliminate dust, allergens or bacteria that may be present.
If the mattress cover is large or heavy, for instance, one used on a king-sized bed, it would be best to take this to a laundromat with washers and dryers that can accommodate large items, thus eliminating wear and tear on your washer and dryer.
With constant use, the mattress covers can stretch, so when drying, use the high cycle to shrink the covers back to its original size. If the mattress cover is not used often and has not been stretched, use the low cycle on the dryer so it does not shrink.
Before putting the mattress cover back on the bed, vacuum the mattress, flip it over and leave it to air. Now is a good time also to wash other bedding such as your comforters, blankets, bedspreads, pillow shams, etc. Follow the washing directions on the tags to protect colors and fabrics.
If working with handmade comforters or down bedspreads or comforters, you should consider having these items cleaned by professionals who have the equipment and products necessary to clean properly without damaging your items.