Things You'll Need
Baking soda

Ammonia

Distilled white vinegar

Water

Spray bottle

Cloth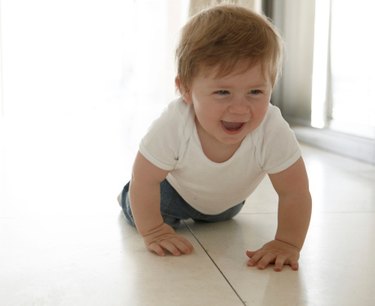 Talcum powder will show up easily if you've spilled it on your black-colored grout. Because grout is porous and textured, it attracts stains and can easily grasp onto substances. This can make them tricky to remove. Talcum powder will not permanently damage your grout, however, as it is actually an ingredient in deep grout-cleaning solutions. Never use bleach to clean black-colored grout, as this will lighten the overall layer of grout or create speckles of white within the grout lines.
Step 1
Mix 1/2 cup baking soda with 1/3 cup ammonia and 1/4 cup white vinegar. Mix until the baking soda has completely dissolved.
Step 2
Pour 7 cups of water into the cleaning solution to dilute it.
Step 3
Pour the diluted solution into a spray bottle.
Step 4
Spray the talcum powder-covered grout until it is completely soaked.
Step 5
Immediately wipe up the solution with a clean cloth. Do not use paper towels, as pieces of the paper will stick to the grout's rough surface.
Step 6
Let the tile air dry completely.