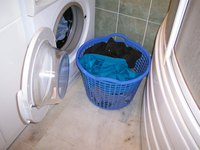 A number of things can cause yellow stains on your fabric. Over-bleaching is a common cause for yellow stains on fabric that have been washed with bleach. If the yellow stain is located in the underarm area of the fabric then the cause is probably perspiration and deodorant. Other causes of yellow stains on fabric are fabric aging, food, beverages and starch. No matter what the caused the yellow stains, there are a few methods that remove the stains and restore the fabric.
Things You'll Need
Commercial color remover
Small container
White cloth
Ammonia
Sponge
2 aspirins
Large container
White vinegar
Lemon juice
Remove Yellow Bleach Stains on White Clothing
Mix 1/2 cup of cool water and 1/4 tsp. of a commercial color remover in a small container.
Dampen a white cloth in the mixture. Blot the yellow bleach stains with the cloth. Continue blotting the stain and reapplying the mixture until the yellow spots are no longer visible.
Flush the fabric with cool water and launder as normal.
Remove Yellow Perspiration Stains
Mix equal parts ammonia and cool water in a small container.
Saturate a sponge in the mixture. Blot the perspiration stains with the sponge until the stain is gone. If the stain is still visible, continue to Step 3.
Crush two aspirins into powder. Mix the powder with 1/2 cup of lukewarm water. Submerge the stained fabric in the mixture and allow to soak for three hours.
Launder the fabric as you normally would.
Remove Yellow Stains with White Vinegar
Fill a large container with 12 parts lukewarm water and one part white vinegar.
Submerge the yellow stained fabric in the water-vinegar mixture. Allow the fabric to soak overnight.
Launder the fabric as you normally would.
Remove Yellow Stains with Lemons
Add equal amounts of lemon juice and cool water to a small bowl.
Rub the mixture into the yellow stain. If the fabric is white, place the item in sunlight for 30 minutes.
Launder the fabric as you normally would.