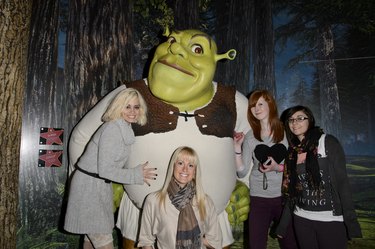 "Shrek" the ogre was introduced in 2001 and won hearts with his Scottish brogue and sarcastic wit. If you have a Shrek fan in your household, you may have Shrek costumes in mind for Halloween. With a few simple ideas for wardrobe and green face paint, you can easily transform your child (or yourself) into Shrek or his bride Fiona.
Wardrobe
Shrek wears plaid leggings with a white tunic-style shirt and a brown vest. If your Shrek wannabe isn't comfortable with leggings, regular brown pants or sweat pants will suffice. Add a long-sleeved, longer-length white T-shirt on top and cut a vest out of felt fabric. Tie a rope around his waist and add brown boots. For Fiona, start with a long-sleeved green dress from your local thrift store or a costume shop. If you can't find green, wear something to represent Fiona's white wedding dress instead. Look for something with long, puffy sleeves and a full skirt. Fiona's green dress has golden accents on the bodice, and a tied belt at the waist. Her wedding dress has a peach-colored panel in the bodice and skirt, but any solid white dress would also represent Fiona if it were ankle-length and had full puffy sleeves. Use ballet flats for the feet.
Face Paint
Shrek and Fiona are green, so use green Halloween paint to cover your face. For Shrek spray paint a bald head covering green to match the face paint. Paint your neckline and hands and ankles green as well to finish out the effect. If you don't care to get the paint on your feet, wear green socks or tights instead.
Fiona needs a long reddish-brown wig to complete her outfit. Style it in a simple braid to mimic her look.
Ears
Shrek and Fiona have tubular, rounded "ears" on the sides of their heads, parallel to the eyes. Make these by cutting the shape out of fun foam (available at craft stores). Cut stems approximately 1 inch wide and 3 inches long, with a rounded bulb on the end. Glue the bottoms of the ears to a green headband and slide it over your head.