Created by biochemist Dr. Barry Sears, the Zone Diet is based on fitting your diet into a fat-melting "zone," where you get about 40% of your calories from carbs and 30% each from fat and protein. Unlike fad diets, the Zone Diet lets you eat virtually any healthy food, so you can enjoy your favorite meals and stick with it without feeling deprived.
It's also great for lowering inflammation -- a key contributor to obesity and heart disease -- and fighting insulin resistance. The result? You'll look healthy, radiant, fit and lean, and feel energized and satisfied with your diet.
But What About the "Lazy" Zone?
The drawback, though, is that healthy cooking can be time consuming. While Dr Sears' books emphasize sustainable cooking habits, creating a new cooking routine might be a challenge. Enter the Lazy Zone Diet -- a (completely unauthorized) twist that recommends you get in the zone by eating packaged foods and each meal. No muss, no fuss, no endless food prep.
If it sounds too good to be true, that's because it kinda is. While packaged foods can definitely get you in the zone, they might be choc full of preservatives, chemicals, sodium and even sugar -- definitely not ideal for weight loss!
While you'll need to pick up Dr. Sears' books to follow the real Zone Diet and get the best results, you can follow a Zone-inspired diet that supplies and healthy mix carbs, fat and protein, and reduces food prep to one day a week. All the weight loss without (most of) the work -- who doesn't want that?
Warning
Always consult your doctor before starting any new diet. If you're interested in the official Zone Diet, learn more at Dr. Sears' website.
A Slimming, Easy Breakfast
A healthy breakfast starts your day off right, and this super-simple recipe comes together in less than 5 minutes. Its packed with anti-inflammatory omega-3s, plus low-glycemic index carbohydrates that'll make you feel energized and full.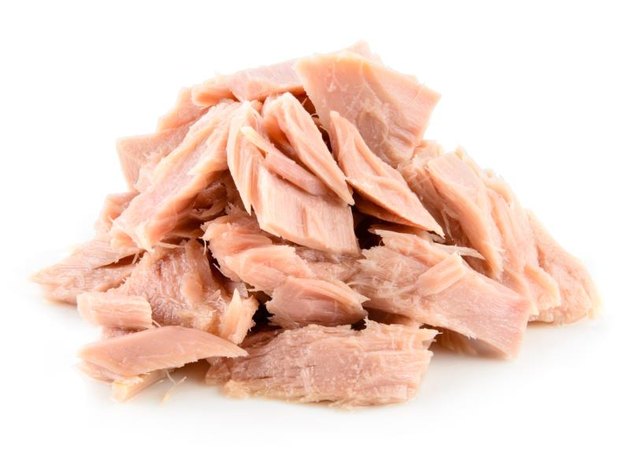 Each batch makes 3 servings of tuna salad, which stores well in the fridge, so you'll only have to make this twice a week.
Savory and Slimming Tuna Toast
Things You'll Need
1 5-ounce can of light (not white) tuna, flaked, canned in water

1/2 cup nonfat cottage cheese

Spinach leaves

2 to 3 tomato slices

3 Kalamata olives, chopped fine

1 slice whole-grain, gluten-free toast

Cayenne and black pepper, to taste
Step 1
Drain the tuna, rinse with water and drain again (this washes away extra sodium).
Step 2
Mix the tuna, cottage cheese, Kalamata olives, cayenne and black pepper (optional) until combined.
Step 3
Top your toast with the spinach leaves, tomato slices and ⅓ of the tuna mixture. Store the rest of the mixture in an airtight container for tomorrow.
Step 4
Broil in the oven or toaster oven for 2 to 3 minutes, until warm, then serve.
The Perfect Lazy Lunch
Satisfy your carb craving with an easy-to-prepare salad that you can enjoy warm or cold. Chickpeas offer lots of fiber, which will keep you satisfied, plus plant-based protein for strong muscles. The mushrooms add lots of satisfying meaty texture without many calories and the leeks add savory flavor.
This recipe makes 7 servings, so you can make it once a week and you're done!
Leek, Mushroom and Chicken Bean Salad
Things You'll Need
3 cans chickpeas, rinsed and drained

2 pounds mushrooms (recommended: portobello or white mushrooms)

2 leeks

3 tablespoons extra virgin olive oil

4 small chicken breasts

Salt and pepper (to taste)
Step 1
Roast or grill the chicken breasts according to these instructions, then cut into ½-inch strips. Set aside a little less than ½ the strips, and freeze the others in an airtight container to thaw mid-week.
Step 2
Wash the mushrooms and leeks thoroughly and slice thin. Saute over medium heat in 2 tablespoons of olive oil and set aside.
Step 3
Add the remaining olive oil. Once it's warm, add the chickpeas and allow them to "toast" for 5 minutes over medium heat, until warm and slightly golden brown.
Step 4
Stir in the mushrooms and leeks, season with salt and pepper to taste.
Step 5
Spoon the chickpea salad into 7 single-serving containers, and add chicken strips to 3 of your servings. Leave the remaining 4 portions chicken-free -- thaw the remaining chicken strips mid-week and add them to the rest of your containers.
Stay Full With an Easy Snack
A super-healthy snack will keep your energy levels up during the day, and this rich salsa dip offers a shot of high-quality protein to boost your metabolism. It's also a great way to eat more veggies, and allows you to enjoy a creamy dip without lots of added fat, so you'll have a slimming meal that doesn't feel like "diet food."
This recipe makes 7 servings, so you're all set for the week!
Creamy Salsa Dip with Veggies
Things You'll Need
7 to 10 cups mixed vegetables, chopped into sticks or bite-size pieces (recommended: carrots, celery, bell peppers, cauliflower and broccoli)


2 cups plain, unsweetened almond or coconut yogurt

1 cup salsa
Step 1
Mix the yogurt and salsa; store in an airtight container (or 7 single-serving containers) in the fridge.
Step 2
Chop the veggies and store, submerged in water, in an airtight container in the fridge.
Dine on a Delicious Dinner
Finish each day strong with a healthy mix of carbs, protein and fat to keep you satisfied and full (in other words, you'll be able to resist pesky midnight snack cravings). This set of meals comes together in less than an hour, makes enough to last the whole week and is endlessly adaptable by using different combinations of veggies -- perfect to avoid boredom!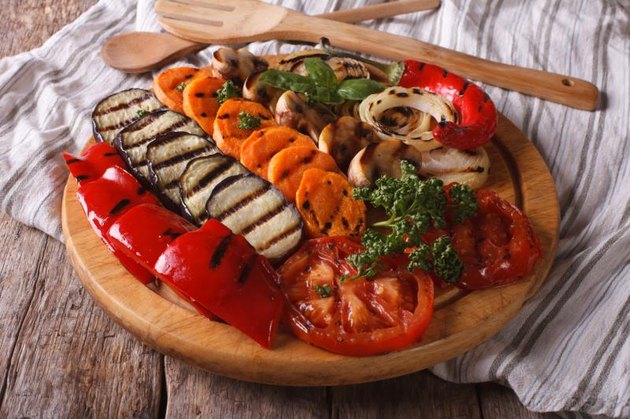 The "Lazy" Bean Bowl
Things You'll Need
2 cans black beans

10 to 14 cups mixed veggies, chopped or sliced into bite-size pieces (recommended: zucchini, eggplant, mushrooms, bell peppers, onions, fennel, asparagus)


2 to 4 trout fillets (about 28 ounces total)

1/4 cup extra virgin olive oil

1/4 cup balsamic vinegar

1 cup fresh basil
Step 1
Drain and rinse the beans until the water runs clear, then set aside.
Step 2
Spread the chopped veggies out on 2 baking pans, and roast at 400 degrees Fahrenheit until tender and crisp. (15 to 25 minutes, depending which veggies you chose.)
Step 3
Bake the trout fillets according to these instructions, and use a fork to break each fillet into bite-size chunks. Set aside a little more than half the trout to freeze in an airtight container.
Step 4
Combine the herbs, olive oil and vinegar in your food processor until combined.
Step 5
Set out 7 single-serving containers and distribute the black beans, veggies and homemade vinaigrette equally into each one, stirring to distribute the sauce. Add trout to 3 containers to store in the fridge -- thaw the rest mid-week and add it to the others for the rest of your meals.
Learn More About The Zone