This recipe for beet hummus is a fun and delicious way to enhance and improve this amazing mediterranean spread. Infused with colorful beets, this hummus tastes as good as it looks. The slight sweetness of the beets mixes very well with the nutty, spicy, and citrusy flavors in the hummus. Follow the recipe below and enjoy!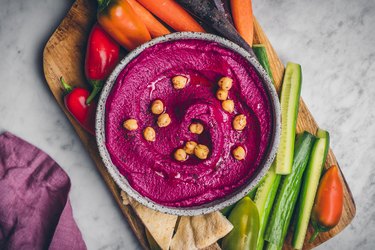 Things You'll Need
food processor

baking sheet

tin foil

2 small beets (about 7 oz), tops removed and scrubbed

1 can chickpeas, drained and liquid reserved

4 tbs tahini

1 garlic clove

2 tsp olive oil, plus extra for drizzling

1 lemon, cut in half

3/4 tsp cumin


1/2 tsp kosher salt

sumac, optional garnish

chickpeas, optional garnish

assorted veggies and pita slices, for serving
Step 1
Heat oven to 400°F, with the rack arranged in the center. Drizzle each beet with a little olive oil, and place each one on a square piece of tin foil. Wrap the beets tightly in the tin foil, then place on a baking sheet. Roast for 30-40 minutes, or until the beets are fork tender.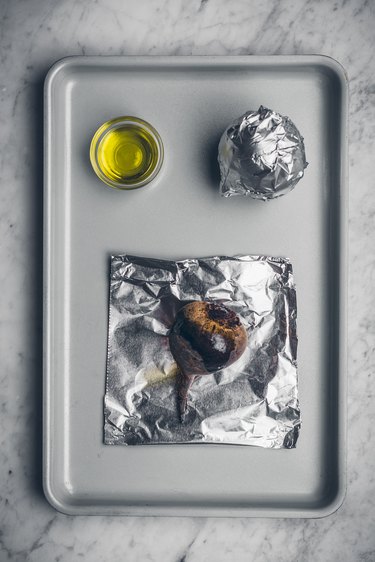 Step 2
Once beets have cooled, rub their skin off with a paper towel. Roughly chop the beets, then add them to a food processor along with the chickpeas, tahini, garlic, 2 tsp olive oil, juice from 1/2 a lemon, cumin and salt.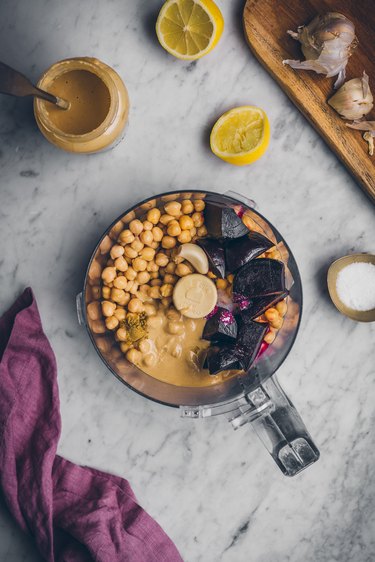 Step 3
Process everything together for 2-3 minutes, or until smooth. Taste and season with additional salt and lemon juice as needed.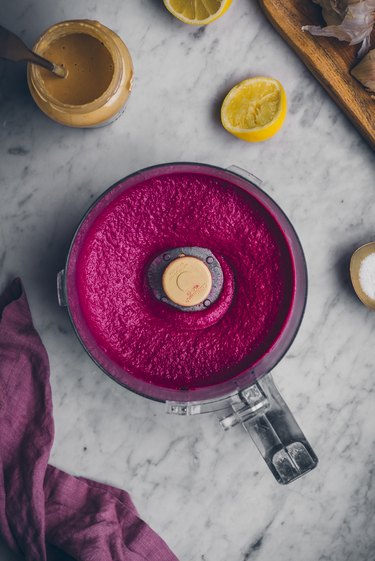 Tip
If the hummus appears too thick, simply blend in a few teaspoons of chickpea liquid until desired texture is achieved.
Step 4
Transfer the beet hummus to a bowl and garnish with a few chickpeas and a light sprinkle of sumac. Serve with pita or sliced veggies and enjoy right away.