Have you gone keto, low carb, or simply grain-free and have found yourself missing your morning oats something fierce? If so, we've got a delicious and nutritious oat-free overnight "oatmeal" recipe (faux-tmeal, if you will) that'll satisfy your cravings without kicking you out of ketosis. Though there are several quite good keto overnight "oat" recipes out there that use either eggs, flaxmeal/flaxseeds or coconut flour as the main ingredient for the porridge, we've found that hemp seeds provide the best texture for the job. They're quite similar to steel cut oats in that respect. Better still, hemp seeds (a.k.a. hemp hearts) also pack a mighty nutritional punch!
After making the basic recipe, you can dress up your faux-tmeal any way you would normally do overnight oats. Here, we provide three yummy flavors to target your current cravings; 1) mixed berry 2) cinnamon "maple" pecan, and 3) double chocolate walnut brownie.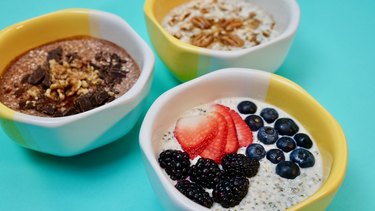 Things You'll Need
2/3 cup shelled hemp seeds (a.k.a. hemp hearts)

1 - 1 1/2 tablespoons chia seeds (depending on preferred thickness)

2/3 cup low carb unsweetened macadamia milk, plus extra to add right before serving (other good options are unsweetened almond/soy, full fat coconut milk and half & half)

2 tablespoons dried shredded coconut (optional, for added texture)

Pink Himalayan sea salt to taste

1/4 teaspoon vanilla extract

Sugar-free sweetener of choice

Toppings and mix-ins of choice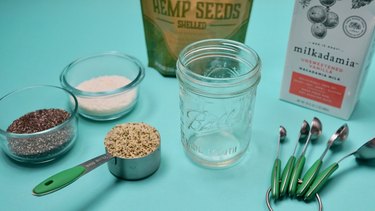 Basic Oat-Free Overnight Oats Recipe
The main ingredients for this recipe are hemp seeds for texture, bulk and nutritive value, chia seeds for thickening into a porridge consistency, and low-carb milk of choice for moisture and creaminess. Shredded coconut, if desired, will provide added texture and flavor. The quantities listed will yield two servings.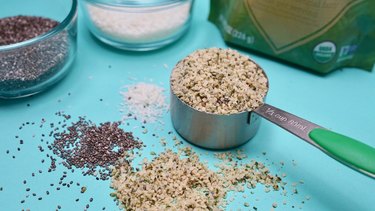 Step 1
In a jar, combine 2/3 cup hemp seeds, 1/2 - 1 tablespoon chia seeds and 2 tablespoons shredded coconut (if using).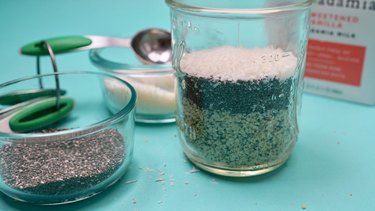 Add a pinch of himalayan pink sea salt.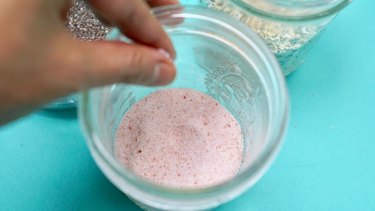 Step 2
Mix dry ingredients until well combined.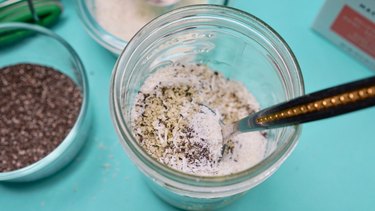 Step 3
Pour in 2/3 cup low carb milk of choice.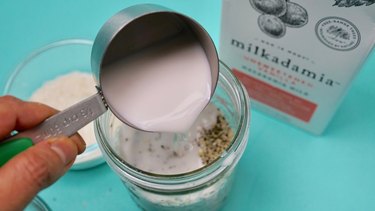 Add 1/4 - 1/2 teaspoon vanilla extract, if using.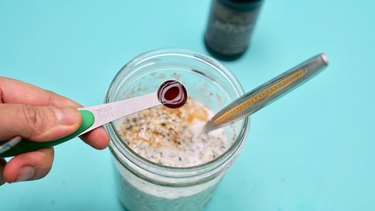 Mix well. Note that no sweeteners have been added yet, as we found it best to sweeten to taste once the porridge has thickened and the desired mix-ins have been incorporated.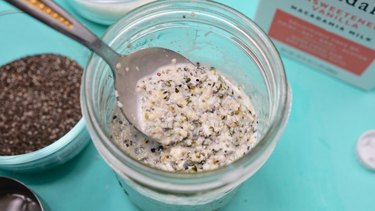 Seal and place in refrigerator for a minimum of 4 hours (or overnight). Yep, these "oats" take less time than standard overnight oats that require at least 8 hours. So...yay!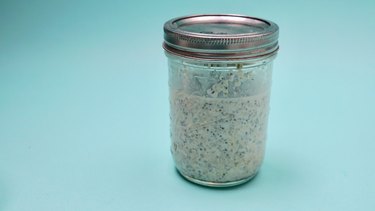 After at least 4 hours, transfer your fauxt-meal to a bowl and add additional milk to obtain your desired consistency. From here, you can add low-carb sweetener (we like liquid monkfruit and/or stevia extract) and top with your favorite low carb options. See below for instructions on how to make the yummy flavors featured in our photos.
Tip
If you prefer your porridge hot, by all means, heat it up on the stovetop or microwave.
Mixed Berry
Berries are the lowest carb fruits available, so toss 'em in, my keto friends! To sweeten things up, we used liquid monkfruit extract.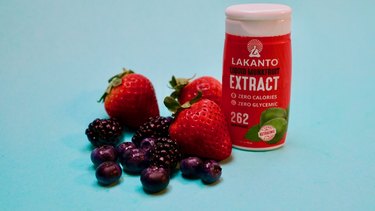 Now here's a tasty bowl packed with powerful antioxidants.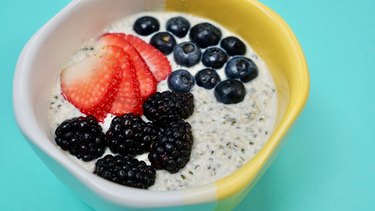 Double Chocolate Walnut Brownie
Of the many foods you have to give up on a keto diet, chocolate is NOT one of them—and hallelujah for that! So indulge your chocolate cravings by mixing in 1 tablespoon of unsweetened cocoa powder (dutch process is our recommendation for this particular recipe for its richness and deep, mellow flavor), a sprinkling of chopped dark chocolate or dark chocolate chips, and some chopped walnuts.
Though sugar-free chocolate would be the best keto option, since you're only using a little bit as a topper, you should be fine to use regular 70% - 85% dark chocolate as a once-in-a-while treat. To sweeten it up, we recommend dark chocolate flavored stevia drops, although regular stevia or liquid monkfruit drops will do fine. We also recommend you add one or two extra pinches of himalayan sea salt to this one, to really bring out those chocolatey flavors.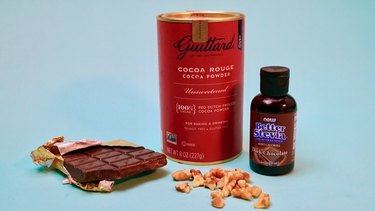 Check out this rich and chocolatey bowl of yum.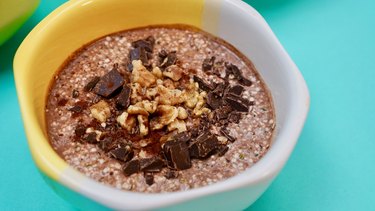 Cinnamon "Maple" Pecan
What better way to start a crisp fall and winter day than with the warm flavors of cinnamon, maple and pecans! Well, lucky for low carbers, there are a few sugar-free maple-flavored syrups on the market, and we think some of them are pretty darned good. Add syrup to sweeten according to taste, then top with pecans and a sprinkling of cinnamon (and/or nutmeg, if you're a fan). We recommend you heat this one up for a warm, comforting treat.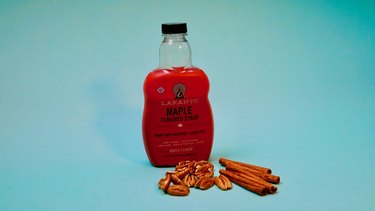 Behold. Coziness in a bowl.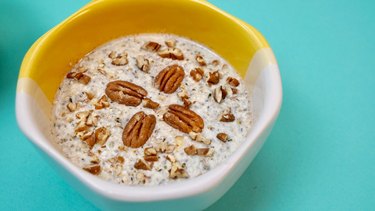 We can't wait for you to try this recipe! And when you do, please let us know what incredible flavors you come up with.