There are a lot of reasons to avoid wasting food. For one thing it's costly: Food is a major expense for most of us, so naturally you'll want to get your money's worth as you buy groceries. According to the United States Environmental Protective Agency (EPA), it's also a big environmental issue, from the amount of carbon it puts into the atmosphere to the impact of the water and fertilizer required to grow those wasted foods. Being smarter with your meal planning is one way to tackle food waste, but another—and an important one—is food preservation. Pickling, fermentation, drying, freezing and home canning are all ways anyone can cut down on food waste. It's especially powerful when you apply those food preservation techniques to things that are frequently wasted or discarded without a second thought.
Here are some of the surprising things you can preserve, plus the best methods of doing it.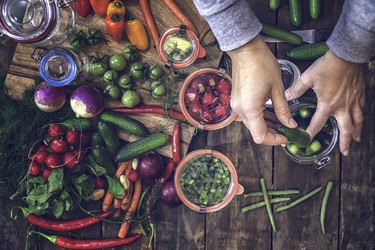 First, a Short Intro on Food Preservation...
Preserving food is one of the oldest human skills, and we've gotten really good at it over the centuries. Drying food or salting it can keep it edible for years—even decades!—with proper storage. Jams and jellies are good for years if they're unopened. Pickled or fermented foods will typically last at least a year or two, sometimes longer. Home canning gives you a year. Freezing food buys you up to a year if you've packaged your food well enough. (Food safety isn't an issue with freezing; it's quality that eventually declines.) If you're new to all of this, don't worry. There are lots of good resources out there to help you get started (including the National Center for Home Food Preservation and the USDA Complete Guide to Home Canning in particular), and food preservation is a deeply satisfying skill.
Warning
Many food preservation methods can be hazardous if done incorrectly. Dried foods can be tainted with mold, fermented foods can be colonized by spoilage bacteria, home canning can put you at risk of botulism and so on. To minimize the risks and maximize your enjoyment, choose recipes and tutorials from reputable sources; work with clean and sanitized utensils and work surfaces; and be sure to observe all the usual rules of safe food handling as outlined by the U.S. Food & Drug Administration.
The tricky part is often deciding which method to use for which food, and that's especially true when you want to preserve less typical foods.
Don't worry, we've got your back. We're going to focus on two related but different classes of foods: foods that aren't commonly used (or preserved), and foods that are commonly wasted.
Foods That Aren't Commonly Used
Think back to the last meal you prepared. How much "trim" did you leave on your cutting board, and what did it consist of? Realistically, much of what we cut off and throw away is edible even though we don't normally use it, and that's why we speak of the foods here as "not commonly used": They're perfectly good, edible foods, but we don't traditionally think of them that way. Some common examples, and suggestions for preserving them, include:
If you frequently buy carrots in bunches with the tops still attached (or grow your own), you probably cut off the tops and discard them. That's a mistake, because they're perfectly edible as is. Think of them as carrot-flavored parsley, because you can use them in all the same ways as you would that herb: Just wash and dry them, chop them up, and sprinkle them on salads, add them to green smoothies or use them to garnish meals.
Dry them in a dehydrator or low oven, store them in an airtight container, then sprinkle them anywhere you want a green garnish or a subtle carrot flavor (soups, stews, rice pilaf).
Puree them in a blender or food processor with just enough oil to help process them. Freeze in ice cube trays or—even better—packed into zipper-seal freezer bags that are then pressed flat to remove any air. When you want to use some, you can break off as large or small a piece as you like and add it to your meal.
Turn them into a carrot-top pesto. Puree them with olive oil, your nut or seed of choice (walnuts, pine nuts, pumpkin seeds and sunflower seeds are all good), lemon juice and lots of garlic. You can add basil and Parmesan for a traditional flavor profile, or leave them out to let the carrot flavor shine through. Either way, your pesto will keep for a few weeks under refrigeration or months if frozen airtight in zipper-seal freezer bags.
The brassica family includes cabbages, kale, broccoli, collards and cauliflower (and lots more, besides). We eat their roots (turnips, rutabagas), green leaves, swollen stems (kohlrabi) and flower buds (broccoli and cauliflower), but we seldom eat all of those things from any one vegetable. That's a shame, because just about every part of a brassica is edible, except when the stems become woody. The leaves of broccoli, kohlrabi and cauliflower, the cores of cauliflower and cabbage, and the stems of broccoli: All are usable. Even the long stalks that brussels sprouts grow on—if you buy them on the stalk—are sweet and juicy on the inside, once you get past their woody exterior.
The cores of cauliflower and cabbage, broccoli stems and the interiors of brussels sprout stalks can all be sliced thinly and pickled, as can turnips and rutabagas.
The same vegetables make a fine slaw for fresh consumption, and—like cabbage—can be preserved by fermenting into sauerkraut.
Sliced or coarsely shredded brassica stems and cores, the outer leaves of cauliflower (cut into bite-sized pieces) and other random pieces of leftover or trimmed-off vegetables can be fermented together with garlic, peppers and a few other ingredients for homemade kimchi. It takes up to a week to ferment in your refrigerator, and lasts about a week after it's made (it's best when fresh!), but canning it lets it keep for a year or more.
Broccoli stems aren't the only ones that are often (and unjustly) consigned to the trash, disposal unit or green bin. How about those thick, chewy ribs we remove from kale before it's cooked? Or the stems that make up so much of any given "bunch" of herbs? These are usable too. Herb stems have the same flavors; they're just less convenient to use (or less pretty on your plate). Kale ribs are chewy and juicy and cook differently from the leaves, but they're perfectly edible. To eat them in the moment, slice them on a long diagonal and steam them, or slice them more thinly and add to stir-fries.
Tip
Herb stems can be woody (thyme) or juicy (parsley, basil). Woody stems can be simmered in soups and sauces but should be removed before serving. Juicy stems are edible as is.
Puree herb stems with a few drops of oil and freeze them, or use them to infuse flavors into vinegar for later use.
Quick-pickle or ferment sliced kale stems to make a tangy, crunchy accent for your sandwiches, salads and charcuterie plates.
Finely chopping the herb stems and adding them to relishes and pickles for their fresh, bright flavors.
Foods That Are Commonly Wasted (That You Can Still Use!)
Our second admittedly arbitrary category is "foods that are commonly wasted": Things you'll frequently buy too much of—often because that's how they're sold—or harvest too much in your garden. In other words, we aren't looking at your leftover takeout foods but instead at stuff that turns to compost in your fridge's crisper drawer.
You need two tablespoons of chopped herbs for a recipe, but the supermarket sells them in bunches the size of your head. What do you do with the rest? You've got lots of options. Many herbs dry well in a dehydrator, a very low oven or even just hanging by the bunch in a shady, breezy spot. Some lose a lot of flavor when dried (cilantro, dill) or just don't taste as complex (sage). Those can be infused in oil or vinegar, turned into "pesto" or pureed with a bit of oil and frozen to keep their fresh flavor. A less common preservation option is to layer them with pickling salt in an airtight container, which preserves them nearly indefinitely. Give them a brief soak before using, or simply chop them up and don't use any other source of salt in your dish.
Warning
Herbs preserved/infused in oil can harbor ‌Clostridium botulinum‌, the bacteria that causes botulism. There is a research-tested method for preparing them safely, which you should follow diligently if you want to make these oils.
Drying them

Salting them

Turning them into pesto
Infusing them in oil or vinegar

Pureeing your herbs (including the stems, unless they're woody) with a bit of oil, and freezing them flat in zipper-seal bags. Just break off as large or small a piece as you need for a given dish, and return the rest to your freezer.
2. Squashes, Summer and Winter
Tender summer squashes (zucchini, yellow crookneck, pattypan) are among the most prolific of garden plants, as gardeners are reminded every year. Winter squashes aren't quite as prolific, but they tend to be larger than many of us can use in a single meal. The remainder often molders in the fridge until it's discarded, so having a plan to preserve what you don't use on the first day is a must.
Summer squashes don't freeze well in their natural state, because they're mostly water and they'll become a spongy mess when thawed. You have a couple of options: Shred them and squeeze out the excess moisture by hand; or slice them, sprinkle them with pickling salt and let them drain in a colander for a few hours before freezing. Shredded zukes are great for baking or making fritters, while the sliced-and-salted ones can be used in most of the same ways as fresh. If freezing isn't your thing, zucchini make good pickles (use your favorite recipe for cucumber pickles), relishes and chutneys. You can even incorporate them into jams and marmalades, where they'll take on the flavor of the fruit.
Spaghetti squash needs to be cooked before you try to preserve it. You can pack it flat in freezer bags for freezing, or—like zucchini—incorporate it into jam. Other winter squashes can be roasted or steamed and the pulp frozen; or peeled raw and cut up, blanched briefly in boiling water (to quell the enzymes that cause food spoilage) and then frozen in bags or airtight containers. Diced winter squashes can also be canned, though that requires pressure canning (water bath canning isn't hot enough for low-acid foods like squash, creating a risk of botulism).
Freezing them
Pressure-canning them
Pickles, relishes and chutneys are super-versatile ways to use up a summer glut of zucchini and similar squashes. Try them! (You'll thank us all winter.)
Some vegetables last pretty well with minimal effort. In the homesteading days, for example, a simple root cellar would keep sturdy cabbages and root vegetables for months. Food storage options have improved since then, but—paradoxically—refrigeration can sometimes leave dense veggies dry and rubbery, or perishable vegetables slimy and unusable, in just a few days.
Most vegetables lend themselves to freezing and just need to be blanched in boiling water before they're bagged for the freezer. Many can also be canned in mason jars, as long as you have a pressure canner. Most vegetables can be marinated or quick-pickled to prolong their life in refrigeration, which has the added benefit—in the case of pickling—of making them safe for water-bath canning. Fermenting and pickling are arguably the most versatile preservation method for low-acid foods like vegetables, as long as you're prepared to commit to buying canning jars, a canner and the related tools. Their shelf life can be a year or more when stored properly, and you won't lose them if the power goes out.
Many vegetables—tomatoes, zucchini, peas and beans, sweet peppers and more—also lend themselves to drying. Thinly sliced and dehydrated vegetables will keep for a year or more when stored in airtight containers in a cool, dry place, and potentially even longer if you vacuum-seal them.
Freezing them
Pressure-canning them
Marinating them
Fermenting and pickling your surplus vegetables is more work than simply freezing them, but the resulting pickles pack a serious flavor punch and can brighten your meals in many, many ways.
If cabbages and carrots are some of the most durable pieces of produce, fresh fruit and berries are some of the most perishable. Often you'll have only days to use 'em or lose 'em, and impulse purchases can all too easily go from store to fridge to compost bin.
Making jams and jellies is the most obvious way to preserve them, but it doesn't really lend itself to small batches or capture their fresh flavor especially well. Freezing is a better option, though throwing berries or fruits straight into a bag or container tends to produce a solid brick of fruit that limits how you'll use them afterward. It's better to freeze berries, or cut-up larger fruit, on a parchment-lined sheet pan and then bag them once they're frozen. That way they stay separate and pourable, like store-bought frozen fruit. Some fruit may need a dip in diluted lemon juice before they're frozen, to keep them from browning. You can also toss many fruits with sugar and cornstarch before freezing, to make an instant pie filling (or even cook the pie filling first and then freeze it).
Many fruits dehydrate well, in either a food dehydrator or a low oven. Slice them evenly, and dip them in lemon-water if they're prone to browning (such as bananas, apples, peaches) and then dry them to a leathery texture. You can also puree the fruits, with sugar or lemon juice as needed to balance the flavor, and then dry them for fruit leather. A less common but interesting preservation option is pickling. Peaches, apples, crabapples, plums, cherries, pears and many more lend themselves to pickling, with or without added flavors from herbs or spices.
Fruits preserved with mustard are a cherished Italian tradition, one that's easy to reproduce at home. The fruits are preserved in a sugar syrup punched up with mustard powder or mustard seeds, and bring a striking combination of hot, tart and sweet to your plate (they're a great accompaniment for rich meats). Like quick-pickled veggies, they're good for a couple of weeks in your fridge, or can be canned for longer storage.
Making jams, jellies and sweet preserves
Drying them
Pickling them
For sheer versatility and practicality, nothing is better than freezing berries or cut-up fruit in a single layer on a sheet pan, and then bagging them in airtight (or better yet, vacuum-sealed) storage in the freezer.