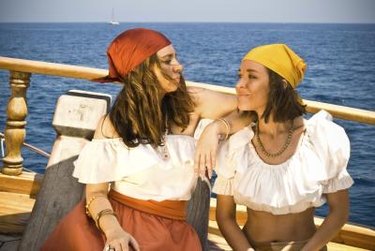 By creatively putting together a few pieces of modern-day wear, you can create a female pirate costume. Many commercial costumers manufacture female pirate costumes featuring short skirts to present a seductive look. This is far from how women pirates dressed, however. They worked and fought aboard ships, which required more sensible clothing. Many women on the high seas even disguised themselves as men. For a costume that has a little more realistic look than what you find "off the rack," consider what a pirate might have done every day and what would make sense for her to have worn.
Above the Neck
In their travels, pirates captured ships carrying valuables, such as silk and gold, so a lady pirate naturally would have worn items made from both these treasures. Fold a large, square silk or silklike scarf into a triangle. Tie it around your head, knotting all three points on one side and allowing the tails of the scarf to hang down over one shoulder. Tip the scarf to the side so that one ear is covered and one ear is exposed. In the exposed ear, wear a large, gold hoop earring. Wear only natural-looking makeup if you choose to wear cosmetics.
Neck to Waist
Blousy tops were a popular fashion item during the 18th century, at the height of piracy. Look through your closet or head to the mall to buy a white blouse with long, puffy sleeves in a gauzy or other lightweight material. Ruffles also were very popular, so a blouse with ruffles at the neck, cuffs or down the front would be particularly suitable. If you can't find a white blouse, other plain-colored fabric also would work—just be sure to stay away from anything knit or neon, as these didn't exist at the time. A close-fitting vest worn over the blouse adds extra detail to the outfit.
Wrap a second long, silk scarf or a strip of silk fabric around your waist as a belt. Hunt through the toy department to find a large sword. Slip it under the silk belt, and let it hang at your side.
Below the Waist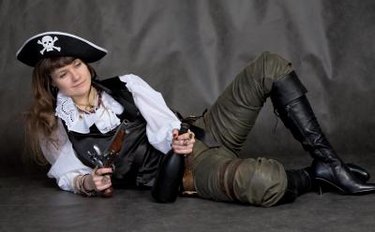 Cover your lower half with a pair of black or other dark-colored capris. Make sure they don't have the characteristics of modern jeans, such as topstitching and patch pockets on the backside. If you can't find a pair of plain capris, consider buying a pair of basic, pull-on lounge pants and cutting them off below the knee. Under your capris, wear a pair of tights. These will most closely resemble the type of socks worn during the days of piracy. Footwear could be basic slip-on loafers or pull-on, knee-high boots.