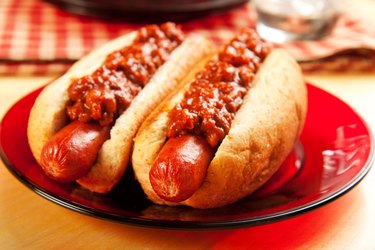 Start to finish: 45 minutes Servings: 10 to 12 hot dogs Difficulty level: Beginner
There is no need to leave home to get a hot dog with spicy, slow-simmered chili -- you can make homemade chili using fresh, natural ingredients and turn hot dog night into something special with a batch of mild chili or a spicier version with hot sauce and garlic. Once you create your signature hot dog chili recipe you can roll it out to rave reviews at every backyard barbecue.
Ingredients
1 pound lean ground beef
1 medium onion, chopped
canola or olive oil
2/3 cup tomato sauce
1/2 cup ketchup
2 teaspoons chili powder
1/2 teaspoon ground cumin
½ teaspoon salt
½ teaspoon black pepper
Directions
Heat a large saucepan on medium heat until the pan is hot.
Put 2 tablespoons of oil in the pan and heat it until it shimmers. Add chopped onion and saute until golden.
Add the ground beef to the pan. Break up the ground beef with a fork.
Brown the ground beef, stirring occasionally to turn the beef over for even cooking and to mix it with the sauteed onion.
After the ground beef browns, mix in the tomato sauce and ketchup and stir to mix well.
Add the chili powder, cumin, salt and pepper to the pan and stir to mix the seasoning throughout the beef and sauce mixture.
Cook the chili mix until it begins to boil, lower the heat, cover the pan and allow the chili to simmer for 20 minutes or until the chili has thickened.
Serve the chili hot, spooned over hot dogs in the bun.
Skip the Beef
Ground beef is not required for good hot dog chili. If you limit your beef consumption, use ground turkey or ground chicken; for a vegetarian chili, substitute beans.
Brown the ground turkey or chicken and follow the recipe. You might need to add a little more seasoning, since the ground turkey or chicken does not lend as much flavor as the beef.

Make your homemade chili with kidney beans: season and cook the sauces until boiling and add a drained, rinsed can of kidney beans to the pot for 20 minutes of slow simmering, until the sauce thickens and the beans soften.

For a softer bean chili, cook the canned kidney beans in a pot, drain and mash them until they have a paste-like consistency and mix the beans in with the seasoned sauces for cooking.
Variations and Tips
If you prefer a sharper flavor to your hot dog chili, add a dash, or less than a teaspoon, of Worcestershire sauce when you add the tomato sauce and catsup.

Add a dash of hot sauce or a sprinkle of red pepper to make red hot chili with a bite, or use a chili seasoning packet for a shortcut that can take the place of other seasonings.

Substitute onion powder for the chopped onion, if preferred, and add seasonings such as garlic, paprika and a dash of vinegar.

Add 1/4 to 1/2 teaspoon of umeboshi plum vinegar to the chili to add a bacony flavor.

After the ground beef browns, transfer it to a slow-cooker, add the other ingredients and allow the chili to simmer and thicken over 3 to 4 hours.
Use lean ground beef -- 80 percent lean or better -- to avoid a greasy chili.

Add 1/2 teaspoon of sugar to the chili if the tomato sauces are too bitter or tart.

Add the seasoning after the chili cooks. Season to taste to avoid too much salt.

Prepare additional toppings such as shredded cheese, sauerkraut, diced onions and coleslaw for the full hot dog experience.

Refrigerate leftover hot dog chili in a closed container and reheat in the microwave.

Be sure to check the [temperature](http://www.foodsafety.gov/keep/charts/mintemp.html) with an instant-read food thermometer. Ground beef should read at least 160 degrees Fahrenheit; ground turkey and chicken should be cooked to 165 F.