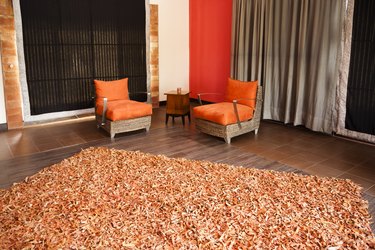 Handmade rugs are a cozy addition to any home, and have been for centuries. Rugs can be crocheted, latch hooked, knit, woven or simply knotted. However you choose to create your own rug, the yarn you pick will determine the look of the finished product -- so choose carefully before you start!
Washable Rugs
For rugs that will need to be thrown in the washer occasionally, such as a kitchen rug or a bath mat, a machine-washable yarn is a necessity. Acrylic yarns or cotton blends are easy to clean and inexpensive. Machine-washable wool yarns are also available, though they tend to cost a bit more.
Absorbent Rugs
Other parts of your home require thicker, warmer rugs, in which case, wool yarn is perfect. Wool absorbs moisture while still holding its shape, and it retains heat as well. It also tends to felt when rubbed against itself -- as happens when feet walk on it, for instance. This is fine in a low-traffic area such as right in front of a fireplace, but in a hallway, you may want to consider a machine-washable wool or a wool blend to reduce the chances of felting.
Yarn Size
Many patterns recommend using only bulky or extra-bulky yarns. This is a good idea if you're a beginner, but if you're feeling a little adventurous you can try holding three strands of worsted weight yarn together. It will achieve the same thickness, but will allow you to play with color and texture, too.