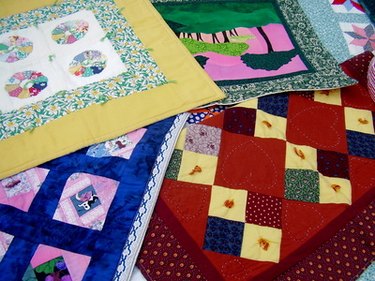 Every February, Black History Month is observed throughout America. Schools, libraries and communities hold celebrations and other events designed to educate the public about the importance of the civil rights movement and shed a spotlight on notable black people throughout history. Schools can share this message with students and faculty with an educational and entertaining program that brings black history to life.
Make a Human Rainbow Game
Have members of the audience volunteer to come up on stage and create a human rainbow of color. Two groups of 10 to 15 people on either side of the stage have exactly one minute to line up from lightest to darkest. Note which group was fastest. When choosing volunteers, select a variety of skin tones. Once everyone is "sorted," ask pointed questions, like "Do you know the person next to you?" and other leading questions to point out the insanity of racial segregation in social situations. Be sure that participants in both groups are able to discuss how they felt about lining up by color. In some groups, you can extend the activity by having them line up by age, height or grade-point average. Once they're all back in the audience, point out the mixed sea of faces in the group and applaud them for their cooperation. You can even mention the likeliness that the darker participants are technically brown.
Decorate with Freedom Quilts
Have each class make freedom quilt squares. Each student is given an 8-by-8 square of paper and instructed to use markers, paint or collage to create a quilt square. You may want to learn more about freedom quilts and have students decide which one the class will make. In the book "The Patchwork Path," author Bettye Stroud shares the secret code of the Underground Railroad quilt patterns. Hanging specific quilt patterns on the clothesline was one way that sympathetic whites and captive blacks could communicate potential dangers to fugitive slaves and guide them on their journey to freedom.
Invite Prominent Guest Speakers
Contact your local chapter of the NAACP to find someone who may be willing to speak and share their experiences during your program. Try to find out what the scope of topics will be in the speech beforehand to allow the audience the opportunity to learn more about the events before the program.
A Musical History
Prepare a short speech about the history of several different types of music, and name the predominant black people who popularized them. Begin with the African drumbeats that have been used since ancient times to bring on fertility, to start wars or for merriment, then the Atlantic islanders' marimba sounds, then move on through history to ragtime, blues, swing, Motown, soul, jazz, R&B and hip-hop music. Play a selection of each type of music. If you have access to live performers, that is best. Include contributions to classical music, as well as Charley Pride, a black country music singer.