Hollywood-themed parties are a chance for you to feel glamorous and exciting, while mingling with beautiful people for one night. If you are attending a Hollywood party, keep in mind that there are different types of Hollywood parties; guests can dress up as a living actor, an old Hollywood actor who has passed away, or as a character from a movie or TV show. Be sure to find out what type of Hollywood party you are attending before choosing your outfit.
Living Actor
A Living Actor Hollywood party is a chance for you to dress as your favorite actor or actress on the Red Carpet. If you are a huge fan of Angelina Jolie, now is the time for you to don a elegant, classic party dress and a beautifully simple hair style. You don't have to spend a fortune on an elegant ball gown, or get your hair and makeup professionally done. The idea of these parties is to exude a celebrity presence, which you can do by simply acting the part. Check second-hand stores for dresses and accessories, or inexpensive retail stores such as Forever 21 or Charlotte Russe, who often sell cheaper versions of celebrity fashions. Buy a dress that you can wear again, and it will be worth your money.
Old Hollywood
Old Hollywood-themed parties are a great way to dress like celebrities, while pulling off a fun vintage look as well. Choosing an outfit for Old Hollywood-style parties is a little easier because there are already premade costumes for some famous actors and actresses. For instance, if you want to go as classic Marilyn Monroe, you can easily find a version of the white halter dress for which she is so famous. You can also dress as Marilyn Monroe from a different time in her life. Find a famous picture of her, and then model your outfit after that particular look. Check vintage, second-hand or thrift stores to find an outfit appropriate for that era. If you can find something that is perfect, sometimes it just takes adding an accessory from that era to make it look just right.
Character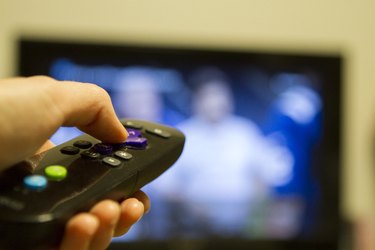 Another way to attend a Hollywood party is to dress as a character from a TV show or movie. Choose a character who is highly recognizable, so that you don't have to spend your night explaining to people who you are. One way to do this is to choose a character that has a signature or memorable look. For example, if you are a big Quentin Tarantino fan, consider dressing as a character from "Kill Bill," such as Uma Thurman's all yellow tracksuit. You could also dress in Uma Thurman's famous outfit from Pulp Fiction--a white button-down shirt with black capri pants and no socks or shoes. When trying to find a character, think of your favorite TV show or movie, and choose an outfit that incorporates pieces you already have in your wardrobe.