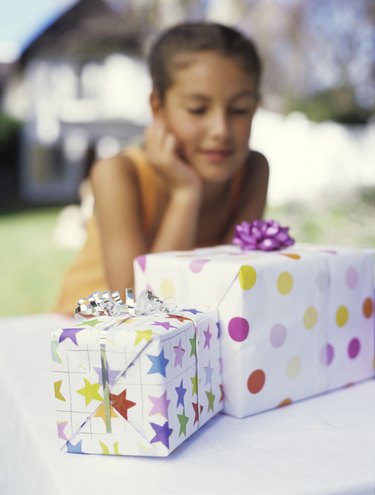 Many themes can be used for an 8-year-old girl's birthday party, and they don't have to cost large amounts of money or require a lot of time to plan. When planning a birthday party for an 8-year-old girl, it's important to keep things fun and incorporate the birthday girl's likes and interests.
Tea Party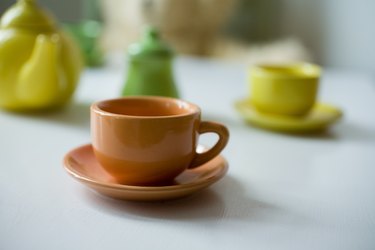 A tea party is ideal for 8-year-old girls, many of whom like to play dress up. For this type of birthday party, you will need to provide a tea set or cups and saucers, tea, punch, sugar cubes, finger foods and birthday cake.
Foods that work well for a tea party include finger sandwiches, fruit, cookies, petit fours and canapes. Dressing up is part of the fun of a tea party, so on the invitations, make sure you instruct guests to come in party dresses. Alternatively, you can supply dresses, hats, gloves, scarves, costume jewelry and other dress-up items for each guest. These things can be bought inexpensively from thrift or second-hand stores.
Skate Party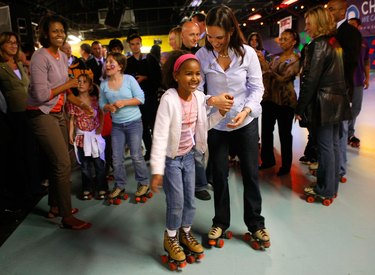 This type of party is convenient to plan, as the skating rink will provide the skates and perhaps even the decor. Many rinks will even provide food and drink service, so you may need only supply the invitations and cake. Often, you can get a discount on the rental fee by having a certain guest minimum.
Make sure that your invitations clearly state that you are having a skating party--some children do not know how to or do not enjoy skating, and you don't want any of the guests to be uncomfortable. Also, since skating parties are popular, you should try to book a skating rink at least six months in advance.
Sleepover Party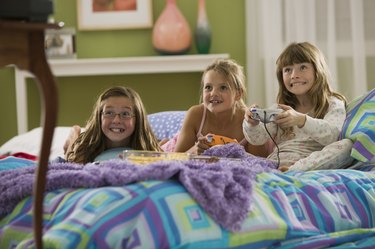 Eight-year-old girls love bonding with their friends during sleepovers. This is the age when most children feel comfortable staying overnight at a friend's house, so you shouldn't have to worry too much about any of the guests getting homesick. Even so, you should be sure to have the contact information for all of the guests' parents, should they want to go home or if they do get sick.
Provide the guests at the party with hot dogs, pizza, fruit or other snacks, drinks, games, music and activities such as movies. You should also provide breakfast for the guests before their parents come to pick them up. On your invitations, make sure you emphasize what time the party is over to prevent parents from picking up their children late.