Things You'll Need
2 c. dry white wine

1 tsp. cornstarch

2 garlic cloves

1/2 tsp. or so white pepper

2/3 lb. Gruyere cheese

1/3 lb. or so Cheddar cheese

1 loaf French bread, cubed

1 firm apple, sliced

1 bunch grapes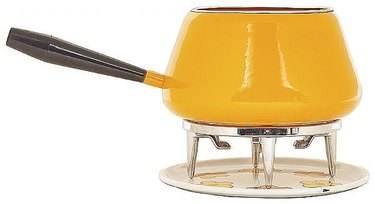 How to Make Cheese Fondue. This fondue ("melted" in French) is the classic Swiss appetizer of melted cheese and wine, into which you dip pieces of crusty bread. Use whatever wine you plan to drink with the cheese fondue, as long as it's a white wine. This cheese fondue recipe serves 6 to 8 people.
Step 1
Mix half the wine with the cornstarch in a heavy nonreactive pan and stir together until the cornstarch dissolves.
Step 2
Bring wine mixture to a simmer over low heat and add the cheese.
Step 3
Slice the garlic cloves in half and add them to the mixture along with the pepper.
Step 4
Stir slowly as the cheese melts, always keeping the heat low enough so the mixture remains just below simmering.
Step 5
When the cheese is completely melted and smooth, thin with the remaining wine as necessary. The cheese should be thick enough to coat the bread and fruit.
Step 6
Transfer to a fondue pot or serve in the cooking pot. Fish out and discard the four garlic halves.
Step 7
Place the fondue pot on a large platter.
Step 8
Arrange the cubed bread, sliced apples and grapes around the fondue pot on the platter. Spear the bread cubes and fruit with forks or fondue spears and dip them in the fondue.
Tip
Gruyere, a nutty French cheese similar to Swiss, can be found in most supermarkets. Emmentaler is a good variety of Swiss to use; Jarlsberg would also be fine. Use a sturdy French bread with chewy crusts, and tart apples. Rub the apples with a little bit of lemon juice to prevent browning. Cut, raw vegetables - such as carrots, radishes, and cucumbers - can also be served to dip in the melted cheese. You can also serve cheese fondue as a light dinner with a green salad.