Overview
Step 1
December is in full swing and social events are popping up all over the calendar. Whether you're planning a dinner party with friends or attending a potluck, you need to be prepared with the right food, hostess gifts and fashion for the perfect night. Don't be caught unprepared! And while you're at it, save yourself from the night-before-Christmas rush to wrap all of those presents by starting now. If you learn the wrapping basics, then the only thing that stands between you and an impeccably-packaged gift is a paper cut. Challenge accepted.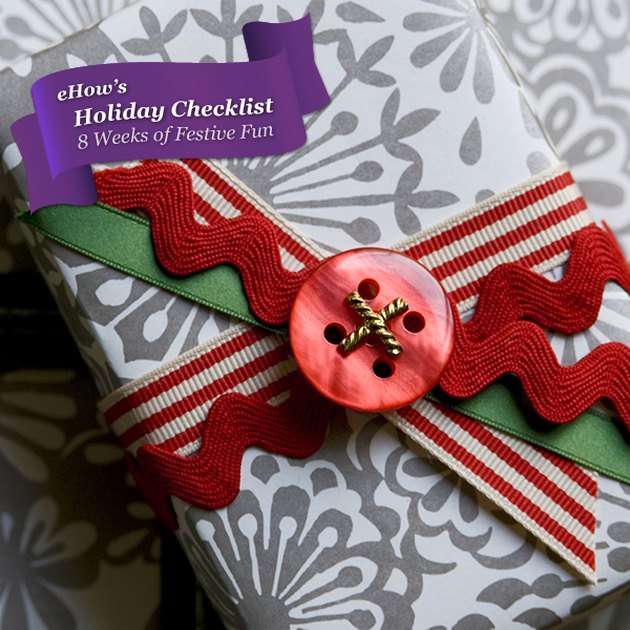 Make Your Own Wrapping Paper
Step 1
Make your holiday presents even more personal by wrapping them with custom-made, one-of-a-kind paper. With simply a pine branch and some white paint, you can create a beautiful [snowflake design](https://www.ehow.com/ehow-crafts/blog/make-snowflake-wrapping-paper-with-a-pine-branch/). Your very own wrapping paper art!
Master the Wrapping Basics
Step 1
Wrapping presents is not the easiest task. The paper is thin and slippery, often tearing or crumpling. If your family has come to expect a mess of tape and wrapping paper from you, then pay attention: make this the year you master the art of wrapping presents. Learn how to wrap a basic box and just say "no" to expensive gift bags and mounds of tissue paper.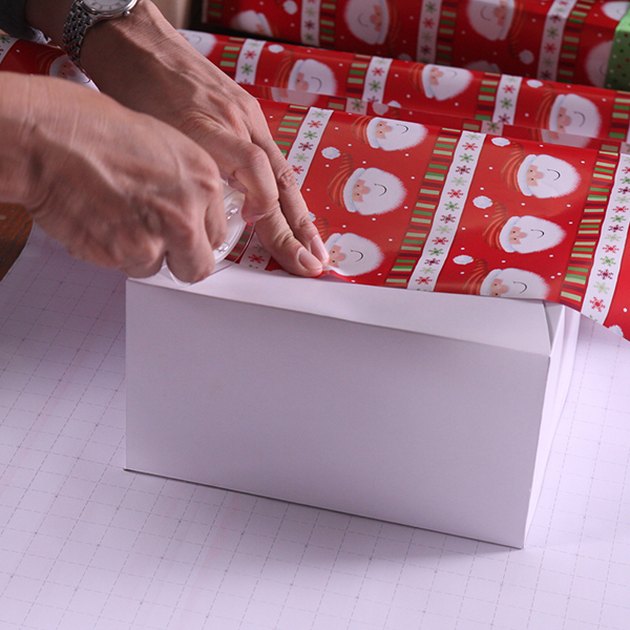 Wrap Unconventionally-Shaped Items With Ease
Step 1
Your sister may love the tennis racket you bought her for Christmas, but the moment you sit down to wrap it, you're going to wish you'd bought her a book instead. Unconventionally-shaped items, like tennis rackets or coffee mugs, do not have to be the wrapping joke of the Christmas tree. Instead, look outside of the box--literally--for a few ideas to wrap them effectively and aesthetically.
Spruce Up Your Gifts With Bows and Decor
Step 1
Once you're a gift wrapping pro, you can really dress up your presents with beautiful bows and festive decor. Use a spool of wide ribbon to make a fancy bow that will impress any gift recipient. Or look for objects at the craft store, around the house, and even in nature to top the present. Suggested items include feathers (like the peacock feathers shown here), mini picture frames, candy canes and pine cones.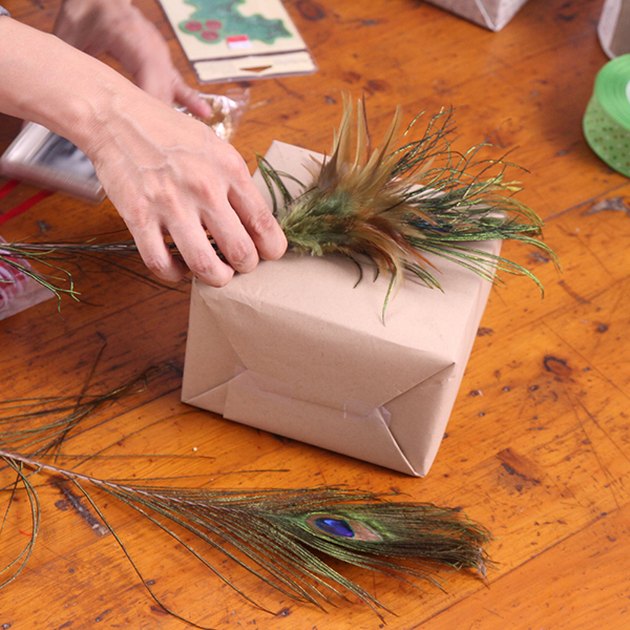 Get Crafty: DIY Gift Topper
Step 1
Put the final touch on your perfectly-wrapped gifts with an adorable, handmade [ornament and topper](https://www.ehow.com/how_12340354_diy-fusible-bead-gift-toppers.html). Using fusible beads, in just a few easy steps you can create colorful toppers that will add a special touch under the tree.
Embellish Wine Bottles for an Easy Hostess Gift
Step 1
It's December: Hanukkah has started, Christmas is around the corner, and New Year's is less than a month away. No doubt your social calendar is booked up with holiday parties. If you're opting for the classic hostess gift of a bottle of wine, start thinking of ways to jazz up the delivery. To make it easier on you, we've compiled ten ideas for wine bottle wrapping, from the adorable red-nosed reindeer to the two-gifts-in-one dish towel wrapping. Which will you choose?
Break Out the Gingerbread Houses
Step 1
Decorating gingerbread houses is a beloved holiday tradition for all members of the family to enjoy together. The construction of the actual gingerbread house is pretty standard, but it's fair game when it comes to details like the door. Before you rush to the store to pick up expensive icing and candy, check your pantry for supplies: shredded wheat cereals make a great thatched roof, while marshmallows are perfect for snowy landscapes. What are your favorite gingerbread house embellishments?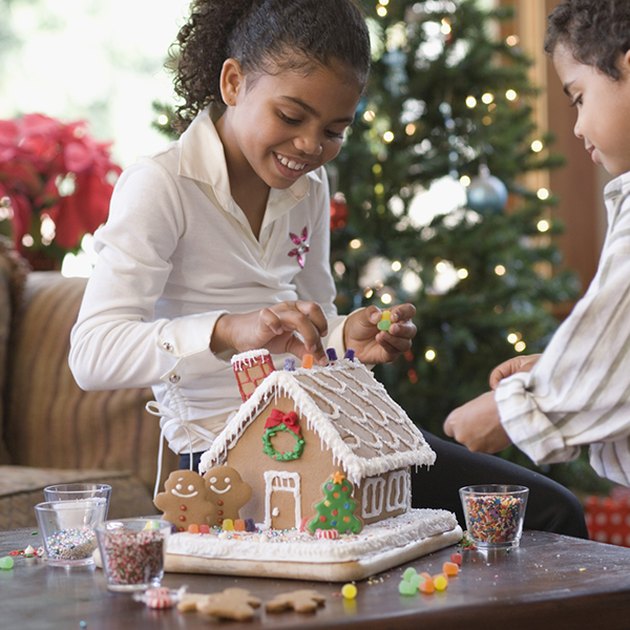 Get Crafty: Simple Sock Puppets
Step 1
Open up your sock drawer and count up the number of sad, mate-less socks. You could wear them anyway--mismatched and lonely--or you could put them to a much better use: sock puppets. A gift for kids or a home decoration, these sock puppets are easy to make and, let's be honest, pretty adorable! There is a sock puppet creature that works for every type of sock, from plain white to super fuzzy and colorful.
Whip Up Some Holiday Drinks
Step 1
Mulled wine, hot buttered rum, egg nog--pick your holiday poison! If you're hosting a soiree, these recipes are a must. Your guests will surely rave about the festive flavors. But don't just save them for special occasions; the hot beverages are a great treat after a cold day. Our comprehensive guide will show you how to make 17 holiday drinks. Better stock up the bar!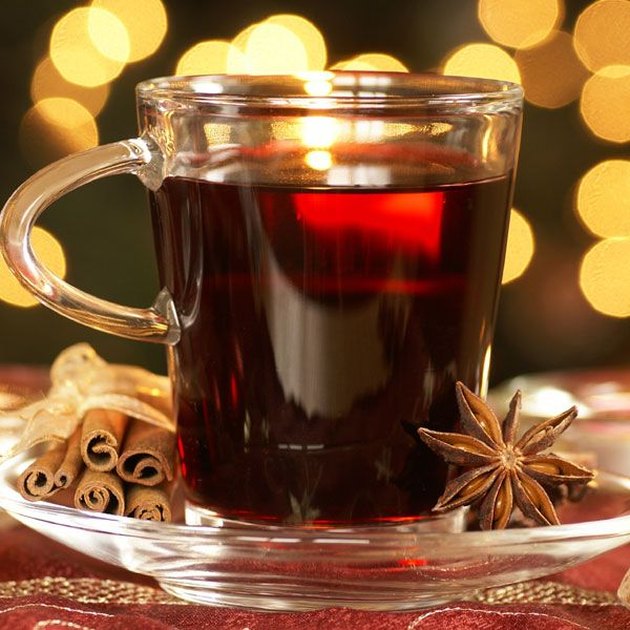 Ladies, Plan Your Party Wardrobe
Step 1
The formal office party, your friends' ugly Christmas sweater extravaganza and your in-laws' traditional dinner all call for very different looks. Look appropriate for each event by checking the invitation for the dress code, and then browse through our tips for holiday party fashion. And of course, make sure you are comfortable in what you choose so you can dance the night away and enjoy the company of good friends.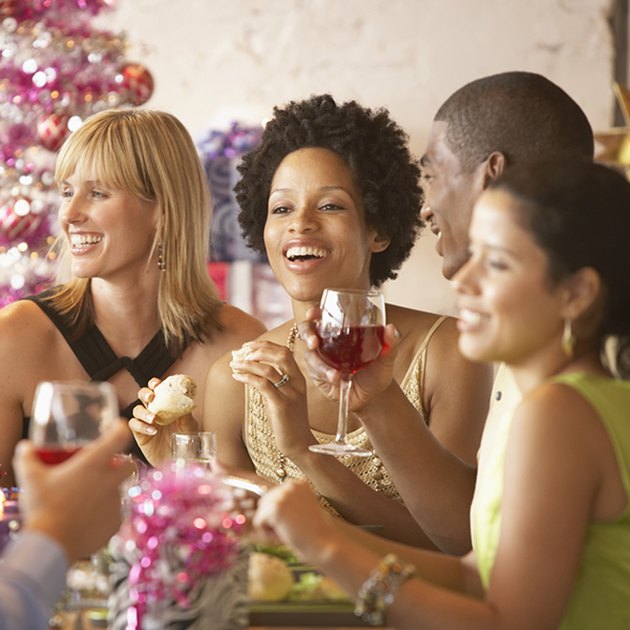 Guys, Don't Flip Out Over Holiday Party Fashion
Step 1
There aren't too many occasions for a man to dress up and put on those big boy leather shoes. But 'tis the season for formal parties and dressing up is a must. Don't worry though! We've got you covered. Stick with a traditional ensemble for formal work events but feel free to be a bit more casual with friends and family. A nice neutral cardigan and slacks say, "I'm comfortable, casual, and still look put together." Add a tie and amp up your look from casual to classy in seconds.
Freeze Foods Before the Big Holiday Party
Step 1
Gingerbread treats, aged wine and an array of cheerful decorations are the usual suspects at any holiday party. So this year, be the hostess with the mostest--without stressing about every little detail. We've put together 10 holiday hostess secrets that promise success. One huge tip: baking goods in advance that you can freeze. Planning ahead is a key factor for banishing last-minute anxiety.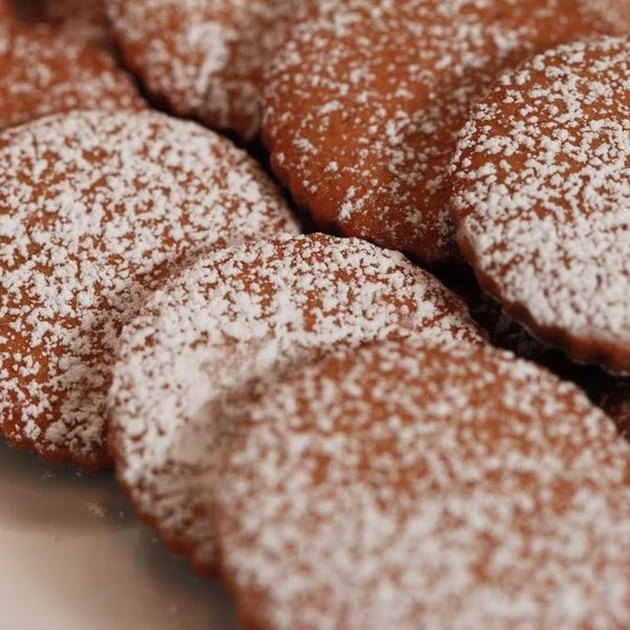 Get Ready for House Guests
Step 1
The holidays are a time for togetherness, but having overnight guests at your home can be stressful. The best way to look at it: put yourself in their shoes. What would you need if you were a guest in someone else's home? Accommodate all the needs you would have on your list and the experience will be a pleasurable one for all. And help yourself to make the visit easier by preparing the guest room necessities early! Clean sheets on the bed, clean towels in the bathroom--you've got the idea.
Looking for More?
Step 1
For additional ideas that make navigating the holidays easier, more affordable and more fun, check out week four of eHow's Holiday Checklist.