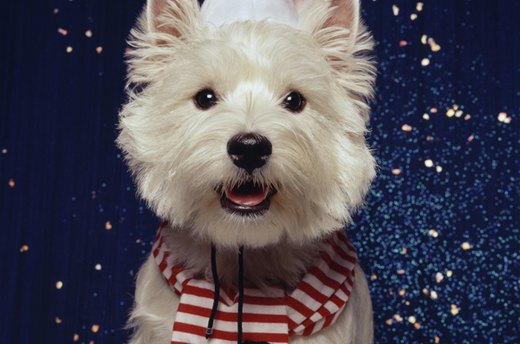 When the holidays roll around, festive home decor and tasty holiday treats take center stage. Your friendly feline or four-legged friend doesn't have to miss out on the holiday cheer, though. Celebrate the festivities with pet costumes and holiday dresses that include man's best friend in the holiday spirit at your house.
Santa's Little Helper
If your pup is willing to don the attire, why not go all out with a Santa hat and full beard? Spoil your pooch for playing along. "The key to getting your pet to enjoy the experience of dressing up is having patience -- and treats," says Susan Hartzler, a Los Angeles-based dog expert. "It's easy to train a dog to wear anything with praise and rewards."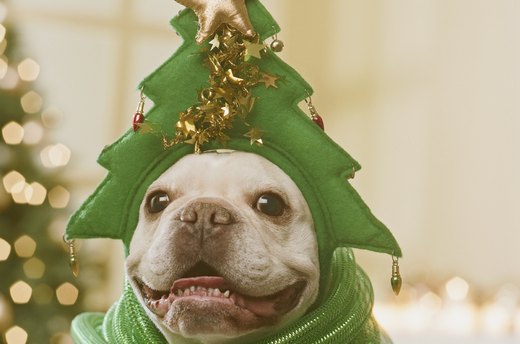 A Tree-Lined Barker
"Many lucky fur [or feathered] babies are spoiled during the holiday season, and rightfully so," says Hartzler. "They offer humans unconditional love and much, much more." Show your love for your furry friend this season by making her the centerpiece of the celebration. A tree-lined hat and scarf will surely put her in the spotlight.
Furry Feline Festivities
If your feline is feeling festive, start with some simple head gear for the holidays. "Getting cats to wear anything is really difficult. They need to experience the item first," Hartzler said. "Let them play with it before you even attempt to put it on them, and then praise and rewards will make them a super star."
Naughty or Nice?
Although your pooch may not always be on his best behavior, show off his cheery side with a naughty or nice hat and scarf. Piece together felt and bells for the scarf and decorate a Santa hat to bring out his nice side. Couple with a naughty hat for another pet to make the perfect pair.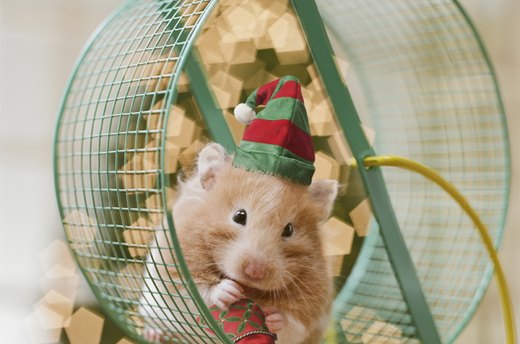 Hamster Holidays
Even active hamsters need to show off their holiday spirit. Make a mini hat for this furry friend and a green or red turnstile to get him involved in the festivities. Decorate his cage, too, so he can join in the celebration.
Reindeer Ruse
Put a new spin on traditional reindeer ears by adding a fuzzy red scarf for your puppy. If Fido is resistant to the decor, Hartzler recommends easing her into the costume with gradual treats. "Just leave the hat on for a few seconds and say 'Good Hat.' Then, add more time and more treats until your pet is comfortable."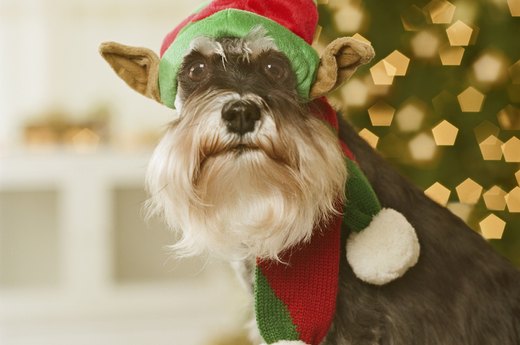 Snug Season Wear
Keep your pet warm during the holidays with crocheted costumes that will bring out his holiday spirit. From red to green striped hats to scarves with snowballs, the attire may even keep him calm, said Rachel Friedman, service dog trainer. "The type that fit more snuggly on the body can actually be calming. The ones that are ill-fitting or hustled too fast onto the more sensitive dogs may cause anything from fussiness to downright duress."
Cardboard Cuties
If you're searching for the perfect personalized holiday card, a cardboard snowman cutout for your pooch may fill the bill. Add a white backdrop with glittery snowflakes to set the scene and snap the picture. Friends and family will not be able to resist the charm of your festive friend.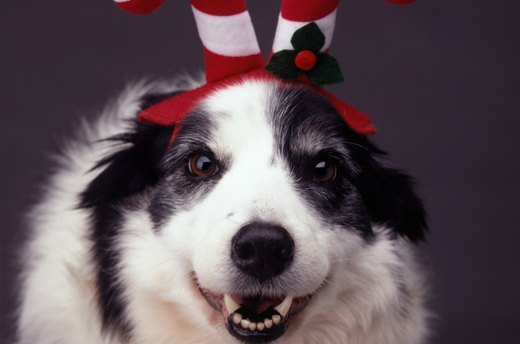 Candy-Coated Pets
Pets sometimes resist this costume, so start small with a red-and-white striped candy cane hat. With this on, she will be the center of attention and therefore one happy pooch during holiday celebrations, sporting a smile and festive fanfare.
Furry Hide-a-Ways
Your holiday decor may include stockings on the stairs or hung on the chimney with care, but don't forget the small furry friends in your home. Craft a small red-and-white stocking for gerbils or hamsters so that their homestead can look just as festive as yours.