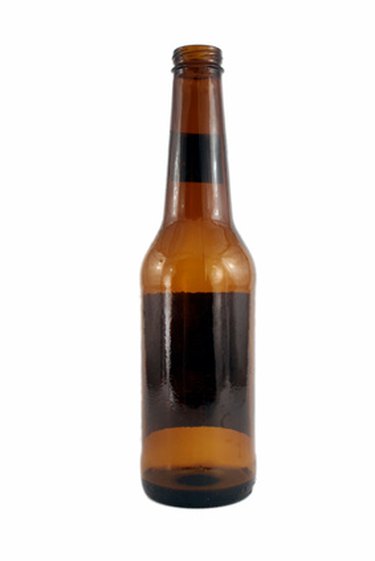 A sure-fire hit among the twenty-something crowd, a beer bottle costume is the perfect getup for a grown-up party. The basic disguise is easy to put together; in addition, you can personalize it very simply, adding a label to turn a generic beer bottle into your favorite brew. If you wear the costume to a party at someone's home, be sure to bring along some beer for the party; for a cheeky touch, carry a six-pack with one bottle missing.
Specific Brand
To convert a generic beer bottle costume into your preferred brew, decorate a large sheet of paper to resemble the label of your favorite cold one. Cut down the paper as necessary, smoothing edges or adding in curves to make it resemble the real label. Use colored paper or colorful markers to add the brand name, plus details like ingredients and recycling instructions. If drawing and penmanship aren't your strong suits, carefully remove the label from a real bottle and have a copy shop blow it up to size.
Basic Bottle
To create the basic form of the bottle, you'll need to create a broad base and a neck that tapers. Note the variation among beer bottle shapes the next time you go to the supermarket. If you like a bottle with a particularly stout or elongated shape, create the costume accordingly. Using sturdy fabric, such as felt, you can cut out a smock-like garment in the shape of a bottle. Let its narrow neck pass over your head, simply cutting out an oval for your face to peek through. Use an aluminum pie plate for the bottle cap, wearing it like a hat. You can decorate its upper surface with the beer's brand name logo.
3-D Disguise
For a truly lifelike beer bottle costume, use a thin styrofoam mat to create a basic cylinder shape, wrapping it around your body. This basic cylinder serves as the base of the beer bottle, with two holes cut into its sides for your arms. Cut out smaller strips of a second mat to serve as the bottle's tapered neck. Wrap the whole bottle in green or brown fabric, depending on the glass color you prefer. Finish off the look with a custom-made label, advertising yourself as your favorite beer. Check that you can comfortably remove and put on the costume yourself, should you have to use the bathroom or drive a car during the course of your Halloween festivities.