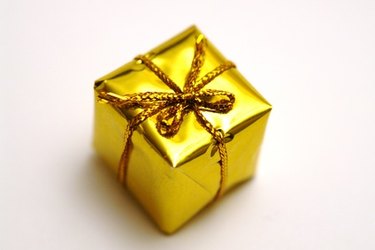 Gift-giving, regardless of the occasion, is often a symbol of the love and appreciation we have for the person who receives the gift. The gift itself can also have symbolism. The symbolism of the gift indicates a special link between the giver and the recipient and may not be clear to others. Some common symbols, however, may be understood and appreciated by many.
Mother's or Grandmother's Jewelry
A common symbolic jewelry gift for women celebrates her family. A woman may receive a ring, bracelet or necklace that includes one birthstone, charm or other representation for each child or grandchild. A woman's children or grandchildren often present the gift as a symbol of their love and appreciation of her gift of motherhood to them.
Anniversary Jewelry
The husband often presents this symbolic jewelry gift to his wife to celebrate the years of love and joy the couple has shared. The gift may come as ring, which is a symbol of the never-ending quality of love. Other pieces of jewelry may also be given to celebrate loving years together. The husband could have the jewelry engraved with the number of years together or the year the gift is given.
Flowers
Floriography is the symbolic language of flowers. Floriography used different flowers or herbs in an arrangement to convey a special meaning. Roses symbolize love, but different colors of roses have different meanings, according to a writer on the Victorian Bazaar website. Coral roses represent desire and pale pink roses symbolize grace and joy. The Victorian Bazaar writer notes that 11 red roses and a single yellow rose symbolize love and passion.
Religious Symbols
Common Christian symbols include hearts, crosses, doves, fish and rainbows. Many other religions have sacred symbols as well. The Jewish faith uses the Star of David and the Muslims use the star and crescent or the calligraphic symbol for Allah. Buddhists use lotus and the endless knot, among many others.
Gifts using these symbols include jewelry, sacred art, book covers and decorated clothing. A woman who is a follower of a specific spiritual tradition might appreciate a gift that includes a symbol that is specific to her faith.
Less Obvious Symbols
Less obvious symbolic gifts could include a book you have both shared and loved, a specific kind of tea you drink together, or a recording of a song you both enjoy. A picture of you together in a beautiful frame can symbolize happy times together and memories shared.
Gifts in this category are many and diverse. Whatever symbol you choose represents your love and appreciation for each other and can include almost anything that has meaning between the two of you.