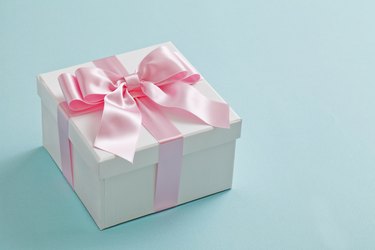 The relationship between a godmother or godfather and a goddaughter is a special one. Not only is the godparent charged with helping foster her spiritual growth, she likely has been there for the goddaughter throughout her life, such as at soccer games, birthday parties, graduations and other special events. Choose a wedding gift that shows her that even though she is all grown up, you still want the best for her.
Help With Wedding Costs
Weddings usually are paid for by the bride's parents. If you are very close to your goddaughter, offer to help with the cost as her wedding gift. For example, you could pay for the photographer if that element falls outside her budget. Other ideas include paying for the flowers or her wedding dress. If you want to assist but don't want to spend quite as much money as it would take to cover a large aspect of the wedding, take care of her wedding-day beauty; pay a stylist to do her hair and makeup before she walks down the aisle.
Recipe Book
If, over the years, your goddaughter has enjoyed many meals at your dining room table, create a recipe book for her. You can find spiral-bound blank recipe books at bookstores or specialty cooking stores. Fill in the blanks with your best dishes, and include some empty pages so your goddaughter can write in other favorite family recipes. You can pair this recipe book with a gift for the kitchen, such as a set of mixing bowls, casserole dishes, or pots and pans.
Picture Canvas
If the couple had engagement photos taken, choose one of the pictures and have it painted onto a canvas. Many camera or photography stores that print photos provide this service. For a couple who didn't have engagement photos done, choose an attractive photo of the two of them during their engagement or dating years.
Bible
Since a godparent and goddaughter's relationship is based on spirituality, give her a Bible with her name inscribed on the front, along with her wedding date. This is a gift that will be special to her for the rest of her life.