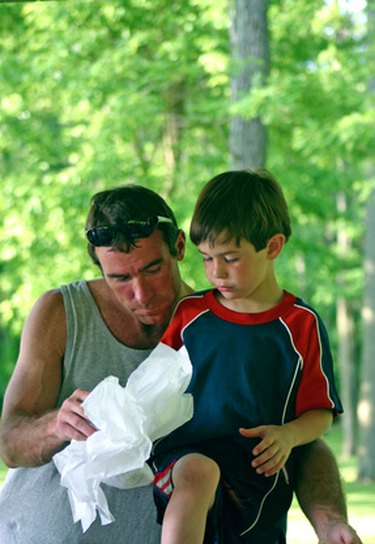 Once the trauma of the 40th birthday has worn off, a man can enjoy himself again for another 10 years before another difficult milestone birthday arrives. For his 42nd birthday, give him gifts that show he has finally arrived. Choose any gift that reflects his special hobbies or interests as a sports lover, car nut, gadget junkie or tech wizard.
Alcohol Gifts
Now that he has reached his forties, upgrade his liquor cabinet or fridge. If he is a beer drinker, give him a set of beer glasses and a case of specialty microbrews or a beer-of-the-month club membership. Engrave the glasses if time permits. If basic beer is his style, a case of that and a classic ceramic or pewter German stein would make his beer-drinking special. For wine lovers, splurge on a nicer wine than he normally drinks and add a fancy cheese pairing as well. Or, buy a fine bottle of scotch or brandy with special glasses.
Healthy Gifts
Keeping healthy becomes more important than ever once he passes 40. Encourage healthy habits with gifts that make it easy for him to stay in shape. If your budget permits, a gym membership and a session with a personal trainer will get him started on the right foot. For a less expensive gift, present him with a set of three different barbells and a weight-training book. If money is no object, throw in a weight bench, and in any case, add a wicking t-shirt, a new water bottle or a case of nutrition bars.
Experiential Gifts
For the 42 year old man who has everything or who needs an extra nudge to have fun on the weekends, give an experiential gift. Take his interests into account and accompany him to a NASCAR race, a college football game or a concert. Enlist the aid of specialty tour vendors and spend a day deep-sea fishing, bumping up hillsides in an all terrain vehicle or visiting an airplane museum.
Gift Certificates and Subscriptions
At 42, many men already own many of the tools and memorabilia related to their interests and hobbies. If you are unsure about just which woodworking or power tool, history or espionage book or sports memorabilia he already owns, give him a gift certificate that allows him to pursue his interests on his own in a store that caters to his interest. Most every activity has a magazine for aficionados as well, so give him a gift subscription along with a gift-wrapped copy of the latest issue.