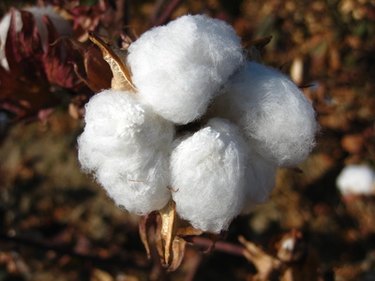 The traditional gift for a second wedding anniversary is cotton. Cotton lends itself to a number of gift ideas. If you are looking for the perfect anniversary gift for your spouse, knowing a few gift ideas will help you think of that special unique gift.
Clothing
The catch phrase for cotton is the "fabric of our lives," so cotton clothing is a logical choice for a gift. If you want to keep your gift inexpensive, consider a T-shirt with a favorite slogan on it. Or, if you want to spend a few more dollars, take your spouse to a favorite band's concert and buy him a shirt there. For the athletic spouse, consider a pair of cotton running pants or new running shoes with a pair of nice cotton socks.
A Hammock
If you and your spouse enjoy being outside, a hammock is a fun cotton gift you can use together. The body of a hammock is made from cotton rope. You can choose a hammock that hangs from two trees or one that comes on a standalone base. Either way, you can both lie in the hammock and share some quality time.
Night of Cotton
Plan an entire evening around different cotton items. For example, you could enjoy a nice dinner together at your favorite restaurant with cotton napkins and cotton tablecloths. After dinner, take your spouse to the local park or beach and lay out a cotton blanket for some quality time under the stars. Conclude your evening by giving your spouse a thoughtful gift of new cotton pajamas.
Linens
A good night's sleep is thought to be eight hours. With all the time you spend in bed, why not treat your spouse to a new set of high thread count cotton sheets? Cotton sheets can range from $10 to $20 for a set of flannel sheets to more than $100 for a set of high-quality Egyptian cotton sheets. You can also complement the new sheet set with a cotton blanket. Another option is new cotton bath towels or a robe.