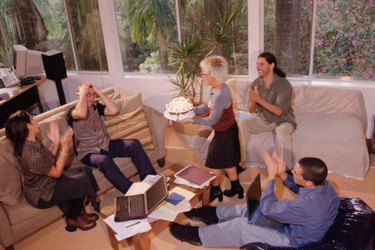 A man's 39th birthday is a chance to celebrate the last years of his 30s. Plan a party that will allow him to relax and do something he enjoys with his friends and family. Draw on his interests for inspiration in your party ideas.
Sporting Event
A man who follows sports would enjoy having a birthday party at a local sporting event. If he is married or has kids, the party could either be just a guy event or something for the whole family. Host a tailgate party before the game and serve burgers, chips, cake and drinks. With a little advance planning, some sporting event venues might be able to display a birthday message on the screen or make an announcement sometime during the game.
80s Party
Teen years are sometimes the most formative, so invite a 39-year-old man back to his teens by holding an 80s themed birthday party. Decorate with neon colors, play a classic movie from the 1980s in the background and invite guests to come dressed in their best 80s costumes. If the man would enjoy having a dance at the party, set up a dance floor and play music by artists such as Madonna, ABBA and Eurythmics.
Murder Mystery
Invite some close friends for a murder mystery party if the man enjoys detective stories or crime dramas. The party can include a dinner or just be a cocktail party. Although the celebration can take place at home, it could be more fun at another location such as a yacht or a hotel. To host a murder mystery, you will need to purchase a murder mystery game that includes the characters, storyline and instructions for the host.
Beach Party
Throw a beach party if the man enjoys surfing, spending time at the beach, or dreams of traveling to an exotic beach location. The party can take place at an actual beach if there is one nearby or you can decorate to make any location look like a beach with imitation palm trees, beach towels and umbrellas. Serve hamburgers, hot dogs, chips and smoothies made from frozen fruit and tropical juices.