Some companies have office Christmas decorating contests to help employees get into the holiday spirit. When you consider door decorating ideas, try to incorporate your department with the theme. Materials found around your work area and items used during the course of regular business can help you win the company contest.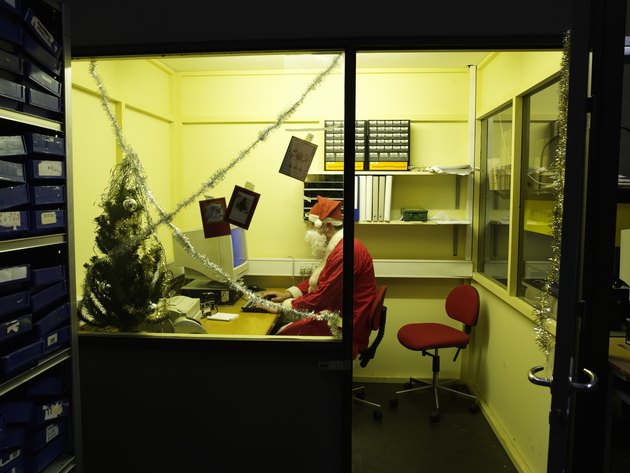 Office Supplies
You can create unique door Christmas decorations using supplies from your department. For example, the accounting department can use old adding machine paper to create door bows or you can cut the adding machine paper into small snowflakes for the door. The mail room can use empty printer ink cartridges as ornaments to hang on the door using paperclips. The marketing department can use old marketing posters and ads as wrapping paper to wrap the door as a Christmas gift and make a bow out of old product pamphlets.
Department Christmas Tree
Decorate your office door by making a Christmas tree from construction paper and make all of the ornaments pictures of everyone in the department. Cut the pictures into different shapes to make different ornament types. Some shapes that can be used include circles, snowflakes, snowmen, stars and candy canes.
Christmas Helpers
During the Christmas season, you can spread a little rumor that your department is getting some help from Santa's elves. Decorate your door using Christmas symbols such as wreaths and images of Santa, and use red or green colored paper to cover the door. Next to your regular office door, you can create a smaller version of your door for the elves. Make the door 24 inches high by 8 inches wide. Make a frame from wood molding and then use construction paper to create the door. Be sure that you decorate your elf door exactly the same way your regular door is decorated to add to the effect.
Christmas Window
Use construction paper to turn your office door into a Christmas window for your office decorating contest. Create a window in the middle of the door that takes up most of the door. Make the window frame and sill out of black construction paper. Behind the window, create a Christmas scene such as a decorated tree in a snowy field, children sledding down a hill or people skating on a frozen lake.